The late Dean Conrado Benitez and Francisca Tirona Benitez founded the first ever university for women in Asia, the Philippine Women's College of Manila (presently the Philippine Women's University), in 1919.  Three decades after, with their vision to spread women education beyond the boundaries of the capital city of Manila, they headed south to Davao City.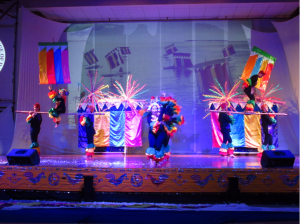 "What I do remember is that we came to Davao on board a Compania Maritima boat which had stopovers in Iloilo and Zamboanga…. On the long boat ride, I can still recall being regaled by my grandfather, Dean Conrado Benitez, with snippets of Philippine history as was his wont.  It was the first generation passing on wisdom to my cousin Amelou and me of the third generation termed as the Baby Boomers," narrated Conrado L. Benitez, II, PWC President, during the 65th Founding Anniversary of the Philippine Women's College (PWC) of Davao City.  The special celebration was held at the Rosa Santos Munda Events Center last February 28, 2019, at 6:00 in the evening.  The PWC President came to Davao City accompanied by his mestiza, Zamboanga-born wife, the former Bayanihan dancer Ruby Benitez.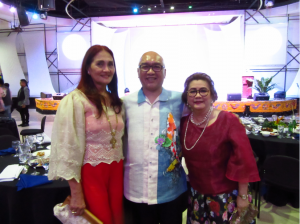 "When the Benitez family, together with their like-minded friends from the Davao Community, established the Philippine Women's College of Davao on a sprawling three-hectare land in 1953, the founders could not yet glimpse into the future nor predict what lay ahead. What they had was the  exceptional vision to provide relevant, quality education to the people of Davao and Mindanao," said the PWC President Benitez as he added, "We could not have come this far without the support and hard work of each member of the PWC team and our stakeholders.  In the changing educational landscape of the 21st century, we look forward to expanding this vision by taking an even more active role in the educational arena while always holding on to our mantra: Innovation is our Tradition."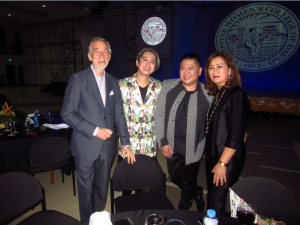 PWC's theme for this 65th Founding Anniversary is "Celebrating our Achievements, Sustaining our Future today."  "It is most appropriate that we recognize and reaffirm the remarkable deeds that we have done together to ensure that PWC remains relevant to the call of the times; and put true meaning to the words of our founders.  Let us continue the dream and objective of PWC's founders to spread the educational legacy that focuses on nation building through women development in the service of God, family, and country," reminded Benitez.  As President Benitez ended his speech, he was congratulated by PWC's members of the Board of Trustees, Dr. Ida Patron, Madame Brenda Barba, PWC Vice Presidents, Administrators, Alumni, parents, faculty and guests which included Dr. Guillermo & Betsy Torres, Dr. Iris A. Melliza, Sr. Marietta Banayo, DOT Reg'l. Director Tanya Rabat-Tan, businesswoman Bebot Dizon-Marfori, culinary queen Belen Guino-o-Villafuerte, Marilyn Roque, among many others.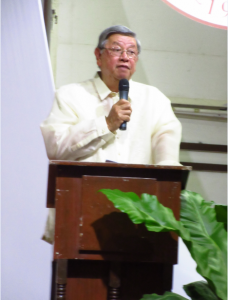 Failing to attend the celebration, Mayor Sara Duterte-Carpio sent instead her message which read in part, "It is an honor to be an alumna of this institution, and I credit PWC for helping me become the person I am today.  As you celebrate this milestone, may innovation continue to be your tradition and may each member of the PWC community remain steadfast in your commitment to educate, to contribute, and to lead as you continue to produce graduates who are not only academically competent, but also conscious about their contribution to the community, the preservation of the environment, and the promotion of peace.  Congratulations and more power to the Philippine Women's College of Davao!"
The President's Night program hosted by Norjames S. Goad and Dr. Angelito G. Heramil had Dhel Rajsol Dilangalen with faculty representatives singing the "Pamana."  Chosen PWC students also rendered pop songs to help entertain the guests.  After dinner, the members of the Davao Fashion & Design Council headed by its President Dodjie Batu, VP Edgar Buyan, Secretary Emi Englis, Treasurer Benjie Panizales, Past Pres. Aztec Barba plus members Egay Ayag, Bamba Limon and Windel Mira presented their fashion creations in a well-applauded fashion show.
The night ended with faculty and students in colorful Filipiniana attires performing various dances representing the varied and colorful fiestas in the Philippines.  Indeed, it was more fun in PWC that night.  Congratulations, Philippine Women's College of Davao!
Thank you, dear Chancellor Ida Patron and Madam Brenda Barba for inviting me. May the force be always with you.