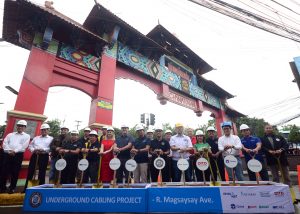 THE CITY government and the Davao Light and Power Co. Inc. (Davao Light), along with telecommunications and cable firms, companies held a ceremonial groundbreaking for phase two of the underground cabling project along R. Magsaysay Avenue today, July 18.
This marks the start of Davao Light's civil works, specifically the excavation works which covers 700 meters from Suazo Street to the corner of Quezon Boulevard. The civil works include manhole installation and trenching, among others, targeted for completion by the first quarter of 2024. This will then be followed by electrical works that are forecasted for completion in 2025.
Meanwhile, phase one of Davao Light's underground cabling project in R. Magsaysay Avenue, starting from the Philippine Post Office up to the corner of Suazo Street, is now 56% complete and will soon begin electrical works.
Mandated by the City Ordinance No. 0152-17, Series of 2017, all telecommunication companies, Davao Light, and all other persons involved are required to convert overhead lines to an underground system. The project is a collaboration of the following: Davao City Mayor's Office, City Administration Office, City Engineer's Office, City Transport and Traffic Management Office, Public Safety and Security Command Center, Department of Public Works and Highways XI, Davao Light, Davao City Water District, PLDT SMART, Globe Telecom, Dctech Micro Services Incorporated, Sky Cable Corporation, Converge ICT Solutions Inc., Dito Telecommunity, and all the contractors, and the people and businesses along the project coverage.
"As we work to complete this project, we are once again asking for the support of Dabawenyos regarding the possible traffic congestion in the area. Trust that we are doing all that we can to lessen the inconvenience experienced by commuters by conducting the major works during nighttime," said Anton Mari Perdices, Senior Vice President of the AboitizPower Distribution Group, during the groundbreaking held near the Chinatown Arch, fronting Magsaysay Park.
The Davao City Underground Cabling Project hopes to make the city visually appealing with safer main city roads. Moreover, since electric wires are now placed underground, it will result in lesser incidence of emergency power interruptions – an effort to improve customer service and strengthen the resiliency and reliability of Davao Light's power distribution network.