Eight public utility bus workers were found positive for illegal drug use during a surprise drug test conducted yesterday at the Davao City Overland Transport Terminal (DCOTT) in Barangay 76-A as part of the government's Oplan Huli Week.
Philippine Drug Enforcement Agency Regional Director Antonio Rivera said four bus drivers and four bus assistants tested positive but did not release their names.
Various government agencies took part in implementing Oplan Huli Week, a campaign to eradicate undesirable drivers of public transportations to ensure safe travel during the Holy Week.
With Rivera's PDEA, other agencies that took part in yesterday's operation included the Land Transportation Franchising and Regulatory Board (LTFRB) XI led by Acting Regional Director Cathleya Acaylar, Land Transportation Office (LTO) led by Assistant Regional Director Neil Cañedo, Philippine Coast Guard (PCG) led by Ensign Raymart Prias, City Transport and Traffic Management Office (CTTMO) led by Dionisio Abude, Highway Patrol Group led by Staff Master Sargent Glen Montes and Davao City Police Office (DCPO) led by Talomo Police Station Commander Major Ronald Lao.
Rivera said detection dogs from the DCPO's K9 Unit were deployed in the terminals.
The PDEA director said 308 bus and terminal workers—190 bus drivers, 114 conductors, three dispatchers and one inspector–took the drug test at the DCOTT.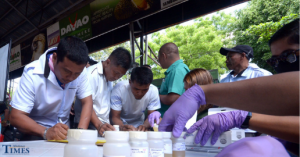 He said the driver's license of those found positive were immediately confiscated by LTO officers, in relation to Republic Act 10586 or the act penalizing persons driving under the influence of alcohol, dangerous drugs and similar substance.
"They are all suspended already," Rivera said.
He said the LTFRB will summon those who were found positive with drug use and their employers for a conference before a sanction will be imposed.
Those found positive will be given counseling at the PDEA's preventive education and community involvement officers (PECI) and children and women welfare officers (CWWO).
During the operation at the city's bus terminal, PDEA Mascot Agents Phed and Eyah joined the team as they distributed Education Information and Communication Materials (PDEA Comics) to the riding public.
Last month, three taxi drivers were also found positive of drug use in an operation conducted by the PDEA and other support groups at the Francisco Bangoy International Airport.