Last February 3, 2019, Seahawk's debut competition: Sprints by the Bay was concluded at SM by the Bay, Manila. Out
of the 22 teams who joined, Ricspeed Dragon Boat team from Davao rose to the top and placed first in the overall ranking. It was an unexpected turn of events for the team with the line-up of rivals—the country's elite national teams—they battled against.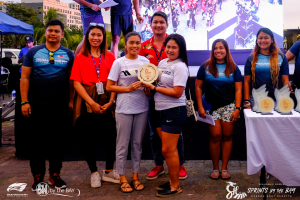 Ricspeed's first race was in the 200 meters small boat women's category, getting the second fastest time qualifying them to proceed to the major finals. They then ranked third with a final time of 1'09"17. Along with this, the 200 meters open small boat crew also got the silver medal with a time of 54 seconds and 69 milliseconds.
Despite not getting a medal in other categories, the team ensured that they get to be part of the major and minor finals. "I am surprised and humbled with the race results. Placing first in the overall ranking is a milestone for us, competing against PCKDF national elites., " Coach Nenito Neneria Jr on the team's achievement.
"The race was a big a challenge for us even with our hard training considering our opponents are way more experienced than us. The crew is already gassed out and tired in the later part of the race, but I always remind them that we've trained hard for this. That this is what we do. For them to embrace the waters and give it all they've got.," he added as to how he motivates the team to continue fighting.
Ricspeed went home with a sense of pride and eagerness to win more races. The team is also grateful for the undying support of Mr. Ricardo Floirendo who made it possible for them to paddle beyond the waters of Davao.
This coming March, Ricspeed is set to conquer another milestone in Surigao. Now, the team will battle against their other neighboring Mindanao Teams in the Sixth Bugsay Mindanao Competition. They are now preparing for it through their daily training routines.