Chedeng entered the city with less damage than expected.
The tropical depression has weakened into a low pressure area (LPA) after its landfall in Malita, Davao Occidental at 5:30 a.m. yesterday.
Moderate rain hit the city starting Monday evening until yesterday morning.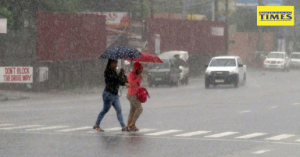 But the City Disaster Risk Reduction and Management Office (CDRRMO) continued monitoring all landslide- and flood-prone areas.
"We have not recorded any street flooding relative to TD Chedeng.  Likewise, all rivers systems within the City were monitored in safe level," Rodrigo Bustillo, CDRRMO operations officer, told TIMES.
"However, we alarmed residents in flood-prone areas to constantly monitor any changes in the water level."
In an advisory released by the CDRRMO–Operation Center, the Kalye Apeke Bridge in Barangau Calinan Proper, Calinan District has been monitored to be "slowly increasing with strong current."
As of press time, the CDRRMO was in yellow level warning, which means all water levels were safe but alert was encouraged.
Five families, with 15 individuals, in Quiniones Compound, Barangay Matina Crossing, Talomo District, were evacuated to the Barangay Hall on Monday night.
Yesterday morning, 13 families with 54 individuals living near the Davao River bank in Awhag Subdivision in Barangay 19-B, Poblacion District were also evacuated.
The two areas were among the places where pre-emptive evacuation was issued by the CDRRMO.
Other areas where pre-emptive evacuation was issued included: Matina Crossing area (Purok Guadalupe, Shrine-Hills Diversion Road, and parts of GSIS Heights); Brgy. Maa area (Juario Village, Purok 9, Nacilla Village, Dinaville Subdivision, Iñigues Village); Brgy. Matina Pangi (Old Dumpsite in Diversion Road); Brgy. Talomo Proper (Bypass Road); Brgy. Mandug (DDF Village); Brgy. Buhangin (Purok Damayan); and Brgy. Tigatto (Purok 16).
Meanwhile, City Hall suspended works in all government offices by 1 p.m. yesterday.
In Proclamation No. 2 signed yesterday by City Hall officer in charge J. Melchor Quitain, the Office of the City Mayor also encouraged the private sectors in the city to do the same.
Free rides
City Hall also fielded 15 buses for free ride by 3 p.m. yesterday to provide transportation to stranded passengers as only few public utility vehicles were on the street.
The buses, stationed at City Hall area, served commuters bound to the districts of Toril, Calinan, Bunawan, and Buhangin.
The City Transport and Traffic Management Office (CTTMO) also designated "sweeper" buses that will monitor stranded passenger outside the designated routes.
In a public advisory, the City Information Office advised the public "to stay indoors and continue monitoring the CDRRMO advisories on emergencies and pre-emptive evacuation."