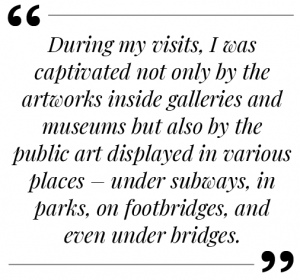 Traveling outside your hometown, especially traveling to other countries, can be an amazing experience that boosts our creative minds. Instead of just going mall shopping when vacationing, it's important to visit art and cultural sites. When we explore galleries, museums, and cultural destinations, we feel a great sense of awareness, fulfillment, and confidence that inspires our creativity.
Exploring art beyond our local scene is beneficial for our artistic careers. Seeing the diverse art in different countries or even within our own country can be eye-opening. Before the pandemic happened, I was lucky to visit four different states in Southeast Asia – Singapore, Macau, Hong Kong, and Taiwan. Even though these places have Chinese roots, their artworks are contemporary and influenced by Western art. Traditional Chinese artworks are still visible, though. Meeting artists there, I realized that we all share similar concerns and desires. Art truly is a universal language; despite language barriers, we connected and appreciated each other's ideas.
During my visits, I was captivated not only by the artworks inside galleries and museums but also by the public art displayed in various places – under subways, in parks, on footbridges, and even under bridges. Paintings, musicians, performers, graffiti, and murals were common sights everywhere. Public sculptures were enormous and exceptionally unique. I wondered how they managed this, and I found out from an artist in Macau that the government connects them with private sponsors, mostly casinos, who fund these large art projects. This support contributes to the development of creative minds and explains why there are so many young artists in these places.
I strongly encourage readers who are engaged in the arts to set aside some funds for travel, at least once every one or two years. It doesn't have to be abroad; exploring other cities within your country is also enriching. It's a fantastic opportunity to discover art villages and cultures while taking a break from our daily routines. Every artist friend of mine who has traveled shares the same wonderful emotions of awareness, fulfillment, and confidence. When I return home from my travels, I'm eager to dive into my studio and create new artworks inspired by my experiences, sharing it with my art tribe.