Davao City – Albert Forro team Extreme Makeover – Ground Image and Jeric Al Layan stole the spotlight after winning separate honors in the 2023 Hot August Races 1/8 Mile Street Car Racing event held over the weekend (Aug. 12 and 13) at the Davao Global Township grounds. Forro stood tall at the winner's podium with the Class B Division trophy on an elapsed time of 7.715 that left past Eugene Austria for the first runner-up honors.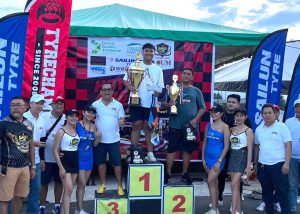 It was Forro's first Class B drag racing title with his Honda EG, now newly-painted black, after falling short for the crown in previous local races. Al Layan, proudly known as 'Super Ba-o" to his local fans also made his presence felt by winning the Class B Quick 8 crown, crossing the finish line at 7.5 seconds over Ralph Cortez of NSR Tune in the finals. He also bagged Top Qualifier trophy when he timed 7.613 in the ti me trials held Saturday while Cortez took the Best Reaction Time award with .500.
Veteran driver Mikki Cong of team DMT completed the honor roll when the topped the Class C Division timed at 9.6 seconds on his final run while Tata Rodriguez of Mashado Racing settled for the runner-up honors. Dion Tristan Pinton of team Fresh Ko took the Class C Quick 8 trophy on top off Welmar Cerenobes of team Honda timed at 9.84 seconds.
The 2023 HAR 1/8 Mile Street Car Racing event was presented by the Davao Classic and Sports Car Club, Prime Lube, Davao Global Township/Cebu Landmasters, Tyre Champ, Extreme Makeover, Sailung Tires, Genesis 88 Construction, Manuel S. Gonzales, University of Mindanao and AM/FM Productions. Jon Develos