Fifty houses were razed when a fire hit a community in Saypon, Barangay Crossing Bayabas, Toril District on Sunday night, the last day of the Fire Prevention Month.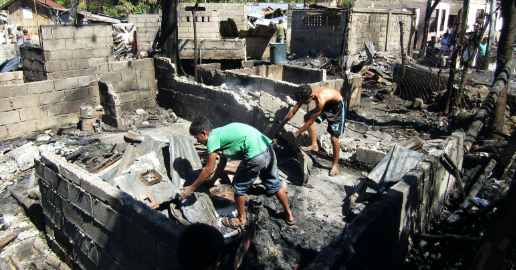 Sr. Supt. Fred Trajeras, the director of the Bureau of Fire and Protection (BFP) XI, said the fire started at the house of Winnie Villamor in Purok 5 around 11:58 p.m. on Sunday.
Trajeras said an unattended candle reportedly caused the fire that immediately spread to nearby houses, which were mostly made of light materials.
Firefighters from Toril Fire Station and other volunteers responded to help in putting off the fire. It was declared fire out by the BFP an hour later.
The fire affected 54 families, eight sharers, six renters and three boarders, according to the City Social Services and Development Office (CSSDO)
The estimated damage reached P375,000.
The Bayabas incident is the 64th fire incident that hit the city during the Fire Prevention Month observed every March, which usually starts the summer season.