Although Jojo has often exhibited with the International Water Color Society in Metro Manila, his Feb. 15th Art Exhibit at Art-Centrale is his very FIRST SOLO.
Jojo comes with excellent artist credentials. Born in Obando, Bulacan (1958), he spent his grade school and high school years in Bulacan. Early on, he was good enough to draw the visual aids of his mother, a teacher.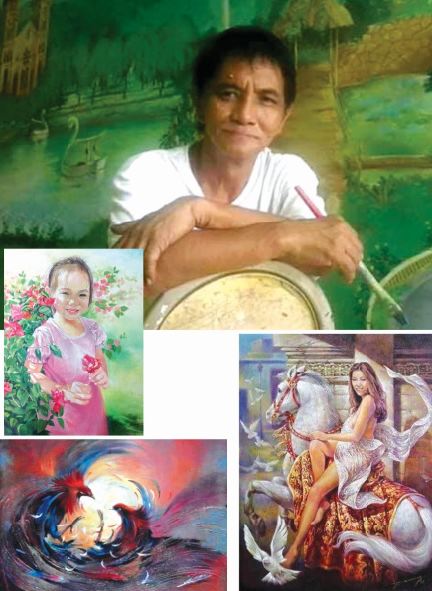 In college, he took up Fine Arts with a Painting major at U.P. Diliman (Jose Joya, a National Artist, was then its Dean). Although he completed his 4th year, he did not go up the stage because he had to work for a living.
He pursued his artistic vocation by attending the Q.C. workshop of Bueno Silva, the noted Filipino portraitist, a native of Gen. San., now a resident of Chicago.
This is what Bueno Silva says about Jojo:
"I met JOSELITO T. JIMENEZ while still a student during his sophomore year at U.P College of Fine Arts. He was introduced by my friend Antonio Tanada his classmate. Years later, I noted his name on Facebook. I am so amazed with his great talent in Drawing and Painting… I said to myself; Joselito is such a genuine artist and God has given him such wonderful talent. I considered him A real Filipino artist with his nostalgic impressions of Filipiniana subjects. He has mastered his use of Charcoal and Watercolour. With his compassion and his Love for Art… he creates Life's Reality in his canvases. I Salute Joselito… he is reaching far towards his dreams.."
In 1998 Jojo, his wife and children decided to transfer to Panabo. A major reason they abandoned Obando was that it was always flooded.
We "discovered" Jojo at the recent I.W.S. Art Exhibit at Art Centrale last Nov. 8, 2018. This was spearheaded by Ms. Jinky Rayo, I.W.S. President with 23 artists from Metro Manila, the Visayas and Mindanao (Lito Pepito, Gilbert Miraflor, Ting Aviles, Saldy Mascardo and Vanessa Ong, & Odette Oliveros and Dn.)
Davao Art lovers, especially those who appreciate Watercolor and Pastel traditional-representational genre will be pleased with Jojo's solo exhibit entitled "My Art Journey" on February 15 (4:00PM) to March 14, 2019 at Art-Centrale, Felcris Mall Quimpo Blvd. This show is sponsored by Felcris-Centrale, Tabula Rasa, Mindanao Art Gallery and Arch. Saldy Mascardo II.