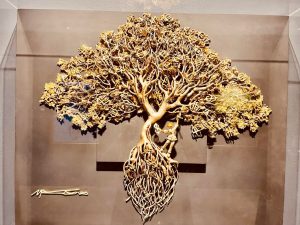 "ARTWORKS, indeed, are a thousand expressions of spoken and unspoken thoughts.  Your works evoke thoughts that trigger emotions, appreciate ordinary mundane moments, reflect on our collective aspirations, or draw out suppressed viewpoints…Your exquisite talent and masterpieces will surely capture the taste of Davaoenos as they depict the rawness of daily human experiences, eternally capturing scenes, emotions, and traditions into creative stills that allow the viewer to remember, reflect and reconnect with the essence of life," wrote Vice President/Secretary of Education Sara Z. Duterte in her message read during the opening of Michael Cacnio's "Magnum Opus," a one week Exhibit held at the Galerie Raphael from March 18-26, 2023.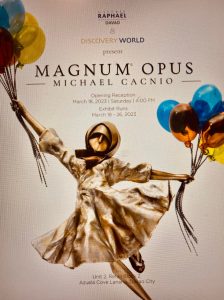 Michael Cacnio is one of the country's renowned modern and contemporary sculptor who has gained international repute for his extraordinary artistic skill and creatively imagined artworks comprised mostly of brass sculptures.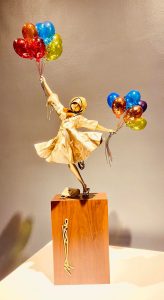 This respected 54-year-old Filipino artiste was given recognition as one of "The Outstanding Young Men (TOYM)" awardee of 2006.
     Michael Cacnio got his early view of the realities of life in his hometown of Malabon; and acquired his early artistic influence from his equally talented artiste of a father, Angel Cacnio, a famous Filipino painter himself known for his design of the previous 20 and 100 peso bills.  Michael Cacnio admits that his artistic genes is well enhanced by his nature and temperament as an artiste.  A product of the College of Fine Arts of the University of the Philippines in Diliman, Quezon City, Michael Cacnio started as a painter but later on discovered his true calling in the art of sculpting brass.
    Although his body of work features a tableaux of characters depicting traditional Filipino archetypes in his distinctive signature style, revealing enduring truths about human nature, family, and community scenes from everyday life, his Magnum Opus exhibition in Davao consists of a majority of sculptures featuring the Taurus, the Bull and the Prosperity Tree.  "My husband was born under the zodiac sign of Taurus.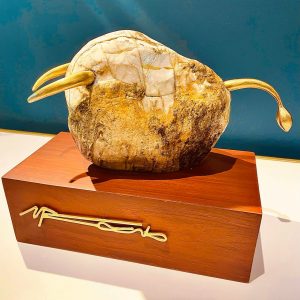 The bull sculptures that you see in this exhibit is a celebration of my husband's birth month and marks it as one of his personal presentation.  He has revealed that the subject of the bull interests him due to the characteristics and impact it has on him.  It is a subject that he is passionate about since the figure of the bull projects an interesting movement and strong character for him," explained Tess Cacnio the wife while her husband was busy meeting Davao's art lovers and buyers.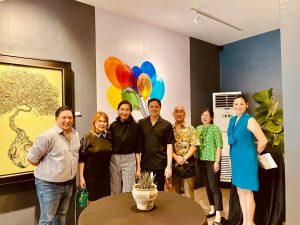 As to the subject of Michael Cacnio's Prosperity Tree, Tess said, "This subject on the Prosperity Tree sculpture, on the other hand, represents how much people must work hard and have faith when trying to earn more money.  As you know, nothing comes easy when we have to earn money."
      Galerie Raphael's Michael Cacnio exhibition is proudly presented to the Mindanao art scene in partnership with the Discovery World Corporation.  Galerie Raphael, ably represented in Davao by the Renaissance mestizo named Andreas "Andy" Tuason, is known for its exquisite fine art collection in Davao consisting of artworks by renowned Filipino artistes.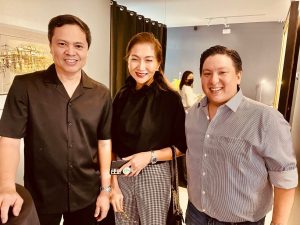 "The quality and how it levels into fine art are things we take into consideration in discerning the taste of Davaoenos and those from the neighboring cities," commented Andy Tuason.
     Galerie Raphael is located in Azuela Cove's Unit 2, Block 2.  My thanks to Andy Tuason and Marissa Salonga-Tionko for the invitation; and Mindanao Butcher's Crazy Cook, Carmina Mapa-del Rosario, for the delightful sustenance.