Merging this year's artistic pursuit, Davao City National High School celebrates the 2019 National Arts Month on February 6, 2019 at the Multi-Purpose Alumni Hall. Sculptures, paintings and drawings have been installed in the exhibit area and will run until February 28.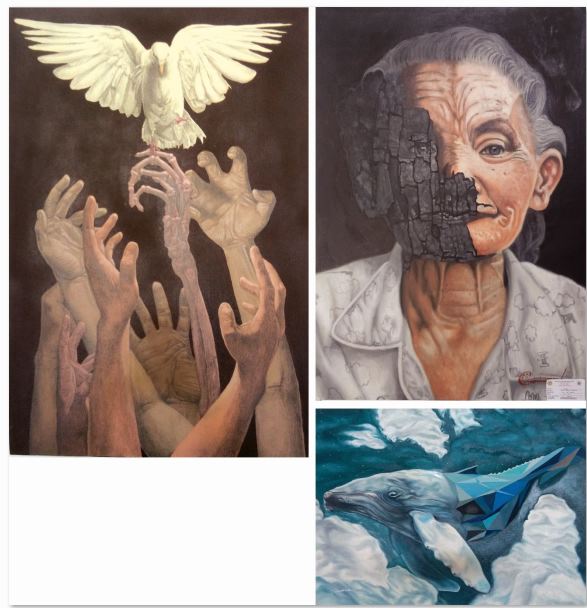 The 19th Kalumuwan Visual Arts Exhibit of the Special Program in the Arts and the 2nd Visual Gallery of the SHS-Arts & Design Track focus on the concept of Subang, a Binisaya word which literally translates to the English word Rise or in Tagalog, Silang. The sun is a symbolism of beginning and hope as its light becomes visible as the dawn breaks and as the day starts. Without light nothing can be seen and found.
70 Junior High School students have installed their artworks. They were comprised of 21 students from Grade 7, 18 from Grade 8, 15 students from Grade 9 and 16 students from Grade 10. The Junior High School Mentors are Ms. Glecy Aileen E. Gonzales, JP Simafranca and Mr. Jay Reeve P. Guerrero.
In addition, 40 students from section Grade 11 – Kublai and Grade 12 – Amorsolo of the Arts & Design Track have also displayed their works they created over the semester with mentor Mr .Jefferson S. Bangot.
Visual arts students have learned to immerse in an environment in which they can express themselves. They are capable of transforming their material into a product but with the standards carefully set by their mentors. This is because a blank canvas appears nonsensical to the students as they first introduce to the craft. Nothing seems fancy to them as they intently examine the plain canvas, to the strangeness it holds. But soon they will be bothered by it and will look around with wonderment as they grow. They will declare themselves artists.
Most of the young artists, especially in today's generation are somehow clinical when it comes to creating their own works. There is this sense of compulsion within them to overhaul what they had started as soon as they realized an obvious fault. Though this may seem challenging for the young artist in ways that he needed a couple of materials to use, the value of overcoming the fear of expression has been practiced over time.
One factor is the presence of mentors in institutions. Over the years, several artists have argued that art cannot be learned; that creativity is an independent strength and can only be developed alone. But the challenge of not killing the students' creativity is left on a passionate mentor alone as mentor Jefferson S. Bangot say, "one must teach the hand, not the head."
But the institution's role had long been changed with much concern on liberation. This society is finally learning, though still thriving in the midst of political disputes and continuing human exploitation. For the young artists alone, they are isolated alone inside a room full of empty canvases and paints. They are contemplating at the tip of their paintbrushes while looking outside the open windows of their classroom, eager to find what's happening behind the dark clouds outside. In the light of academia, young artists are always learners. A student becomes an artist by enduring a lot of failure. But the success of establishing an art exhibit is the real triumph of being an artist in which the public will look at how the canvases have been filled with stories.
ART CALENDAR
1. Feb. 15 (Opening, 4pm) to Mar 15, 2019
1st Solo Art Exhibit of Jojo Jimenez.
Watercolor, pastel & acrylic paintings (60+ pcs.).
Tabula Rasa's Art Centrale Felcris Centrale, Quimpo Blvd.
2.Feb. 15 (opening 6pm)-March 22, 2019
Philippine Women's College of Davao Senior High School Arts and Design
Morning Light Art Gallery and Shop, T. Claudio, beside Davao Doctor's Hospital
Excellent selection of artist supplies. Branch: Ruby St., Marfori Subd.
3. On-going: Art Portal at Legaspi St., Bondi&Burke Complex. Emerging Davao artists.
4. On-going: Davao Museum at Insular Village, Lanang
Religious paintings. ("Excellent. Must view.")
5. On-going until Feb. 15. "Inkpressions". Pen & Ink Exhibit
by Arnel Villegas, Bong Espinosa, J.C. Gonzales, Alex Alagon. ("Pentastic!", "Inkredible.")
By Neil Teves