Davao City – Local bet Juan Alessandro Suarez of team TRIAD stood high at the winner's podium after breaching the finish line first in the Alaska Fortified IronKids Davao male 11-12 years-old category which wrapped up yesterday at the Azuela Cove in Lanang.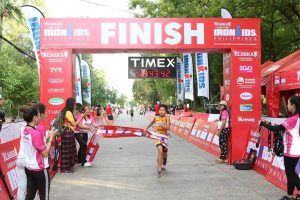 The 12 year-old Suarez clocked 13 minutes and 42 seconds in the 300 meter swim- two kilometer run event leaving past fellow Davaoeno Matthew Cagape (13:48) and Chuck Amparo (13:53) at second and third places, respectively in the 29-man field.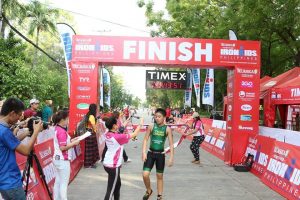 In the distaff side, Francesca Behn Caballero shared the limelight when she finished first timed at 15:31 followed by Aira Danara (16:06) and Raiannelie Bacus (17:40).
For the 13-14 years-old female category, Cebu City's Marielle Estreba took first place with 17:20 in the 400 meter swim and three kilometer run while Jeanna Mariel Canete (17:24) and Arianna Danielle Lim (18:12) finished second and third, in that order.
Earol Belonguil who also hails from Cebu City took the 13-14 years-old male division for back to back title runs timed at 15:29 followed by Matthew Justin Hermosa (15:30) and Zendrick James Borja (15:44).
Other winners saw: Female 9-10 years-old: Eleora Caelie Avanzado 11:07 (first), Danielle Syvia Tan 11:26 (second), Chantal Calolot 11:53 (third); Male 9-10 years-old: Bruce Ice Bragat 12:00 (first), Asher Chamyuel Baluyot 12:07 (second), Youone Kriven Ramos 12:37 (third); Female 6-8 years-old: Christy Ann Perez 7:28 (first), Justie Athena Jaspe 9:12 (second), Shannen Balderas 10:05 (third); Male 6-8 years-old: Kenshie Luke Cabando 7:57 (first), Diego Jose Dimayuga 8:12 (second), Brent Edgar Diesmo 8:25 (third).
Yesterday's IronKids marked the first time as a swim-run competition as organizers decided to drop the bike stage from its previous junior versions of triathlon to gather more kids to join.