Ulan centers on Maya (Nadine Lustre in her first role without onscreen and real-life partner James Reid), an editorial assistant in a publishing house that produces Tagalog erotic romance novels. She secretly wants to write but as her playfully libidinous boss (Leo Martinez) says she lacks the lust for it. And not figuratively, as Maya is portrayed as a virginal romantic pining for that ideal man that would sweep her off her feet.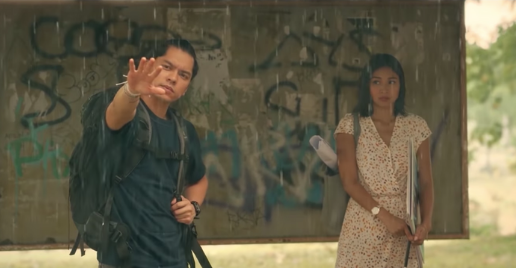 Love has been a long time coming for Maya, getting teased off by her uncle, by her boss, and as she made herself to believe, the misfortune brought about by the instance of rain. She finds herself on the verge of an almost desperate quest of relationship seeking, armed with traditional notions of romantic love and familiar stories of happy-ever-afters, which end up in the annals of heartbreak. First, it was rushing amid rain with a whole blueberry cheesecake in tow, to a college sweetheart who got secretly married.
And then it was with a clean-cut poster boy she met at a wedding (of all predictable places) who looked too good to be true, turning out to be the very archetype of the princely boy that breaks desperate hearts.
But then comes Peter (Carlo Aquino), whom she meets in the midst of a torrential downpour, rushing to pick up her things but failing to actually elicit even a smidgen of sound from their first encounter. And yet this third one, a good-natured, well-intentioned guy who does humanitarian work with illiterate children, might be the charm. This third chance prove different. We, also, spent a huge chunk of time, just like Maya, believing that Peter could be that silver lining in that overcast sky.
But director Irene Villamor's film is invested in the heartbreaks men leave only to the extent that these become narrative devices that fuel Maya's character development and self-transformation in the film. This is finally a story with the female character at the center of it, without the attendant entanglements of formulaic romance, a story that focuses on the learning as much as it is about the yearning.
These men form part of Maya's story, a diary entry, a real-world account of a love found and lost that will grow memorable in time. Villamor reminds us that every girl, every character, is made up of different stories, of different intensities and influence, filled with varying degrees of wonder, from childlike to the speculative, from magical to realistic. We carry these stories with us, embellish it along the way, constantly shaped by equal amounts of despair and optimism, retreating to its comfort or pain, fictions that ease the blows of the real world.
In a way, these stories are like rain, ever present though not always visible, but part of the cycle that brings forth life, and one that also takes it away from our grasp. Maya's childhood is filled by these stories, of the pamahiin and the kwentong-bayan kind, the folklores rehashed and revived to suit the taste of whoever's telling them like Maya's grandmother (Perla Bautista), so strong an influence and presence, that it enlivens the fantastical creatures in her young imaginative mind.
We see these glimpses of Maya's childhood past not as mere nostalgia but spliced like instant flashbacks, chapters in a novel about adulthood that is also devoted to portraying a fully-realized life. The film shows that the past impinges on the present sometimes so vividly and strongly like the onslaught of rain, each soaking a different experience, a valuable lesson.
Although the film is not perfect – I feel that the ending is a bit rushed and could use more refinement or breathing space – its imperfections do not dampen what a breath of fresh air it is coming from Pinoy romantic comedies or dramas in recent memory. The film felt like Villamor's venture into the topography of heartbreak with such memorable films like Meet Me in St. Gallen and Sid and Aya, which explores the idea of romantic love amidst the bigger, global forces like migration and capitalism, has led her to the more internalized story of Maya.
And in Lustre, as captured by Villamor and cinematographer Neil Daza, Maya is a transcendent presence, grounded and natural but also ethereal. Like the film's Manila Bay sunset that backgrounds the earthly conversations beneath it, like the illuminated specks of dust in a long-vacated ancestral house that seem to contain a multitude of stories themselves, like the stories that populate her imagination and the one she continues to write for her own. And Ulan, more than an ode to self-love, is an ode to stories that shape us.