A group of fashion designers, producers and weavers held a seminar spearheaded by Honorary Consul to Mexico, Ma. Lourdes Monteverde, on Friday, Feb. 15 in Davao City. This activity was in partnership with the Davao Fashion Design Council, Inc. and the Arkat Lawanen Women Empowerment Producers Cooperative in preparation for a fashion show bearing the theme "Empowering our Heritage, Culture and Tradition through Education and Collaboration." The activity was held at the office of the Consulado Honorario de Mexico.

Emi Englis of the Davao Fashion Design Council, Inc. says "Davao has the most number of tribes in the region and we have eleven deputy mayors leading each tribe." The fashion show "One Thread, One Color, One Vision" will feature Davao's and Marawi's traditional and indigenous textiles for the benefit of the women of Marawi.
In a speech read by Councilor April Dayap, Davao City Mayor Sara Duterte says "From T'nalak to Dagmay to Inabel, Mindanawon fabrics are becoming en vogue both in today's local and international fashion industries. We take pride in our textiles not only for their striking patterns but also for their intricate techniques of weaving."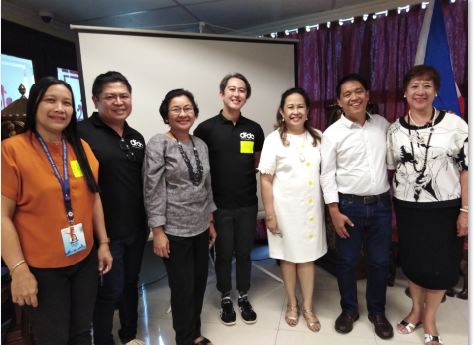 Davao Historical Society Vice President Maria Julieta Torres reads a message for Councilor Pilar Braga, President of the Davao Historical Society: "The participation today by the National Commission for Culture and the Arts, the Department of Science and Technology, Technical Education and Skills Development Authority, the National Commission for Indigenous People, the Department of Agriculture and the Department of Tourism is a manifestation of the collective unity to forge a 'One Thread, One Color, One Vision' not only for Davao City in particular but also for Mindanao and our beloved country in general."

For her part, Department of Tourism XI Regional Director Tanya Rabat-Tan says "DFDC's advocacy to popularize the weaving tradition of Mindanao by showcasing the different fabrics is undoubtedly commendable. More so for staging the event that aims to raise funds to assist the livelihood of the Maranao women. With your commitment to use our indigenous textiles, our traditional arts and heritage are ensured to be passed on for generations to come."
The fashion showcase is set to be staged on June 19, 2019.
DFDC, Inc. is headed by its President Dodjie Batu. Atty. Ashiya Limbona led the participants of Arkat Lawanen Women Empowerment Producers Cooperative.