Six years into the business of supplying tables and party chairs, Eva Corsino, a graduate of the University of Mindanao, major in Banking and Finance, is enjoying a successful return of her investments and continues to grow in terms of branching out into various enterprises.
On February 8, 2019, considered a lucky date in the calendar, Eva chose to have the blessing of her new location along MacArthur Highway in Barangay Talomo Proper. Rev. Father Cenon Ampong of the Ascension Parish in Matina performed the solemn blessing of the new location, also blessing the image of the Sto. Nino.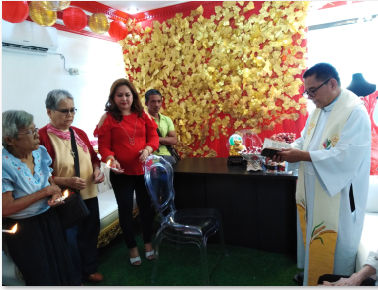 A formal ribbon cutting was held with sponsors led by Merci Duduaco of Southern Banawe.
EC King's main location is along Juan Dela Cruz Street in Toril. It supplies party tables and chairs, crystal chairs for special occasions and events, wedding car, balloons, food catering, flower arrangement and event organizing.