With what the world is facing right now: wars (especially between Israel and Palestine), terrorism, corruption, greed, human trafficking, migration, and both, natural and man-made disasters, it is an aptly time to be reminded and be inspired by the Gospel of Matthew in a captivating contemporary way— through the rock musical "Godspell." "Godspell" is an Anglo-Saxon word from which is derived the word "Gospel" which means "good news." People of my generation, I believe, still remember the captivating international hit songs, "Day by Day" and "Prepare Ye the Way of the Lord" just around the time when karaoke started in Japan and wasn't yet as popular internationally as it is today.
GODSPELL is a beloved and timeless Broadway musical that has captivated audiences with its unique and vibrant interpretation of the Gospel of St. Matthew. Originally conceived by John-Michael Tebelak and featuring music and lyrics by Stephen Schwartz, from the maker of Wicked, Pippin, Hunchback of Notre Dame, Pocahontas, The Prince of Egypt and Enchanted. The show's enduring popularity can be attributed to its powerful messages of love, community, and faith, presented through a contemporary and energetic production.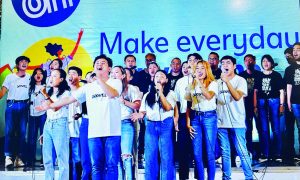 "The show is going to be presented with a unique opportunity from Music Theatre International, as this will be the FIRST Major and Licensed Hit Broadway Musical Show in Davao City. The Davao production will have exceptional live performances of globally acclaimed and Davao's best homegrown talents featuring The Himig Singers, Musikademy Scholars, M6Teens, Mindanao Repertory Community, Michael Richard Antonio Lopez and many more, " revealed music maestro Bong Aviola who acquired his exceptional music education from the University of the Philippines, Diliman, Quezon City. Together with his equally talented sister, Pie Aviola-Basiao, they founded Davao's foremost music school, the Musikademy.
"This upcoming event is in partnership with the Welfare Action Foundation of Davao, Inc. (Boystown Davao) and MUSIKADEMY. The Foundation has carefully aligned its mission to conduct on-going fundraising projects and activities to sustain its program – to envision itself "to be a home, a school of life and evangelizing community for the poor and abandoned boys," disclosed Pie Aviola-Basiao.
GODPELL is not merely a retelling of biblical tales, but a reflection on the timeless and universal values of love, empathy, and community. The show reminds us that these values remain relevant in our contemporary world, and it urges us to embrace these principles in our lives. The musical promotes unity and understanding among diverse individuals, stressing the idea that no one is alone in their journey towards self-discovery and spirituality. The show's continued popularity is a testament to its enduring relevance and its ability to bridge the gap between the sacred and the secular, presenting religious stories in a way that speaks to people of all backgrounds.
This is a heartwarming and transformative Broadway musical that continues to inspire and entertain audiences with its unique blend of faith, music, and community. Its ability to make ancient parables feel fresh and relevant is a testament to its enduring appeal, making it a must-see production for anyone seeking a meaningful and engaging theater experience.
Please don't miss the chance to be part of this extraordinary journey – get your tickets now and let the captivating story unfold before your eyes. Let us support our very own talents. Godspell will be presented at the Sedes Sapientiae Auditorium (7th floor)of the Holy Cross of Davao College on November 30, December 1 and December 2, 2023. Tickets are available at the MUSIKADEMY (3F L&P Bldg, Loreto St. Juna Subd.). For more information please call or send your message to 0970 820 6150.