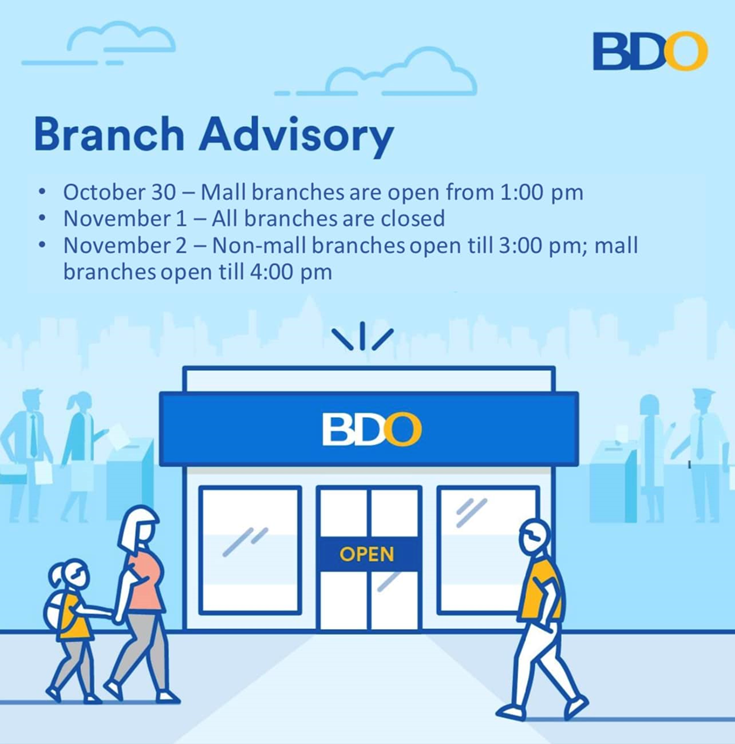 As non-working holidays approach, BDO Unibank said it will continue to provide the necessary support to serve the banking needs of its clients.
Oct 30 (Barangay Elections) – Mall branches are open from 1 p.m. until regular closing hours
Oct 31 – All branches are open on regular banking hours
Nov 1 (All Saints' Day) – All branches are closed
Nov 2 (All Souls' Day) – Non-mall branches are open until 3 p.m.; mall branches are open until 4 p.m.
Meanwhile, BDO's digital banking services (online and mobile banking, ATMs, and Cash Deposit Machines) will continue to be accessible for clients to access their accounts, withdraw cash, pay bills, transfer funds, and do other transactions.
Visit www.bdo.com.ph/branch-updates to check the list and schedule of BDO branches.