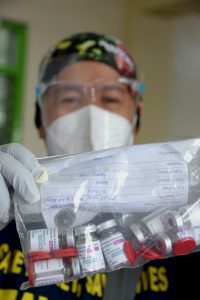 ABOUT 2,000 personnel of the Davao City Police Office (DCPO) were vaccinated as of Wednesday inside the Camp Leonor Domingo headquarters. 
Captain Rosario Aguilar, DCPO spokesperson, said 1,732 personnel from different units, offices and police stations. 
The Police Regional Office XI Health Service led the inoculation to the DCPO personnel. 
Aguilar said the city police office is targeting to provide shots to 4,106 personnel.
The office also reported that it recorded 23 active COVID-19 cases, many of them asymptomatic and isolated. 
 "Halo (those infected were) from stations and unit offices," she added, pointing out that some of those were infected as they were on patrol duties and were directly in contact with the public.
She added that the office has continued to ensure that strict health protocols are followed to prevent the spread of the virus among its personnel.