When someone mentions Valencia, I usually think of Lake Apo, Malingon and Alamay Falls, Pulangi River, verdant rolling hills, mountain ranges and chilly, sometimes, foggy evenings. Lately, I have added soft, flavored ensaymadas and hotel beds that make you want to stay all day inside your room to things that I associate with Valencia.
Our recent trip to Valencia City in the province of Bukidnon took us to Double M Hotel located along ML Quezon Street, just parallel to Sayre Highway.
A modern log cabin-inspired lobby gave us a pleasant welcome as we entered the hotel's main entrance, The lobby shares the floor with Tirso's Deli and Roasters, a branch of the famous Roadhouse Cafe (home of their famous Sizzling Bulalo) and of course, Totsy's Cakes and Pastries where you can hoard all those flavored ensaymadas for pasalubong or as snack as you're tucked in bed inside their rooms while watching Netflix.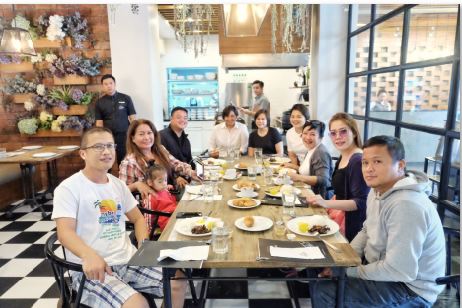 "We intentionally gave the hotel a rustic ambience to reflect the cool, mountain feel of Bukidnon. While it is modern, we also gave it some elements of the province and the businesses that our family operates," said Double M Hotel VP for F&B operations Totsy Monstesclaros-Dueñas.
The Montesclaros also owns farms and ranches in Valencia and other parts of Bukidnon where they also source the meats and produce that they use in their restaurants. Yes, that's where their super tender and flavorful Angus Roast Beef comes from.
Totsy, along with sister-in-law Maan H. Montesclaros, the hotel's director of hotel operations, graciously gave us a quick tour around the hotel
"We have 15 superior rooms, 9 deluxe rooms, 5 premiere rooms, 3 family rooms and 3 suites equipped with a flat screen cable TV, WiFi, writing desk, coffee and tea-making machines, in-room safe, and hot-and-cold shower," Maan said.
To be honest, I love cold showers in the morning but with Bukidnon's nippy conditions, I don't mind taking hot showers once in a while.
The Tisa Lounge Tapas and Wine, which I previously featured in this column, crowns the hotel's penthouse, where the hotel's function room is also located. Tisa is also the city's most happening night haunt.
So, if you're planning to have a road trip to Bukidnon come long weekend, they offer 35% room discount from Fridays to Sundays – and that comes with breakfast for 2 persons. I know a lot have booked their tours to Mt Capistrano, Nasuli Cold Spring and CEDAR in nearby Malaybalay and Panimahawa Ridge farther in Impasug-ong. Yes, you're welcome.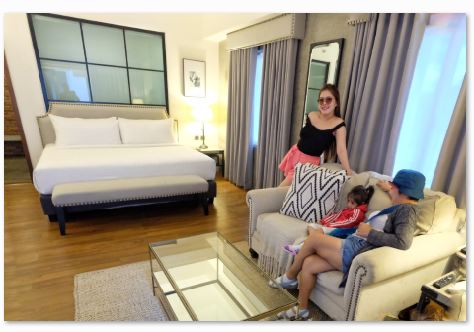 With the recent developments in Valencia – winning Cleanest and Greenest City and Best City Peace and Order Council awards, opening of new retail outlets, such as Robinson's Place, the city is now more than just a stop-over to your trip to Cagayan de Oro or Davao City. With Double M Hotel, consider Valencia City your home for the weekend.