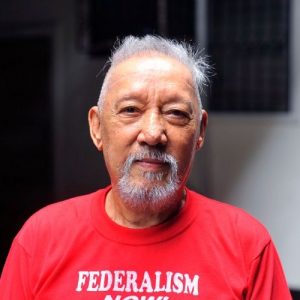 "I HAVE fought a good fight, I have finished the course, I have kept the faith." (2 Timothy 4:7)

I'm writing this article on my 86th birthday. Thank you, Lord, for the gift of a long challenging, and fruitful life, good physical and health, and a wonderful family.

On a long challenging and fruitful Life. My mother belonged to an upper-middle-income family while my father to a middle-income family. They sired two boys. I'm the oldest of the two brothers.

My parents, who were both from Manila, divorced during the Japanese time when divorce was legal then. I don't really know for what reason(s) perhaps, incompatibility? Hence, my brother and I grew up in a broken family living with my mother's parents.

Growing up without a father to guide us through the process of becoming adults, entailed extra difficulties, but perhaps better than living with often-quarreling parents. I vowed then to myself to be a good husband and father. Due to lack of financial support. I learned to be thrifty.
I often walked instead of riding PU jeepneys to save money. My big problem was that I had only one pair of shoes. To have extra money, I shined shoes and worked as a pin boy in a bowling center during summer.

I was born in Tondo, Manila on March 5, 1935. We transferred to Sampaloc, Manila, before World War II. I was in Grade II when the Japanese invaded our country. I finished my elementary and high school in public schools.
I graduated with a Bachelor of Science in Architecture from the University of Santo Tomas in 1957 with financial help from my mother's mother. When my mother died of cancer, my brother and I migrated to Davao City in 1962 to join my father and our childless step-mother.

The best thing that happened to me in Davao City was finding the love of my life – my beloved wife, Paquita Celes Demetillo, an Ilonga, teaching at the Mindanao College (now the University of Mindanao). She was then one of the sexiest and smartest teachers of said college.
Paquita is also one of the kindest, loving, and forgiving persons I ever met. We got married in 1963 and have four bright children (two boys and two girls). We now live happily together after encountering a lot of trials in our lives due mostly to my weaknesses.

My biodata below shows my professional journey in life:

Education Attainment
B.S. Architecture, UST.
Master in Environmental Planning, UP.
Positions Occupied:
Architect, Office of the City Engineer, Davao City.
Instructor, College of Eng'g and Architecture, University of MINDANAO TIMES Davao City Planning and Development head, City Planning and Development Office.
Technical Assistant of former Minister Rodolfo P. del Rosario, Ministry of Natural Resources
Technical Assistant of former Secretary Luis T. Santos, Department of Local Government.
Chief of Staff of Congressman Rodolfo P. del Rosario
Provincial Administrator, Davao del Norte
President of Davao del Norte Press Club and of "TABAK" Media Foundation, Inc. Davao City
Columnist in many local newspapers

Books Written:
A Letter to the Youth: A Message on Success, 1992
Reaching Out to the Youth, 1994
Struggle for Autonomy in Mindanao, 1998

Pricks of Conscience, 1999
A federal Form of Government for the Philippines: A PRIMER, 2000
Further Pricking of Conscience, 2002
Get RICH, Stay RICH: The Christian Way, 2004
How to Federalize the Philippines: A Manual, 2017
Liberal our People Save Nation: A PAMPHLET, 2018
Go for REAL SOCIAL TRANSFORMATION, 2020
Healing Our Sock Society, 2021

What do I consider my extraordinary contributions in public life?

As an Architect AT THE CITY ENGINEER'S OFFICE

•Prepared the first expanded Land Use and major Road Systems Plan of Davao City, and other major roads in Region XI
•These Major roads are:
1) City Diversion Road
2) Ma-a Road and Bridge
3) Ecoland Road and Highway
4) Coastal Road and Bridges, and
5) Agdao – Alcantara Road
•Conceptualized Mati, Tagum and Panabo Diversion/ Circumferential Roads
•Designed and constructed the Rizal Monument at Rizal Park for the Knights of Rizal
•Acquired Scholarship for Masteral Degree, Institute of Planning, University of the Philippines, Diliman, Quezon City.
•Participated in pioneering Regional Planning in Region XI.
Tourism Concept Plan; Samal Island Beach Resort – Eden, Toril Mountain Resort
Assistant in the Creation of a Davao City Planning and Development Office

As Davao City Planning and Development Coordinator / Head:

•Assisted in the organization of a City Planning and Development Office and Council
•Assisted in the establishment of a Muslim Mosque besides Almendras Gym.
•Assisted in the computerization of some City Government's functions
•Formulated the first Comprehensive Development Plan of Davao City
•Drafted the first Comprehensive Zoning Ordinance of Davao City
•Assisted in the Conceptualization of Social Housing and Waterwork System in making Davao as an international Tourist Destination

As Technical Assistant to Minister Rodolfo H. del Rosario, Sr. Ministry of Natural Resources

•Introduced massive planting of Mango trees in Samal Island and Davao Sur
•Introduced Bamboo and Ipil trees for reforestation
•Hastened issuance of forest dweller stewardship certificates

As Technical Assistant to Secretary Luis T. Santos Department of Local Government

•Trouble – shot in the problematic bidding of about P600M Foreign Assisted Infra – Equipment Program for selected Local Government Units
•Introduced Two Envelope System of Bidding
•Conceptualized a national celebration of Independence Day at Luneta including the design of the logo used during the occasion

As Chief of Staff of Congressman Rodolfo P. del Rosario, Davao del Norte

•He was undefeated in all his election campaigns
•Introduced Scientific Poll Survey in the Province
•Introduced Parallel Organizations in political campaigns
•Conceptualized the creation of Talaingos Lumad Municipality
•Assisted in the conceptualization of a bridge between (shortest distance ) Davao City and Samal Island
•Conceptualized, Davao City – Samal Island Ferry Boat Service (now a multi-business)
•Conceptualized conversion of Babak-Kaputian Provincial Road to National Road
•Assisted in the creation of the Island in Samal, District, IGACOS
•Conceptualized Religious Shrine in Samal, District, IGACOS
•Assisted in the conceptualization of Panabo as an Enterport
•Assisted in the revival of the Federalism Movement as a charter member of "Lihok Pederal Davao" to "Citizens Movement for a Federal Philippines" in the late nineties
•Coordinated the Mindanao – Manila Caravan thru the newly finished Maharlika National Highway
•Conceptualized the establishment of a Mindanao Science High School in Mintal
•Coordinated the Physical Arrangement Committee during Pope Pius II visit Davao City. Collaborates with national artist Arch. Bobby Mañosa in the design and construction of the Pope's Vinta Templet" at the old Davao Airport
•Convinced Congressman del Rosario to acquire the abandoned Pearl Farm area and develop it into a Resort

As Provincial Administrator of Davao del Norte:
•Instrumental in helping Gov. Prospero Amatong to be also undefeated in all his political career
•Establishment of a Foundation for the yearly celebration of the "Araw ng Davao del Norte Province."
•Creation of the Position of Assistant Provincial Administrator
•Hastened issuance of IP Ancestral Domain Titled by DENR to the Ata-Manobo Tribe in Talaingod
•Conceptualized the creation of the Compostela (now Davao de Oro) Province with two (2) Congressional Districts and access to Davao Gulf.

Other contributions:

•Pioneered in the establishment of a School of Architecture in the University of Mindanao starting with three (3) student
•Assisted as an alumnus in the establishment UP, MINDANAO
•Joined the 2015 "Kilos Pederal sa Pagbabago (KPP): Movement as technical Consultant in the campaign for Federalism
•Conceptualized the forthcoming nationwide "Summit On Solidarity".
•Supported financially several Davao Youths to attain college education/technical courses
•Dean of Facilitators in our Marriage Enrichment Seminars at St. Jude Parish.
•Served as an Extra-Ordinary Minister of the Holy Eucharist in the same Parish
•As Resource Person in many Youth Values Education, Poverty Alleviation, Federalism and People Reform Fora


My Personal Tips On Good Physical and Mental Health

•Consider my body as the "Temple of the Holy Spirit"
•Stopped smoking and alcohol drinks upon reaching years of age
•Eat moderately. Avoid meat. More fish, vegetables and fruits. Eat less
•Exercise physically and mentally daily
•Learn to properly manage stress
•Eight hours sleep per day
•Drink no less than eight (8) glasses of potable water preferably alkaline water and breath clean air
Adopt a simple, balanced, and Godly lifestyle. Don't be daggled by wealth, fame, and power
•My latest blood test all normal
•I still read without eyeglasses
•Skin still oily and smooth

At 86, I'm already at the "departure area". Actually, I'm already "over-staying". Big bonus na. It's only a matter of years now before I will face our Creator. The "major" lesson I learned in life is that all serious problems in this trying world can only be solved if we place our life in the hands of God. But, no full retirement for me. I will continue writing. I will continue advocating, assisting in our people's struggle, and healing of our sick society. I will die "with my boots on!"

Thank you also Lord for the gifts of Integrity, commitment, and competence.