THE OVERALL residential power rate of Davao Light and Power Co., Inc. (Davao Light) slightly declined from P9.21 last month to P9.12 per kilowatt-hour (kWh) this November. The decrease translates to a P18.98 difference from the previous billing of households whose average monthly electricity consumption is 200 kWh.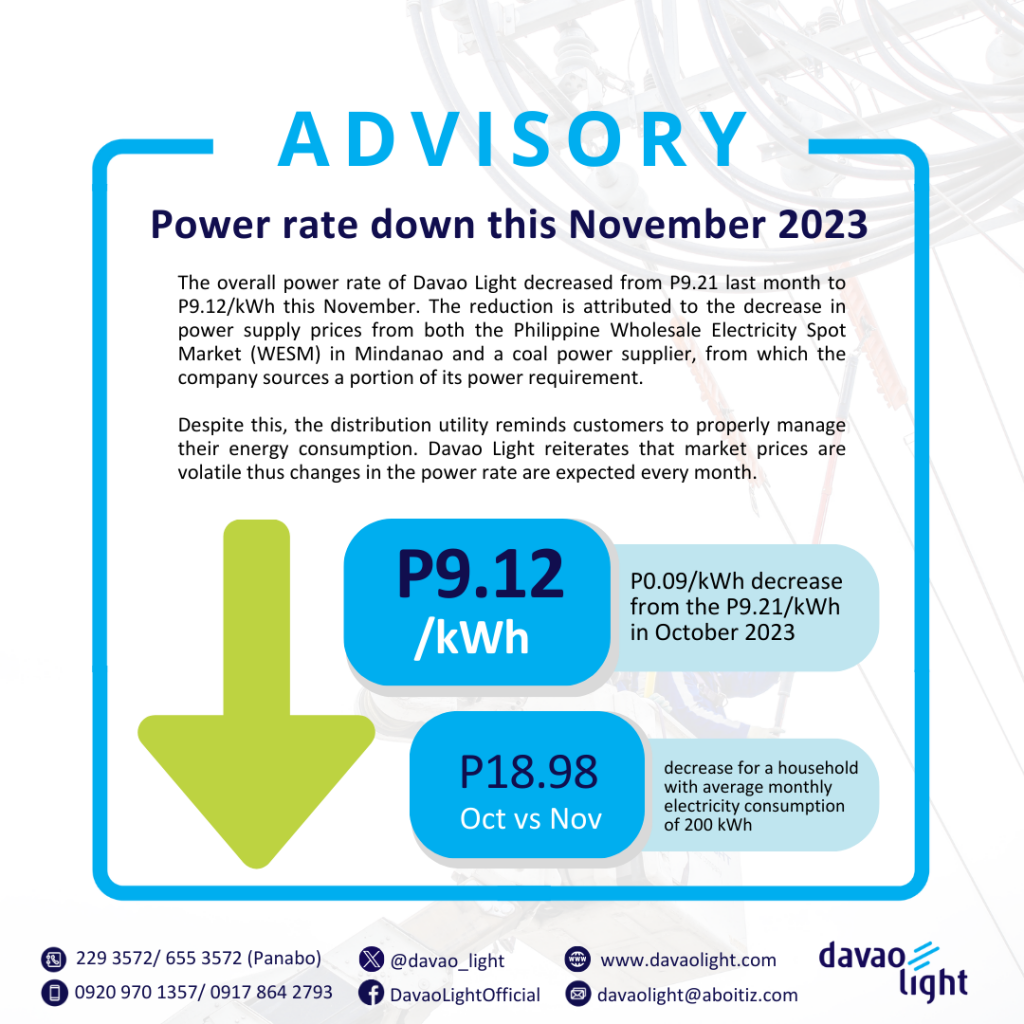 According to the utility firm, the rate applies to bills received from Nov. 11 to Dec. 11, 2023.
The reduction is attributed to the decrease in power supply prices from both the Philippine Wholesale Electricity Spot Market (WESM) in Mindanao and a coal power supplier, from which the company sources a portion of its power requirement. Despite this, Davao Light reiterates that market prices are volatile thus changes in the power rate are expected every month.
Moreover, the distribution utility reminds customers to properly manage their energy consumption, especially now that it is the holiday season. During this period, people decorate their homes with Christmas lights and other electrical decorations, and they hold gatherings at home leading to higher usage of electrical devices and appliances. These contribute to higher power consumption and consequently higher monthly bills.
"Aside from the power rate, another important factor that contributes to our monthly bill is our energy consumption", said Fermin Edillon, Davao Light Reputation Enhancement Department head. "While the power rate remains beyond our control, our ability to regulate and manage our power usage also dictates whether our electricity bill will be high or low," Edillon added.
There are several simple ways to conserve power at home and one is to make a habit of unplugging unused electric appliances that act like energy vampires, sucking power even when they are not in use. Davao Light also reminds its customers to lessen the number of hours or days used for a particular appliance. By using them for shorter durations or less frequently, one can reduce energy consumption.
Davao Light customers can check the power utility's official Facebook page for more energy conservation tips, and www.davaolight.com for the complete November rates.
Davao Light, an AboitizPower subsidiary, is the third largest privately-owned electric distribution utility in the country in terms of customer size and annual kWh sales. Its franchise area covers the cities of Davao and Panabo and the municipalities of Carmen, Dujali, and Sto. Tomas in Davao del Norte, with a population of approximately 2.23 million and a total area of 3,561 sq. kilometers.