February is not only the Month of Hearts, it is also known as the National Arts Month in the Philippines. Proclaimed nearly 20 years ago under Presidential Proclamation 683, this month-long celebration showcases the love of the creatives from the different art disciplines and allied arts.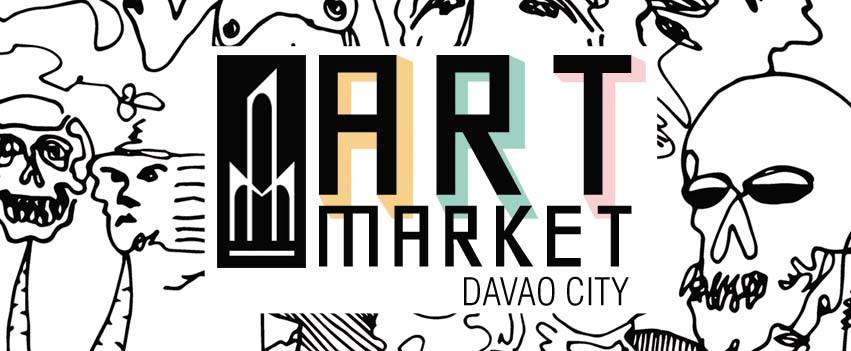 Usually, art celebrations are centered on the Cultural Center of the Philippines or inside art schools but Davao City this year, will not be short of harvesting of the many art talents from its different art communities especially as it aims to be a Creative City by 2022. From the seasoned artists to the emerging artists, the art organizations to the art academies and from one art form to the other, there is something for everyone who lives, breathes and gets inspired from the arts for this National Art Months Celebration.
Starting literally on day one of February is Inkpressions, an all pen and ink exhibition by United Durian Artists at the Abreeza Mall. This drawing exhibition showcases the works of notable Davao seasoned artists, Arnel Villegas, JC Gonzales, Bong Espinosa and Alex Alagon. Their show will be running until February 16 and they will be having free drawing sessions throughout the weekends of February.  Art Centrale opened their art exhibition of the Magallanes Elementary School Art Club at Felcris Centrale on the 3rd of February. This young artists' club exhibition will run until February 14 and then to be followed-up by the first one man show of watercolor master, Joselito "Jojo" Tolentino Jimenez entitled, "My Art Journey". Jojo Jimenez is a graduate of UP Fine Arts, an art practitioner for decades and has been on countless group art exhibitions but it is only now that he decided to do his first one man-show. He will be conducting an art demonstration and workshop during the course of his exhibition that will run until March 15, 2019.
Not to be missed also is the 19th yearly art exhibition and performance show of the Davao City National High School Special Program for the Arts and their Senior High School Arts and Design Track.  "Subang", the visual arts exhibition begins on February 6 at their DCNHS Alumini Hall in F. Torres st. while "Layag 2019", the free performance art show on February 13 at the CAP Auditorium in Rizal st. with a Matinee by 3:00 pm and a Gala by 7:00 pm. From Philippine Women's College of Davao Senior High School Arts and Design Track, will be having their art exhibition entitled, "Our Very Own Fairytale", on February 15 to March 2 and theater festival, entitled, "Isahan at Dalawahan" on February 16, 22, 23,25, March 1 and 2  at the Morning Light Gallery and Art Shop. The PWC-SHS Arts and Design art exhibition is based on the art researches of the grade 12 Visual Arts students from their favorite fairytales and their personal connection with it while the theater festival is part of the grade 12 Performance Arts' Entrepreneurship class which features monologues and dialogues made by known playwrights.
---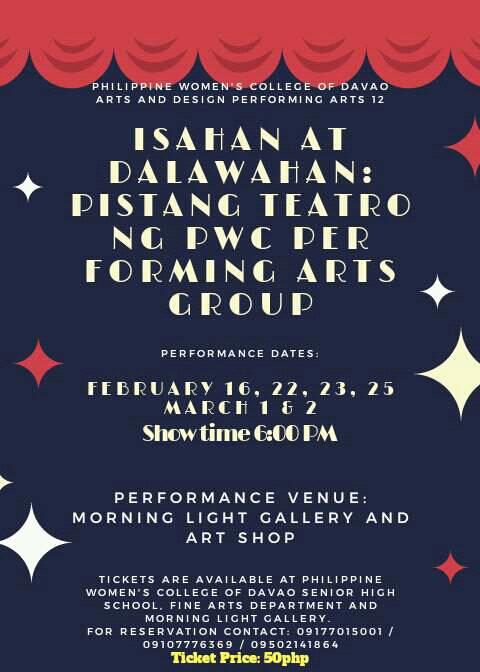 ---
At the end of the long art month celebration comes the first Art Market of Davao City that is happening at the Abreeza Mall on February 22, 23 and 24 that brings Davao's art galleries, art groups, artisans and different art products to a one stop shop. This art focused selling market is a course project of the Institutional Management Enterprise of the PWC of Davao and sponsored by the Helena Benitez School of Fine Arts and Design and Artisanal Heritage Studies and Creative Enterprise Center. There will also be set of activities that will happen on different days of the art market such as art talks, performance art, an interactive art workshop called art buffet where the participants can choose the art projects they want to do and many more.
There is also an on-going project for local Davao-based artists to register and be part of a directory under the creative.davao.project. This project is an independent initiative from a collective of creative individuals, curators and writers that aims to connect the different art discipline practitioners for support, collaboration and proper representation in the community. Truly there is so much heart for the art this month of February for Davao City!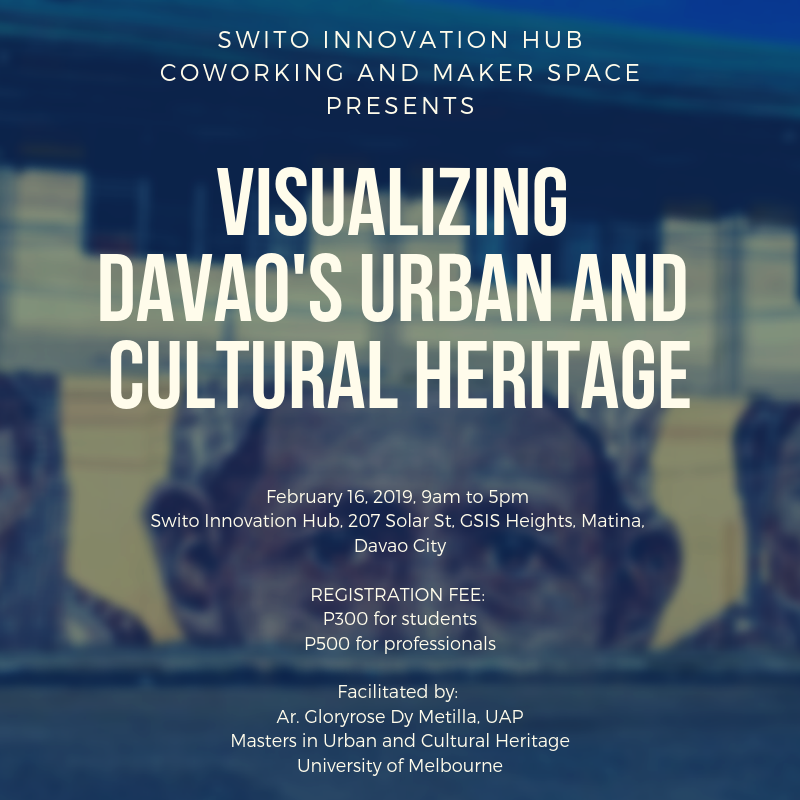 Poster Credits to its Owners
Please see their respective Facebook Pages for Further Details.
Photos by Ian Garcia