After four years of hard work, Jane Danielle T. Cagalitan finally holds a Bachelor's Degree in Secondary Education with a major in English.
Asked about her secret to this accomplishment, the Hedcor and Aboitiz Foundation scholar credits her success to God, her family, and to farming.
Jane's family lives off growing radish and tomatoes in their 5,000-sqm. farm in Kapatagan, Digos City. Her father Julius oversees most of the tasks. Her mother Janet, on the other hand, assists in tilling the land and planting crops. While this was enough to provide for the family's needs at first, the cost of living began to increase while the price of vegetables began to fluctuate, all at a time when Jane was about to enter college. Her family knew they had to work twice as hard.
"Aside from farming, my husband sometimes hauls crops like bananas for additional income. We also plant sayote and harvest them weekly so that we could give Jane her allowance," Janet shared.
Jane, for her part, also had to fight homesickness and dealing with the pressure. Having to study 40 kilometers away from home and maintaining the expectations after graduating high school valedictorian made Jane's first year in college a little difficult.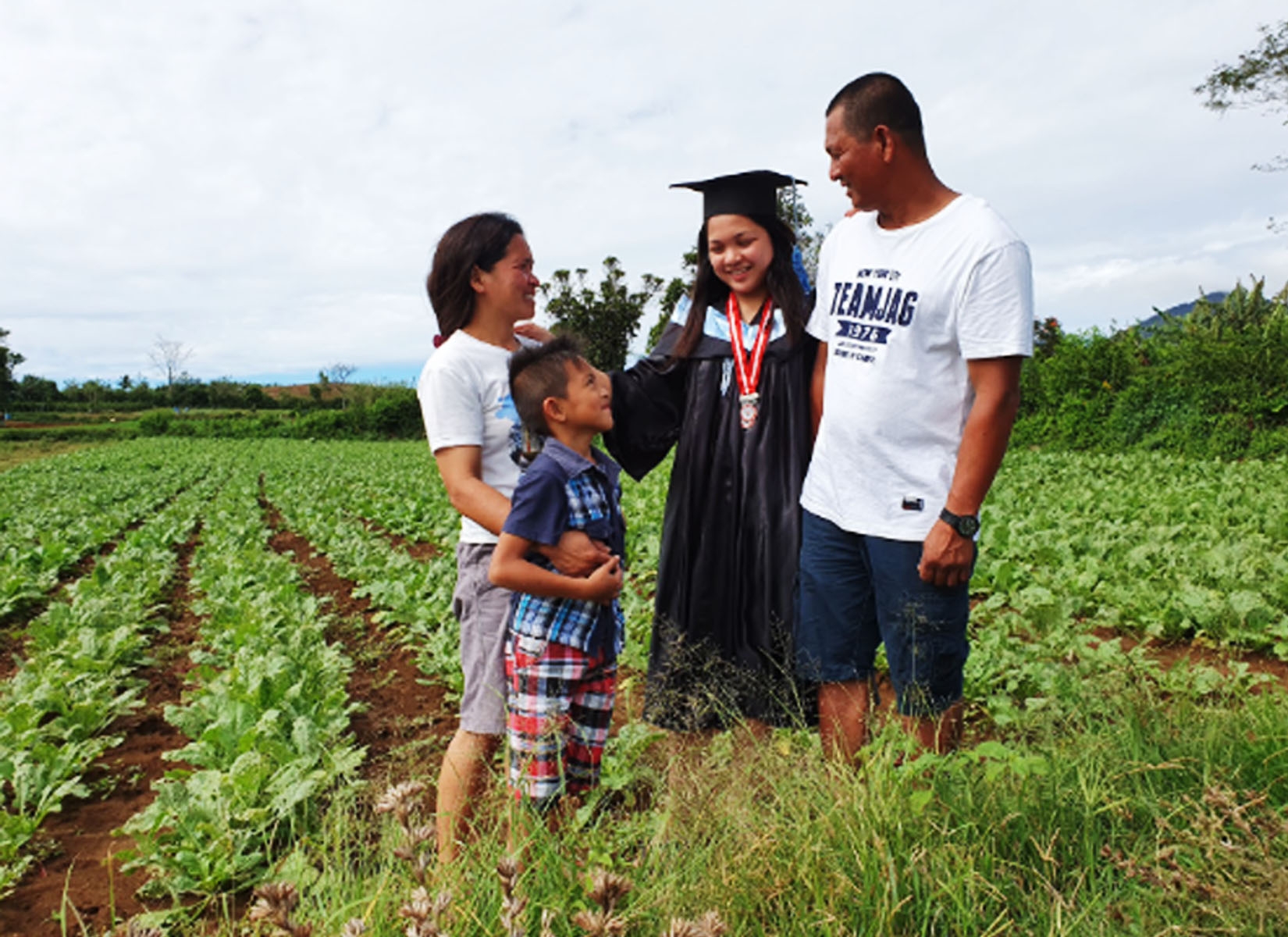 "People had high expectations of me, and my college professors were really pushing me to my limits," Jane said.
However, her persistence to finish strong never faltered.
"Instead of seeing it as pressure, I would like to call it a challenge instead so that I get motivated to persevere more," she added.
Just like in farming however, one reaps what they sow. From the seeds of hard work and perseverance grew the fruits of success — graduating magna cum laude with a Bachelor's Degree in Secondary Education from Cor Jesu College in Digos City. Jane also holds the honor of being the first magna cum laude among Hedcor's scholars in Mindanao.
"We really did not expect it. Now, she's graduating magna cum laude. When she was studying, we just continued to remind her to always work hard," shared Janet as she fought back tears.
Today, in addition to their farm, Jane's family now owns a sari-sari store which opened late last year, another fruit that bore from the family's persistence and determination. Jane also plants to take the Licensure Examination for Teachers this September in hopes to someday fulfill her "passion and mission" of teaching.
"Thank you to Hedcor and Aboitiz Foundation for shouldering my financial burdens. I wouldn't come this far if it wasn't for your help," Jane shared.
Hedcor, a subsidiary of AboitizPower, has been continuously providing scholarships to its community partners. However, the organization's support towards education does not stop at graduation alone.
"As you know, Hedcor's support will not end when you graduate. We will continuously do our best to help you, directly or indirectly. I hope that this relationship becomes two-way because we need your contribution and commitment to be able to advance business and communities," Hedcor Community Relations Officer Lalaine Lonzaga said.
Jane is a scholar of Hedcor Sibulan, Inc. and Aboitiz Foundation, Inc. Hedcor is the run-of-river hydropower arm of AboitizPower, which operates 21 run-of-river hydropower facilities in the country.