"It's now so hot and humid in Davao and the Philippines for that matter.  It is truly summer and the very reason why you should wear sunscreen every single day.  Even if we Filipinos have darker complexion with the melanin in our skin giving us some natural protection from sun burn, we still need protection from the harmful ultraviolet rays.  People with darker skin tones are at risk of  more serious kinds of cancer when they get it.  Dermatologists will always recommend for everyone to wear sunscreen daily for the safety of the skin," reminds Daryl Ngo, a young Chinoy entrepreneur who once was an active dancer for the LCB Performing Arts Center of Chin Bon Lu and dance maestra Bing Locsin where I met her.  I've watched this lovely lady grow up into a fine woman.  Mind you, but I think she was the only female dancer in LCB who has abs just like her other health-conscious brothers.  Meeting with her at a cafe, she now lectures me on skin care over a cup of coffee.  It's not like our family dermatologist, Dr. Emily Piansay-Soriano, hasn't ordered me to use sunscreen on a daily basis especially now that we're aging.
"Oh yes, tito Mike, visible aging comes from the hours you've spent in the sun.  Even when it's not sunny, the ultraviolet rays can still damage your skin so you need sunscreen protection even on cloudy days," Daryl, the millennial one, gives it to me straight.
Daryl Ngo proclaims herself as an environmentalist who is concerned and advocates the protection of our environment.  "I love going to the beach, especially now that it is summer, which only means I have to arm myself with sunscreen.  However, some sunscreens contain potentially damaging chemicals like oxybenzone, octinoxate, PABA, homosalate, octosalate and avobenzone that disrupt coral reproduction, cause coral bleaching, and damage coral DNA.  Hawaii prides itself for being the first country to ban sunscreen types believed to damage or even kill coral reefs," revealed Daryl.  And this is the reason why Daryl had to look for a sunscreen brand that is safe for the skin and wouldn't harm the environment.
"I am so glad that I discovered in my research the reef friendly brand called Sun Bum.  I spent some time researching the ingredients of the Sun Bum sunscreens to make sure nothing harms the sea nor the environment as a whole.  Since I have finally discovered the wonders of Sun Bum skincare products, I decided to be the Sun Bum distributor here in Davao City," says Daryl.
It was a Gold Coast native named Adam Francis, a professional surfer, who established the Sun Bum brand as a small company in 2010.  The surfer executive recalled that it was tough at the start but the surf shops loves him and his skincare products.  "From our humble beginnings in 2010, we set out to create the healthiest and most effective sunscreen that we actually wanted to put on.  We made it for the purpose of protecting ourselves, our kids and our friends from the harmful dangers of the sun that was chewing up our local beach communities…We are passionately committed to doing what we can to move the needle on skin cancer.  But in the end, we're not a sunscreen company—we're just a group of beach friends whose values prioritize care for the planet, the animals and each other.  So you can be sure we will always make the best products we can that reflect that promise and be grateful when our community helps us out along the way.  Trust the Sun Bum," professed Adam Francis.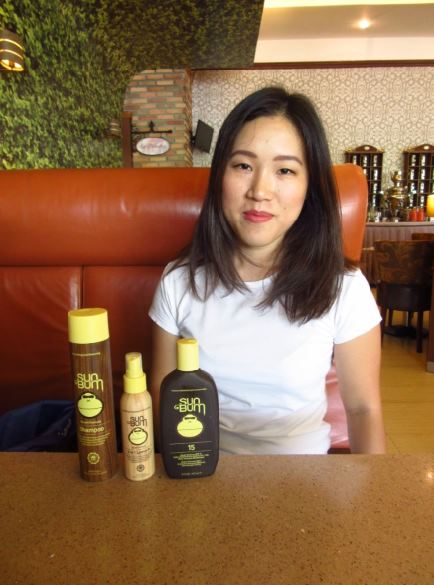 The Sun Bum has a broad spectrum moisturizing sunscreen that protects you from harmful UVA and UVB rays.  The sunscreens are enriched with vitamin E to protect the skin from premature aging; and is approved and recommended by the Skin Cancer Foundation (USA).  The Face Lotion (SPF 50) is a matte-finish, lightweight sunscreen lotion designed for daily use that is quickly aborbed by the skin and is reef-friendly.  Zinc Oxide (SPF 50) is a mineral-based sunscreen that's added with Aloe and Vitamin E.  It's perfect for those with sensitive skin.  I love the Lip Balm (SPF 30) which moisturizes the lips with its added Aloe and Vitamin E.
The Sun Bum also has the Browning Lotion, a mositurizing lotion that accelerates the tanning process to get you that deep tan fast.  After your day at the beach, Sun Bum provides you with its Shampoo and Condition as well as a 3 in One Leave-in Conditioner.
Thank you, Daryl Ngo, for the new information on the safest sunscreen in town, The Sun Bum. Sun Bum sunscreen products are now available in Davao City at the Chimes Specialty Stores in Governor Sales Street and at the Abreeza Mall of Davao.