Bangkok's traffic is as notorious as Manila's.  But unlike Manila, Bangkok has good and modern transportation systems in place you can truly rely on to make it convenient to navigate your way around as a tourist.  The Thai government-owned Skytrain (BTS) rail system is clean, cool, well-maintained and efficiently managed to connect the shopping, entertainment, and business areas of Bangkok that you'd wish our government would do the same for our convulsing MRT and LRT.  What I found admirable as well is the maximized use of river taxis and express boats to explore the many historic sites and attractions located along the Chao Phraya River.  Makes you wonder why our DOT doesn't utilize this same tourist allure for our own murky and smelly Pasig River.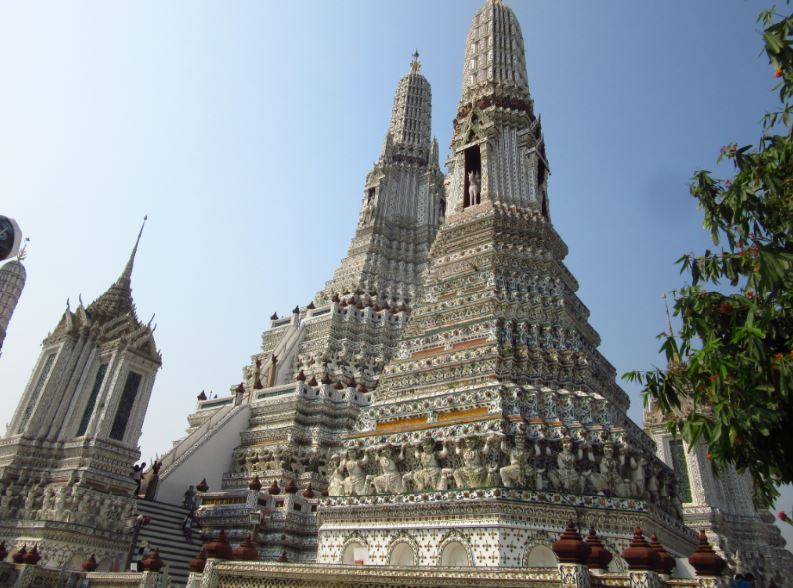 Every great city has a river, and Bangkok's Chao Phraya River is the lifeblood of the City.  It flows past the ancient temples of Wat Arun (Temple of the Dawn), Wat Pho (Temple of the Reclining Gold Buddha), Grand Palace; and modern high rises like the Royal Orchid Sheraton Hotel, Millennium Hilton Hotel, the fun night market of Asiatique, Makaraj Mall, Oriental Plaza, to mention just a few. Along the Chao Phraya River are Roman Catholic churches such as those of the Holy Rosary Church, Sta. Cruz Church and the Assumption Cathedral.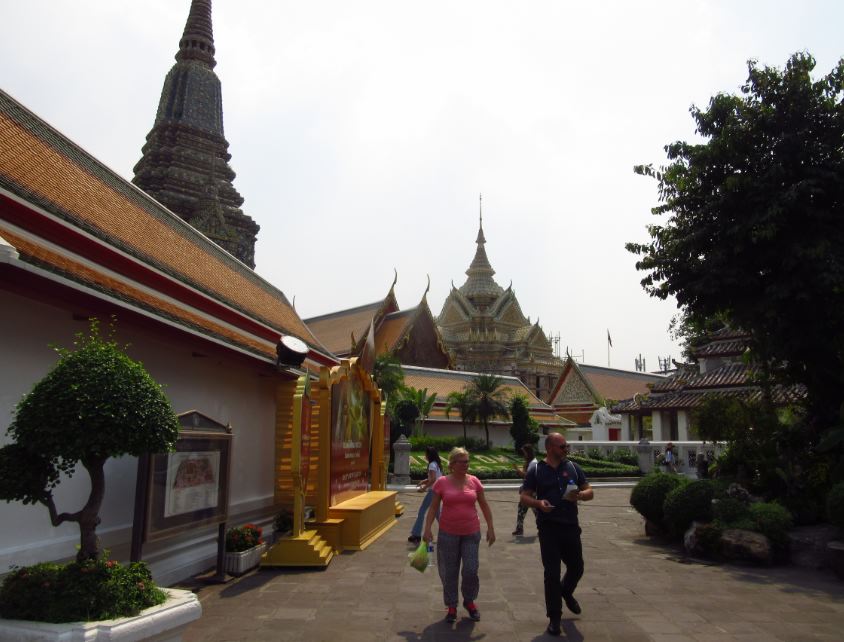 The Chao Phraya Tourist Boat launched a hop-on and hop-off service to facilitate tourists who want to visit these famous tourist attractions along the Chao Phraya River. Mind you, but by the end of this year, electric ferries will ply the Chao Phraya River under a Bt 1 billion project to transform Bangkok into the "Venice of the East" and help ease the capital city's smog.  This is one smart transport initiative which, perhaps, can inspire our leaders to do the same for our Pasig River route.
As my traveling partner is a temple lover, Arch't. Aimee Maceda Aquino scheduled for us to visit Wat Arun and Wat Pho with a side trip to the Pak Khlong Flower Market.  Never mind if the schedule fell on what was considered a truly hot day in Bangkok (37 degrees Celsius) last February 13.  For the sake of the Arts, we managed to bear with the hot tropical sun for hours.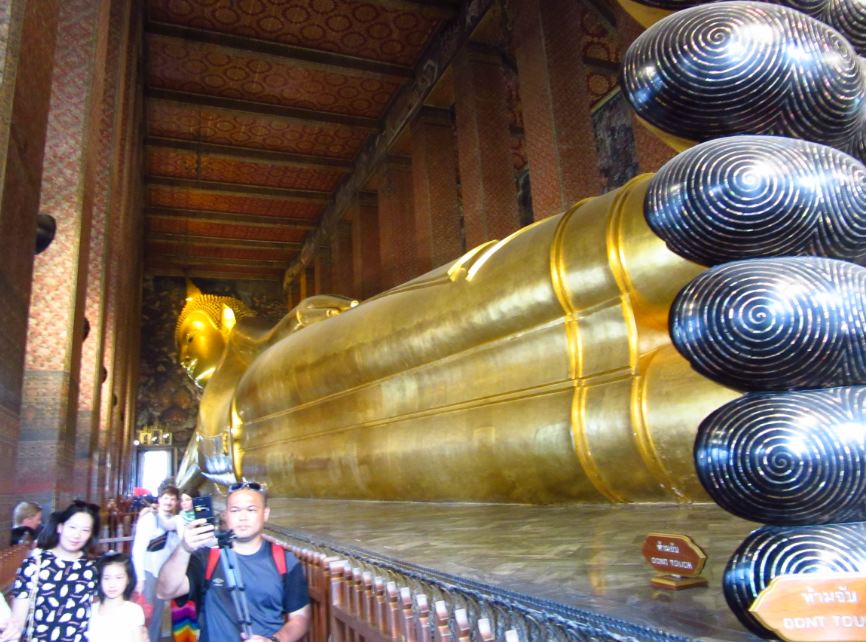 Wat Arun stands majestically on the west bank of the Chao Phraya River.  It is one of the most amazing temples in Bangkok with its singular architectural design and fine craftsmanship featuring colorfully decorated prangs (Khmer-style towers) encrusted in glass and porcelain.  Wat Arun is considered by many as one of the most beautiful temples of Thailand. The temple has a central prang finished with colorful porcelain in various detailed patterns; and rises over 70 meters high making it one of Bangkok's world-famous landmarks.  The prangs are significant stupa-like pagodas which are symbols of Buddha's enlightened mind and presence and thus used for meditation.  In Wat Arun's meditation hall is a golden Buddha plus detailed murals on the walls, pillars, doors and ceiling.  It is an important place of worship for Buddhists and you'd find Buddhist monks in robes that you can request to have your souvenir picture taken with.
Opposite the Wat Arun is the Wat Pho which you reach by taking a river boat that docks at pier 8.  Wat Pho is one of the largest temple complexes of Bangkok and famous for its giant reclining golden Buddha.  The resting Buddha measures 46 meters long and is 15 meters tall.  The Buddha's feet are 5 meters long and painstakingly decorated with mother-of-pearl illustrations of auspicious characters of the Buddha.  In another structure is housed numerous golden Buddhas in sitting positions.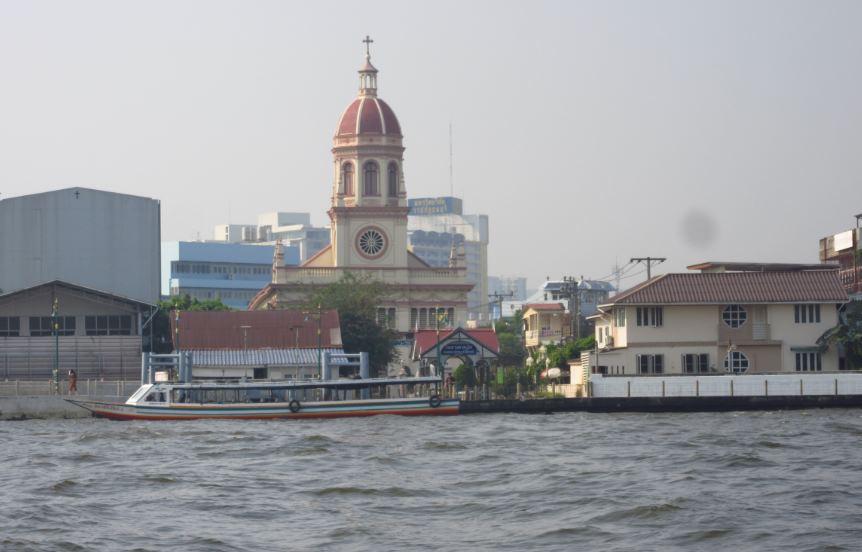 Here, Aimee and I got to experience our traditional Thai massage as Wat Pho is considered the leading school of massage in Thailand.  Outside the Wat Pho compound are various eateries serving delicious traditional Thai cuisine.  We never got tired of eating Thai food in both expensive and affordable restaurants.  You never get enough of Thai cuisine.
From Wat Pho, we went on foot to Bangkok's Flower Market or Pak Khlong Talad, the biggest wholesale and retail fresh flower market in the city.  The market is located just south of Wat Pho and has access to a river pier so it makes a great one day trip when combined with other historical attractions of the Old City.  In this market are found popular flowers like roses, orchids, chrysanthemums, lilies and more.  Most of the flowers are sold in packs of 50 or 100. Interesting as well are some of Thailand's quaint traditional flower arrangements for religious offerings.  Prices are amazingly cheaper when compared to those sold in Davao.  The Bangkok Flower Market is located on Chak Phet Road which is lined with old shop-houses on both sides of the road.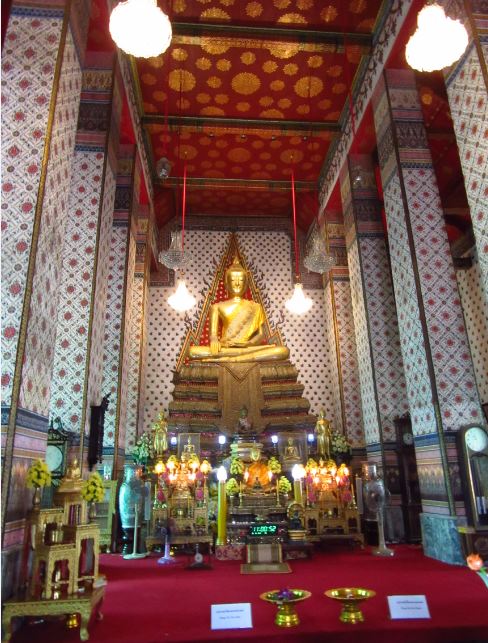 On our last day in Bangkok, we decided to go shopping and buy pasalubong for family and friends.  Naturally, we spent time in Jim Thompson, MBK, Tokyu, Isetann, and the Siam malls.  Unforgettable as well was our dinner at Siam*Siam Design Hotel Bangkok where a young Pinay on her OJT got to serve us.  The band and singers were also Filipinos.
Indeed, "Amazing Thailand" has gone a long way from "It's more Fun in the Philippines" in the field of tourism services and offerings.  Thailand is expecting 41 million tourists for the year 2019.