It has rather been a long wait for the Wharf Hotels to officially announce the appointment of Colin Owen Healy as General Manager of an International Deluxe Hotel, the Marco Polo Davao, in the heart of our beloved City's shopping and business district.
Before meeting in person GM Colin Owen Healy, Marco Polo Davao's Director for Marketing and Communication, Pearl Peralta-Maclang, described the gentleman GM. "GM Colin Owen Healy is energetic, talented and driven with a passion for delivering first rate service to all our valued guests.  He possesses excellent interpersonal skills which encourage businessmen and clients to come back to us.  GM Healy has a proven track record of running successful operations that nurture and grow the business; controlling costs in all areas; and at the same time, maximizing the margins required.  He demonstrates visible operational leadership management and develops new talents.  We are looking forward for GM Healy to bolster the Marco Polo Davao's reputation as the lone five star hotel in Davao City with its brand of elegance and warm Davao hospitality.  It is the most ideal venue for meetings, special functions and memorable events."
Meeting GM Healy for the first time, you get the immediate impression that this formal Englishman is friendly but seriously means business.  He was born on May 30, 1967, in St. Helier, Jersey, Channel Islands, although he lists his present home residence at Warminstaer, Wiltshire, England.  GM Healy is married to a Filipino national, Cristin Healy of Makati City, with whom he has two kids namely Charles Spencer and Chloe Bree Healy.  The 51-year-old Englishman keeps fit by actively running.  He loves travelling and enjoys learning new cultures in each place he visits.
GM Healy graduated with a culinary arts degree from North Hertfordshire Collge, Letchworth Hertfordshire, England.  He then had his on-the-job-training courses at the Marriott International.  He is armed with a HACCP Certification for Food Safety and Hygiene; and a Trust Certificate in Wine & Spirit Education.  He has held two AA Rosettes as Head Chef at Studley Priory in 1994; and culinary medals in culinary event competitions held in the United Kingdom.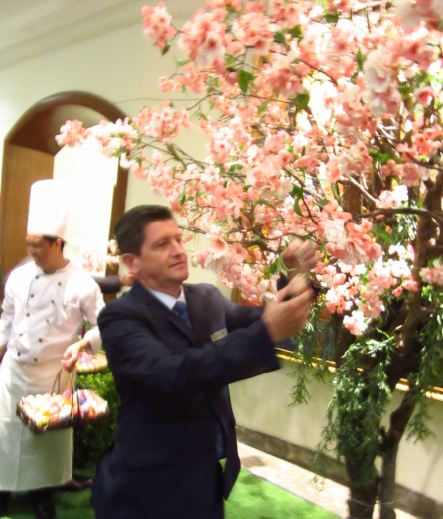 "I'd rather adapt than impose myself.  I will have a hands-on approach in running Marco Polo Davao," said GM Healy assuring everybody that his tenacious and can-do attitude matched with entrepreneurial mind-set will be an advantage.  "I wish to continue the legacy of Marco Polo Davao as the Heart of Davao.  I believe it is all about people taking care of people," assured the experienced hotelier who was General Manager of the Double Tree Resort by Hilton Hainan-Xinglong Lakeside before he came to Davao City.  The gentleman has 33 years of knowledge and experience backing him up in the hospitality industry.
GM Healy's first experience in the Philippines was when he worked as Executive Chef at the Renaissance Makati in April 2004 to February 2008.  He oversaw the day to day running of the Food & Beverage operations of the hotel. The gentleman has possesses a successful track record across Europe and Asia with international hotel brands.
"Colin is a real hotel professional.  He is always creating new concepts and enjoys the process of working with marketers to communicate his ideas. The man is very easy to work with and not only was he a valued colleague but is now a prized client," commented Natasaha Eldred, the Managing Director of Shine PR Phuket.  On the other hand, Stefan Nietsche, the Exec. Sous Chef of Laguna Beach Resort in Phuket described Colin as "a pleasure to work with as he has great eyes and attention for details in all aspects, has lots of ideas and creativity, shows professionalism and has a great attitude in his job."
Wishing you all the best in your role as General Manager of Marco Polo Davao, Mr. Colin Owen Healy.