Buffets are a Davaoeno food lover's culinary paradise. There are lots of variety of dishes that you find in a buffet offering including the more expensive favorites like seafood and steaks. Though I personally prefer indulging in a buffet meal during lunch, it is at dinner time when a buffet offering is at its best and also more expensive.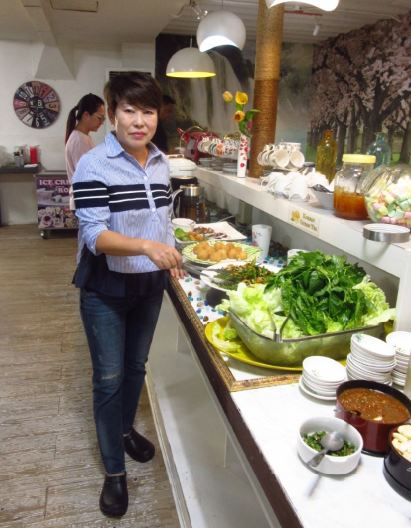 It was on Nov. 14, 2015, when the Korean Buffet 52 at Plaza de Bole Compound along Torres Street opened its doors to Korean food lovers of this City. If not for former Mutya ng Davao 2000 Leah May Luna-Panizales inviting me to savor the culinary delights of Buffet 52, I think it would have taken me another year to drop by the place. I love Korean food just as much as the more popular Chinese and Japanese cuisines.
When you talk about Korean cuisine, delicacies like kimchi have become a global sensation. This fermented vegetable dish is one of the oldest and most essential dishes in Korean cuisine. It has a unique spicy flavor and is well-loved by Koreans for its high nutritional value. Without kimchi, a Korean meal is never complete.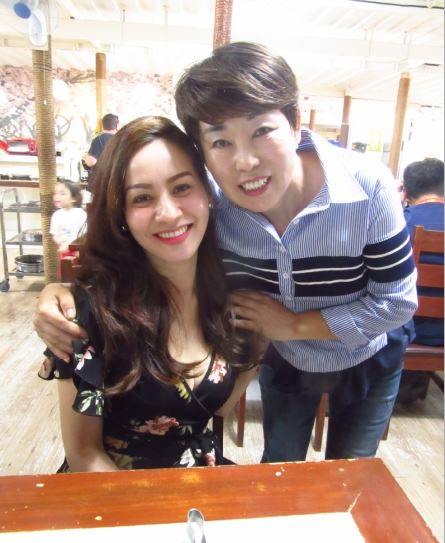 The Buffet 52 proprietor named Myung Seon Park, a Korean national happily living in Davao, has observed that her Filipino diners especially love the various meat and seafood that they themselves would grill on a charcoal grill found in the middle of dining tables in the restaurant. Honestly, who doesn't love Korean barbecue like the samgyeopsal (three layers of pork belly strips), bulgogi (strips of tenderloin) and galbi (beef/pork short ribs). I love them along with the other popular Korean dishes.
Bibimbap is a bowl of mixed ingredients like rice, namul of seasoned and sauteed vegetables, mushroom, beef, soy sauce, gochujang or chili pepper paste and topped with a fried egg. Indeed, it's a healthier version of the Chinese fried rice as it is not as oily.Bulgogi or marinated Korean beef barbecue is truly savory; and one of the most popular among Korean meat dishes. Would you believe CNN ranked it as the 23rd most delicious food in the world in a poll it conducted in 2011? The grilled meat is usually wrapped in lettuce and ssamjang (red spicy paste) is added for flavor. Samgyeopsal of marinated pork belly slices that are grilled are dipped in a sauce of salt and pepper that are mixed in sesame seed oil. The meat, along with kimchi, is then wrapped in lettuce leaves. Samgyeopsal is one of the most common dishes found in Korean restaurants throughout the world.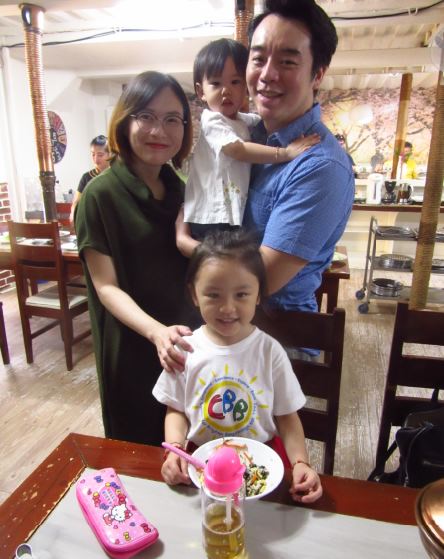 The Korean pancit or japchae with its glass noodles made from sweet potato is the traditional Korean noodle dish. I just love japchae for its sweet and flavorful taste plus its soft and chewy texture. Mrs. Park also prepared sundubu-jjigae of spicy soft tofu cooked with vegetables, mushrooms, beef and gochujang or chili paste.
Pajeon is a pancake-like Korean dish made with green onions, egg batter, and wheat flour. Pajeon is generally eaten as a main dish. The the Korean version of the Japanese sushi is called gimbap. The rolled rice often contains pickled veggies, raddish, spinach, strips of eggs, among others. The mandu, on the other hand, is a Korean version of the Japanese gyoza of pork with scallions and onions which come with a soy dipping sauce.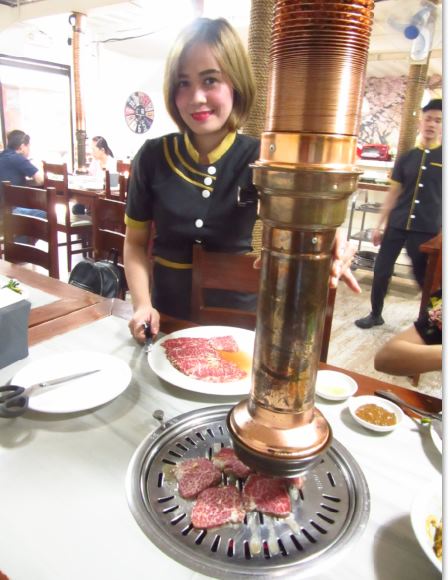 Samgyetang or ginseng chicken soup is a traditional Korean soup especially served during summer. It is made of chicken, garlic, rice, jujube, ginseng and spices. This soup is known for its high nutritional value as well as for its creamy and meaty flavor. It reminds me of our arroz caldo.
Oh yes, just like Filipino cuisine, Korean food does not follow a course by course sequence. The main dishes and side dishes are served together and eaten in no particular order.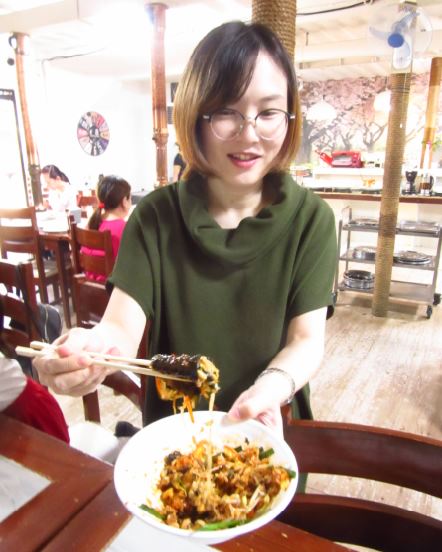 It is undeniable that Davao's "restaurantscape" now includes Korean restaurants. My Korean classmate in Tokyo University once told me, "Laughter may be the best medicine for Filipinos, but for Koreans, good food has always been considered the best medicine." I corrected him though that for Pinoys, laughter and good food combined is the best medicine.