"Indeed, aside from pencil, pen and ink drawings are more convenient and a form of low-cost artmaking. All you need is a technical pen and art paper, and you're ready to make art," said the artist Arnel Villegas who, along with his fellow barkada artists namely Victor Bong Espinosa, Alex Alagon, and JC Gonzalez put up the first ever and ongoing exhibition called "Inkpressions" of pen and ink drawings at the third floor of Ayala Abreeza Mall.
"Basta ako full-time artist na. Happy na kaayo ako. Charot!" so said Arnel who started his interest in pen and ink drawing since 1987. "Pero I started drawing in kindergarten pa."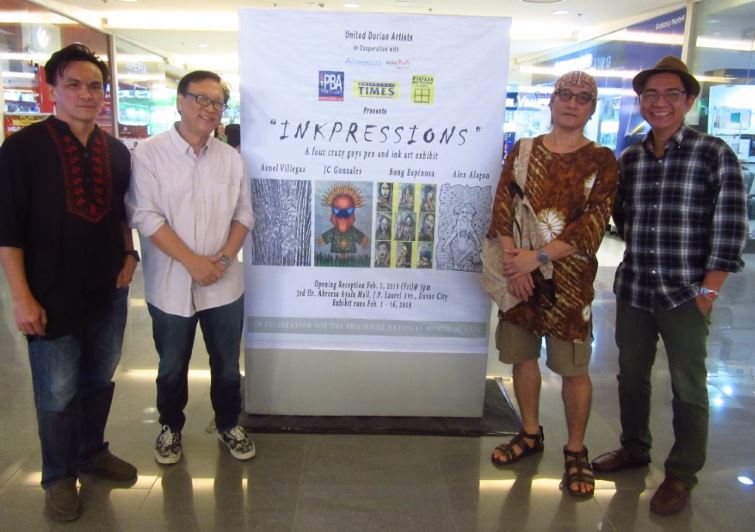 Arnel's pen and ink drawings are described as "carefully-drawn miniatures—observations, nostalgic glimpses, and memories of a lush but fleeting natural environment." A talented photographer, Arnel would first capture a scene in nature that he fears would rapidly vanish. "Yes, especially those of forests and rural scenes that would soon just become memories owing to the ravages of logging and mining; invasions of housing developers; and all that has to do with land development and expansion in the name of progress. My artworks, hopefully, will raise ecological awareness for our besieged environment; and awaken in us a commitment to love and protect whatever remains in our natural environment."
"Do you know that Arnel is near sighted. That is the reason why his pen and ink drawings are so detailed and so meticulously done in the three inches by three inches size they come," my dear dentist, Dr. Gigi Bacani Angeles, informed me as she, herself, is interested to see the Inkpression exhibition. I was thinking Arnel would use a magnifying glass in doing his details on his miniature artworks; but he is into bigger-sized artworks as observed in the Inkpression exhibition at Abreeza.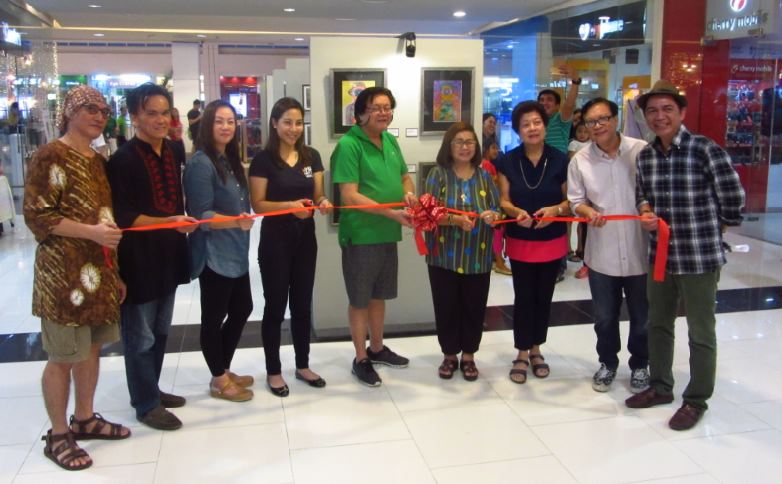 It was the first time I got exposed to the artworks of visual artists JC Gonzales, Bong Espinosa and Alex Alagon. JC Gonzales' artworks stand out as they're the ones which come in various vibrant colors. A self-taught artist, Gonzales began his artistic journey by working in different printing presses in Davao as a lay-out artist and designer. This confident visual artist who describes himself as a critical thinker believes in his own brand of aesthetics rather than that set as standard by the academe of Fine Arts. "I prefer the 'No Rules and No Boundaries' kind of art as evidenced in my drawings. My works focus on themes with political and social relevance," the eccentric artist said. There's a dark sense of anger and bitterness which comes out in viewing Gonzales' artworks depicting various cartoon-ey characters you'd encounter in various sectors of the community despite the bright colors he uses. His colored works are in stark contrast to Arnel Villegas' artworks with Arnel's signature sense of calmness and serenity in black and white.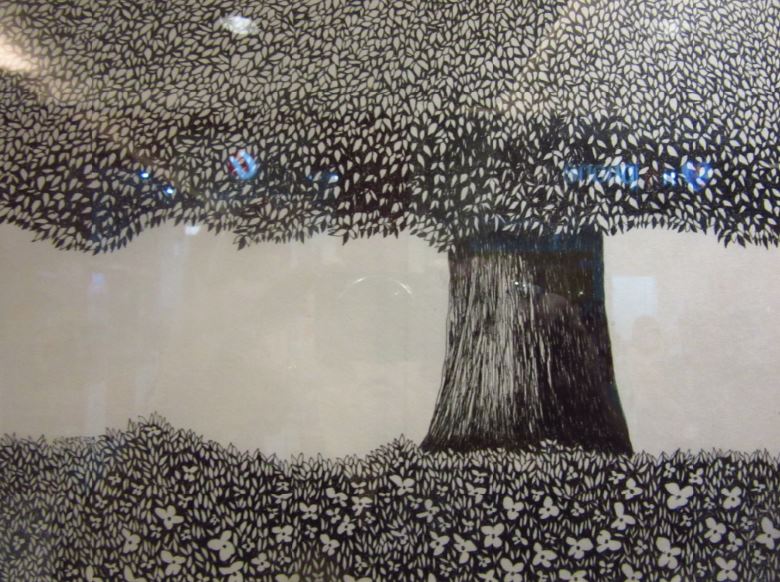 "These series of imaginative pen & ink drawings are originally done using various textured paper materials handcrafted from indigenous organic materials like cogon, bamboo, and rice, among others. The collection reminds me of my early student days as an Architecture student when I'd use technical pens for creating art. These days, with sign pens readily available and more affordable, I use them as alternative medium," reveals Bong Espinosa as he adds, "The explosion of human nature subjects and the unconventional style of my drawing technique are results of actual events and personal experiences I went through in the early stages of my artistic career. Life then was simple and so uncomplicated as compared to the present."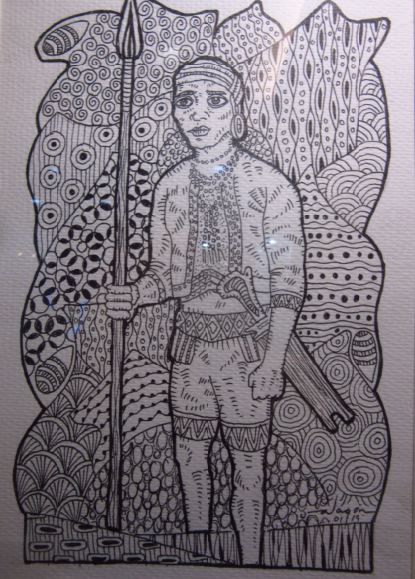 Alex Alagon is one happy family man as reflected in his artworks depicting mostly hardworking people in the community. He describes himself as a self-taught artist, art coach, curator, impresario, and a gallery owner. "Art has been my passion since childhood. My talent in the arts helped me considerably in finishing my college studies while I worked as an artist/illustrator of the Audio Visual Center of the University of Mindanao. Right after I graduated, I landed a job as an account officer of a bank until 1997 when I took an early retirement and pursued business. It was in 2013 when I decided to realize my childhood passion in the Arts and concentrate on it full time. Since then, I have made close to 500 artworks; and had four solo exhibitions plus countless group exhibits."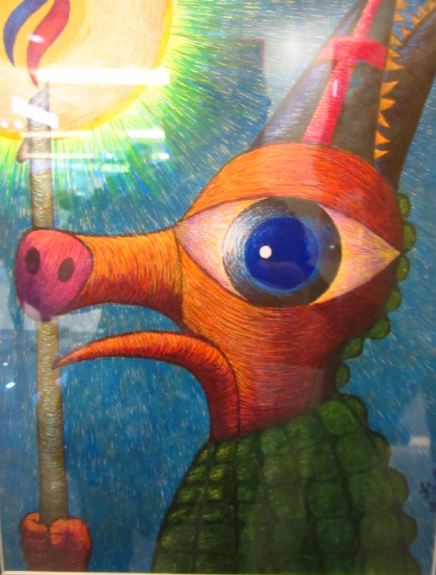 Alex and his beloved wife, Isabelina, operate the Bintana Art Gallery which organizes art exhibitions in Davao City. They also teach art to young kids and adults who are aspiring artists. Alex and Isabelina were the first to introduce "party painting," a new craze where art, fun and food merge to make an even successful. "Alex is a hard core contemporary artist who seems never to run out of ideas in making art of varying medium and genre. This Inkpression is his first to make a pen & ink series in collaboration among pen & ink artists of Davao City," revealed Isabeline Alagon.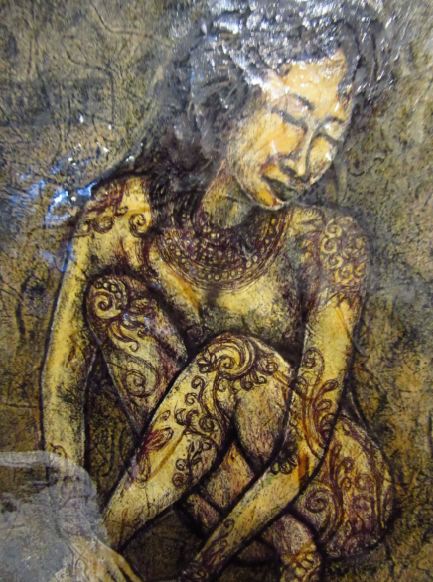 Congratulations, Arnel Villegas, JC Gonzales, Alex Alagon and Bong Espinosa. Thank you, Abreezal Mall for your staunch support of our local artists.