Where do I begin to tell the story of how great flowers can be to human beings? Flowers have been used symbolically in Art, Literature, and cultural practices as a metaphor for most characteristics of virtue and peace. Flowers have also been used as symbols of the natural process particularly those related to reproduction and death. Oh yes, flowers also symbolize sexual awakening or blossoming in relation to a woman's sexuality and reproductive organ. Do you recall Viva Hot Babes' hit song titled "Bulaklak?" Flowers are often used in paintings as reminder of the bounty of nature along with the statement about life's transient nature "na walang forever." Flowers are a perfect replica of life: planting, growth, withering and eventually, death.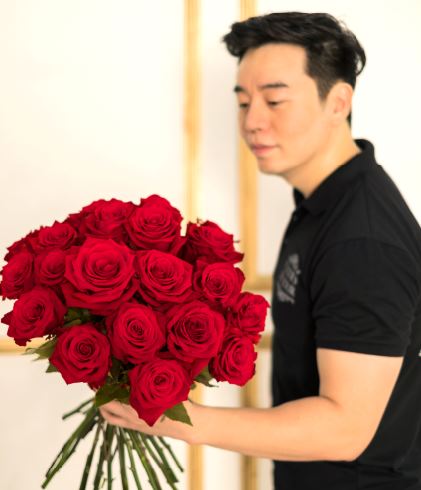 Yes, flowers play a significant role from the time man is born to the time he dies. As the ad goes, "You say it best with flowers. Express what you feel with flowers.' Yes, every sentiment can best be expressed in one way or another by these fragile blooms. For flowers are always a symbol of generosity and love that you give away.
Architecture graduate turned event stylist cum business entrepreneur Gerald San believes so much in flower power that he established "Fleurs Du Jour" (meaning flowers of the day). He claims it is the "the first and thus, the original luxury flower shop in Davao City.' The tiny flower shop is located at the ground floor of the Abreeza Mall Supermarket Hallway, J.P. Laurel Ave. Bajada, Davao City.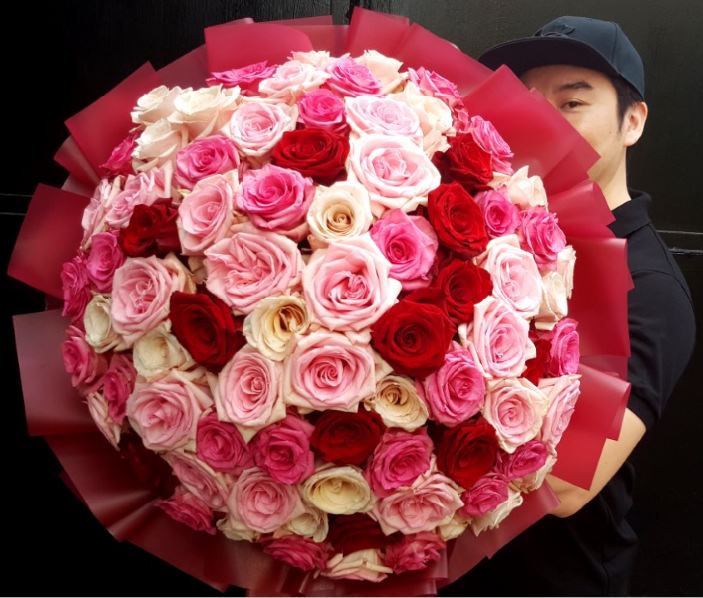 "It was on May 2015, when I went into event styling at the family owned 'The View Davao.' When I was searching for beautiful flowers to use for my wedding events, I could not find any sold locally. Would be brides would show me photos of their dream flower arrangements which they would get from the internet and would request me to do something similar for them on their special day. However, it was quite difficult to achieve the look they would request for without the use of imported flowers," narrates Gerald.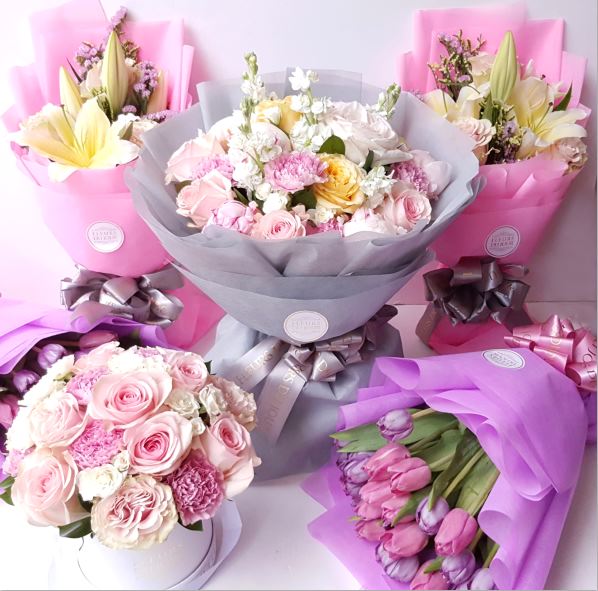 The young and determined business entrepreneur then sought for suppliers abroad and brought to Davao the imported flowers himself. "I had extra flowers left from my wedding events so I made flower box arrangements and sold them for Mother's Day. Flower shops in Davao were only selling local flowers with limited colors and variety. I started selling premium quality, imported flowers to bring something special and unique to the Davao market. I make sure my flowers are always fresh, well-arranged and tastefully done. When people see my flowers for the first time, they would usually ask if they are real and touch them as they can't believe the quality of the imported flowers' nature. Fleurs Du Jour has built a reputation for having the most beautiful flowers in Davao City; and I am truly proud of that," Gerald says with a smile of pride.
Gerald San's Fleurs Du Jour, he claims, is the only direct supplier of imported flowers in Davao City. Naturally, it has become the flower shop of the City for customers looking for the best high quality flowers to give to their loved ones. "The business is highly seasonal so we only become very busy during peak seasons such as Valentine's Day and Mother's Day. During the off peak season it could prove difficult to estimate the flowers to keep in stock for orders so we encourage customers to order in advance." Mind you, but I saw Gerald San's special floral arrangement for a friend's wake recently and it was a spectacular way to say goodbye to the departed loved one.
You get to wonder how much that particular Fleurs du Jour arrangement cost.
"I get imported flowers from around the world. Our roses are from Ecuador, a country in South America located at the top of the equator, which grows roses in high altitudes which is the ideal condition. Ecuador's roses are the biggest in the world. The Ecuadorian roses also have the most vibrant colors, thicker stems, and stand a longer vase life. Other imported flowers are from Holland, Colombia, Kenya and China which are the world's largest importers of flowers. The materials Fleurs du Jour uses for its flower arrangements like boxes, wrappers and ribbons are all imported from Korea, Japan and China."
When Gerald San started his business, he admirably used to do all the flower arrangements by himself for almost a year. "I only hired florists to help during special events. But then I had to hire regular florists to help me cope with the orders which kept coming. I am happy to have four main florists namely Paolo, Topher, Grace and Jun who have all been loyal and hardworking since they started working for me about three years ago," reveals Gerald adding, "We receive orders for Birthdays, Anniversaries, Valentine's Day, Mother's Day, Graduation Day, Congratulatory flowers, Wedding Bouquets, Corporate Events, Business openings and now, even Funeral flowers."I am so proud of you, Gerald San. Gerald was one of my most polite, humble, serious and talented Architecture students when I taught at the then newly established Architecture Department of the Ateneo de Davao University. And he was one of my only two former students who invited me to their wedding. God bless you, your family, and your business, Gerald San.
Kung Hei Fat Choi. Xin nian kwai leh, wan shr ru yi!