Davao region, including this city, is bracing for tropical depression Chedeng.
Various disaster risk reduction and management offices in the region are gearing up for the typhoon that is expected to bring heavy rains and winds starting today.
Local government units already issued orders to suspend classes.
As of yesterday noon, the Philippine Atmospheric, Geophysical and Astronomical Services Administration (PAGASA) raised Tropical Cyclone Warning Signal (TCWS) No. 1 in all provinces of Davao region — Davao Oriental, Compostela Valley, Davao del Norte, Davao del Sur and Davao Occidental – and the eastern parts of North Cotabato, South Cotabato, and Sarangani provinces.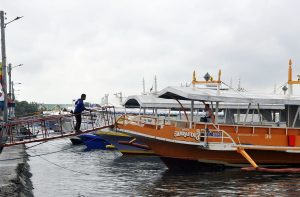 According to PAGASA, Chedeng may make landfall over the eastern coast of Davao Oriental today and is expected to weaken into a low pressure area while crossing Mindanao.
The Davao City Disaster Risk Reduction and Management Office (CDRRMO) has issued an initial advisory to residents living in hazardous areas.
"We have prepositioned the Barangay Disaster Risk Reduction and Management Committees and other responders to monitor their areas of responsibilities," CDRRMO Administrative Officer and Training Director Lyndon Ancajas told TIMES.
He called residents living in the riverbanks, shorelines, and landslide prone areas to make their grab kits available.
"We call the residents to do pre-emptive evacuation to safe areas if weather changes are monitored. Let's not wait for situations to heighten before we secure ourselves. They may proceed to identified evacuation areas in the barangays or to their relatives in safe areas," Ancajas said.
He said that billboards around the city have been rolled up as part of the standard operating procedure in anticipation of tropical depressions.
As Davao Region is sometimes hit by typhoon on the end quarter of the year and Davao City is known to be typhoon-free, Ancajas attributed Chedeng "to climate change, which alters patterns of weather systems."
CDRRMO Chief Alfredo Baloran said that they have already informed the barangay officials, together with the Barangay Disaster Risk and Reduction Management Center (BDRRMC), to disseminate the information especially to residents living along the coastlines, rivers, and landslide-prone areas.
"Our resources in the barangay are already prepositioned to avoid any casualties or injuries," he added.
The CDRRMO chief said already directed every barangay to prepare the designated evacuation areas.
"I already asked them (barangay officials) last Sunday night so they will temporarily shelter the residents," he said.
Baloran said the Task Force Davao and the Davao City Police Office are also prepared.
He said they have focused areas but they are prepared for the whole city.
The focused area included Barangay 19-B (AWHAG Subdivision along Davao River); Matina Crossing (Purok Guadalupe, Quiniones Compound, Shrine Hills in Diversion Road, GSIS Heights – Pluto, Milky Way and Virgo streets); Ma-a (Juario Village, Purok 9, Nacilla Village, Dinaville Subdivision and Iñigues Village); Matina Pangi (Old Dumpsite in Diversion Road); Talomo (Bypass Road); Mandug (DDF Village), Buhangin (Purok Damayan), and Tigatto (Purok 16).
"Davao city is reminded, even in social media, so that everybody must be prepared in case of emergency," Baloran added.
The Regional Disaster Risk Reduction Management Council XI (RDRRMC), on the other hand, is on blue alert.
The RDRRMC and the National Disaster Risk Reduction and Management Council, conducted a pre-disaster needs assessment (PDRA) meeting on Sunday, together with the various other government agencies, said Office of the Civil Defense (OCD) Region XI Information Officer Leslie Francisco. Other involved agencies include Department of the Interior and Local Government (DILG), Department of Health (DOH), Department of Public Works and Highways (DPWH), Philippine National Police (PNP), Armed Forces of the Philippines (AFP), and Philippine Coast Guard (PCG).
The provincial DRRMCs also conducted their PDRA to check the number of available resources and disaster response equipment such as rubber boats, response vehicles, and trucks, Francisco added.
Suspended
City Mayor Sara Duterte yesterday ordered the suspension of classes in all levels of public and private schools within the jurisdiction of the city due to the tropical storm.
"The City Government of Davao is duty-bound to safeguard the welfare of students and school children who may be affected by possible flooding of streets and landslides in the city's mountainous areas due to heavy rains," Duterte said in Proclamation No. 1 Series of 2019.
Other than the city, classes were also suspended in Davao del Norte, Davao Oriental and Compostela Valley.
Meanwhile, the PCG-Southeastern Mindanao yesterday suspended the trips of all boats bound from Sta. Ana Wharf to Island Garden City of Samal (IGACOS), Davao del Norte.
Commodore George Ursabia, the spokesperson of PCG-Southeastern Mindanao, said that boat trips are also suspended in all coastal city and towns in the region.