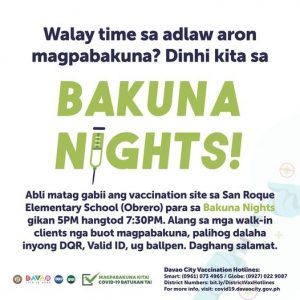 THE city government is hoping that more residents will get vaccinated against COVID-19 as it is expanding the handing out of incentives and adding more sites for the rollout of the program.
Dr. Michelle Schlosser, COVID-19 Task Force spokesperson, said incentives will be provided every week in sites that are venues for vaccination at night, instead of only making these available at the San Roque Elementary School, the first venue for the vaccination at night.
"We are hoping nga tanan Bakuna Nights, naay ing-ana na activity (handing out of incentives)," she said as the initiative was launched on October 1 where gift certificates were raffled off to those who got inoculated 
She added that there is a plan to hold raffles on a daily basis, although she said this has yet to be finalized.
"Murag naganahan man ang mga tao so nadungog ra gyud sa atong good mayor and the rest of the COVID-19 Task Force na ang pahalipay medyo naka engganyo gyud sa katawhan para mas ma-engganyo magpa bakuna nag dili sila ma-bored sa area," Schlosser said.
She added that those who have yet to register for vaccination can just visit the sites, including those sites for Bakuna Nights.
Schlosser said this is because the there are more vaccines available. "Fortunately, daghan gyud ta karon og vaccines that is why ginaengganyo nato ang tanang katawhan, ang atong allocated vaccines, particularly Pfizer."
Last week, she added, about half a million doses arrived.
She said those who want to get vaccinated must only register onsite and must bring their valid identification documents, ballpen and Safe Davao QR code.
"Katong previous months nato pinakaproblema sa atong katawhan gusto sila magpa-vaccine dili sila ka avail kay dili allowed ang walk-in. Hulaton pa ang ilang prioritization o priority groups pero karon they can avail of the vaccine sa tanang mga hubs," she said.
She added that the list of vaccination hubs, which can be found in the official Facebook page of the city government (facebook.com/davaocitygov.) is updated every Monday.
The city government has also expanded the holding of vaccination at night as NCCC Mall in Buhangin held its first rollout on October 8, while both SM Lanang Premier and SM City Davao will start on October 20. The initial site was San Roque Elementary School in Barrio Obrero.
In a related development, the city council initiated vaccination rollout has so far inoculated about 87,874 as of October 14 with 60,616 getting their first jabs while the remainder having fully vaccinated.
"Ang reason why atong good councilors dili nila gina-stop ang mobile vaccination kay ang ilang tumong gyud is for the critical risk barangays maka-achieve dayon og herd immunity. In that way, maka-assure ta ba nga protected gyud sila labaw na tong persistent ang number sa cases," Schlosser said.