It was an unexpected call I got from visual artist Miyen Gaston Lim of Morning Light last week.  She asked me if I was interested to meet a Japanese artist based in Davao City who is holding his solo exhibition in her art gallery.  Of course I was interested and excited to meet the Japanese artist as much as I was excited to see his Japanese painting exhibition.  It's not often that a Japanese artist gets to exhibit his art in Davao City after all.  The 72-year-old Japanese artist is named Yoshio Hiramoto who launched his "Solo Exhibition for You" at Morning Light gallery located at the Lim Building (right beside the Davao Doctors Hospital) along Quirino Avenue.  Hiramoto-san's exhibition opened last March 16 and will end this coming Saturday, March 30.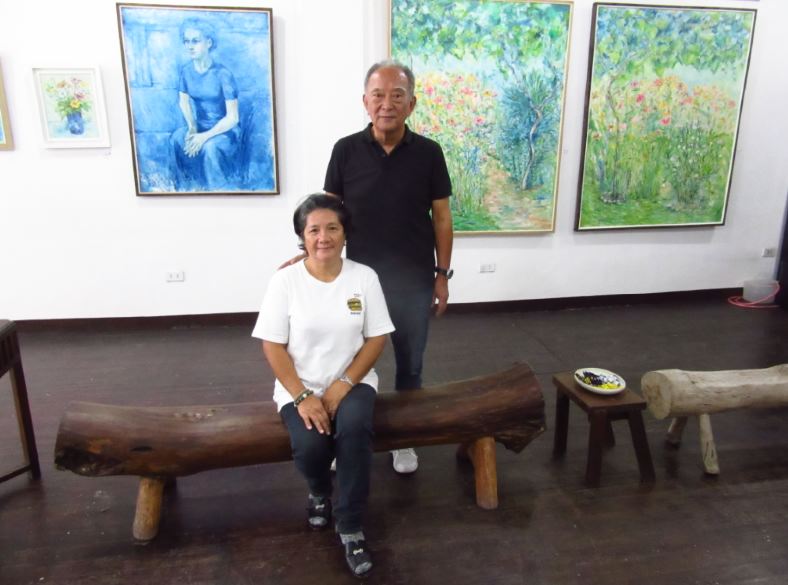 Honestly, Yoshio Hiramoto looks young, fit and trim for somebody his age.  Most Japanese senior citizens usually are.  He told me that he had his long hair cut short for this exhibition; and was surprised himself that he looks younger with his new haircut. We had our conversation in Japanese as Hiramoto-san, despite living in Davao for the past 11 plus years, could still not manage to speak in English or Bisaya.  "How can he when he doesn't socialize much or talk to others.  All he does is stay in his atelier and paint," his Filipina wife, Medilyn Magnaye-Hiramoto, countered.  And Medy, herself, speaks to him in fluent Japanese having lived in Japan for decades.  Just like a traditional Japanese "okusama," Medy prepared for me matcha (green tea) with the matching sweet wagashi to go with it.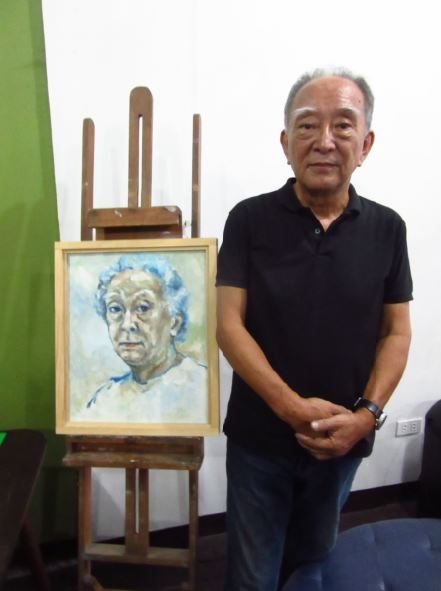 "I like my way of life here in Davao.  The only time I left Davao was when the Marcos regime was ending and I just had to leave.  Nobody minds me or bothers me here in Davao so I can really focus on painting the subjects I like.  You know how structured life can be if you live in Japan and at my age, it's good to feel free," the Japanese artist said.
Hiramoto-san started painting when he was 13 years old.  From watercolor to croquis, a quick and sketchy drawing of a live model, he turned to oil painting a year after.  "I sold my first oil painting when I was 14-years-old so I decided to concentrate on oil painting from thereon," he revealed.
While living in Davao, Hiramoto-san has the freedom to paint subjects he truly loves.  "I built my atelier in Toril.  I love painting flowers and some native fruits that my wife and I grow in our garden.  Like any Japanese, I have a keen interest in flowers.  Since our ancient times, the Japanese have shown a great fondness for flowers.  The Japanese have a rich cultural attachment to flowers as these have a special part in celebrating our festivals, religious events and daily life.  Flowers are strongly associated with life in Japan," he explained.  Indeed, the beauty and vitality of flowers captivates Hiramoto-san to paint them just as he is passionately dedicated to growing and nurturing them in his atelier's garden in Toril.
"I also like painting interesting people I come across in Davao like those in our community or even those I see riding in jeepneys with me.  Creating a portrait painting can take a considerable time like maybe three weeks at least.  I prefer my subject to be as they are—dressed in their everyday street wear without pretensions."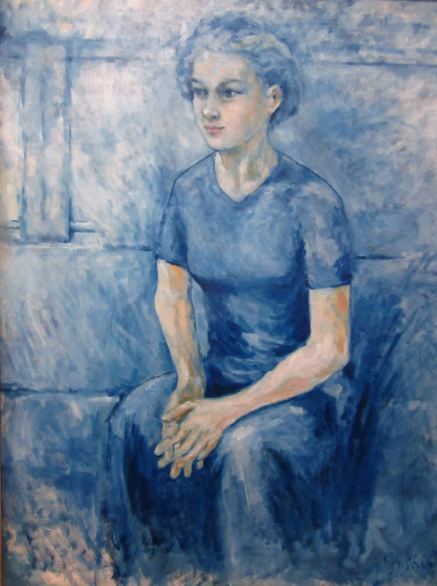 I personally love Hiramoto-san's portraits.  The facial expression of his subjects reveals their emotional state and character at the time he made them sit to paint them. It's his mom's portrait though which I personally believe is the best in the collection.  It's a picture of a delicate and graceful beauty of a 92-year-old Japanese woman that shows Hiramoto-san's heart and sensitivity to his special subject.  He carefully pays attention to details while at the same time exhibiting subtlety in expressing his artistry.  I am truly determined to have my portrait painted by Hiramoto-san one of these days.  I just hope I can afford it.
Hiramoto-san's paintings of flowers and some native fruits remind me of paintings one would find on delicate Wedgewood and Royal Doulton porcelain wares.  He applies paints with lots of colors in small touches rather than broad strokes thus creating images that are bright and vibrant.  He loves to show the effect of light on flowers and fruits as his subjects.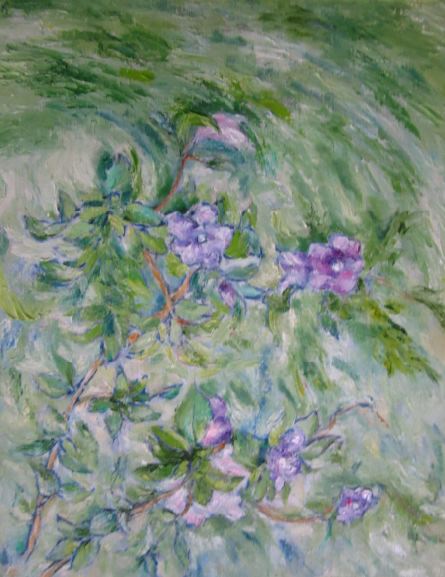 On the other hand, his portraits are mostly painted in blue of varying hues.  There's an ephemeral quality about them.  There's a sense of quiet, zen-like beauty in the portraits that is so typically Japanese in aesthetic preference.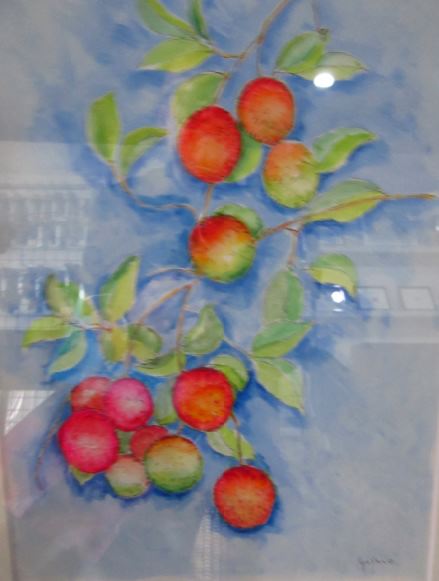 I am not sure if you could classify Yoshio Hiramoto's artworks under the label of Impressionism though as Dicky Munda has classified them.  For one, Hiramoto-san doesn't really paint out of doors all the time to get a particular impression of color and light to emphasize his perception of his subjects like flowers and fruits; nor does he paint them spontaneously on the spot in his outdoor garden.  He said he oftentimes relies on his imagination and memory of what he had seen.  Well, who am I to argue as I am not an art connoisseur.  I just admire works of art and I buy those I like that appeal to me.  And I am one true admirer of Yoshio Hiramoto's art.