Davao City – Calinan Elementary School along with Crossing Bayabas ES and Teofilo V. Fernandez ES shared honors as they finished with similar standings at the winner's podium in the first Guillermo E. Torres Invitational Track competition at the University of Mindanao Matina campus.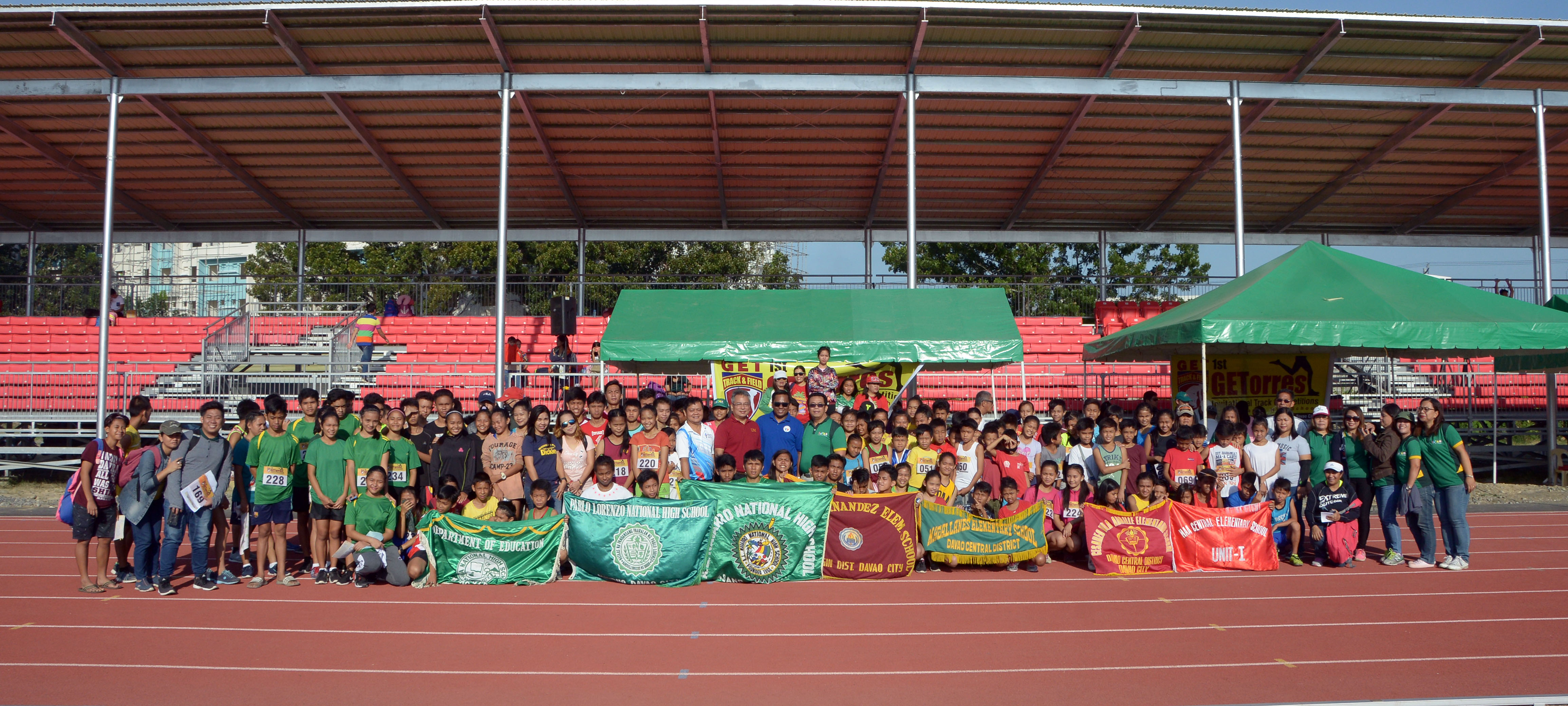 Calinan and Crossing Bayabas National High School finished with similar three gold medals to top the Secondary division. Calinan also had two silvers and two bronze medals while Crossing Bayabas added a lone silver and four bronzes.
Davao City National High came second with two gold medals followed by Dona Carmen National High with a 1-2-2 gold-silver-bronze count.
John Paul Diamonte, a student from Crossing Bayabas NHS acquired three gold medals making him the only aspiring track and field player to bring home the top spot in the 400-M, 800-M sprint and 4×100 relay categories.
For the Elementary division, Teofilo V. Fernandez Elementary School emerged as the top medal getter with three golds, five silvers and two bronze medals followed by Ma-a Elementary School with two golds, two silvers and three bronze medals while Imelda Elementary (2-2-3) and Kapitan Tomas Monteverde Elementary School (2-1-0) came in close second and third.
Some 13 schools took part in the event which featured only track events such as the 50-meter sprint, 100-meter, 200-meter, 400-meter sprint and 4×100 relay, while for the secondary were 100-meter sprint, 200-meter, 400-meter, 800-meter sprint and 4×100 relay.
"The vision of the GETorres Invitational Track Competition was to involve youth to sports especially those from the grassroots level which are students from public schools. Dr. Guillermo P. Torres, University of Mindanao's President was once a track and field player himself and he wants to inspire young people to make themselves involved in track and field without being intimidated by elite athletes. According to him, he wants aspiring athletes to experience competing in actual playing venues that would encourage them to engage in sports," said Jeffrey Tan, chairman of the organizing committee.
Backing the event are th Philippine Sports Commission and Department of Education-XI, PATAFA-XI together with media partners, Mindanao Times, Retro 95.5, Wild FM and Radyo Ukay.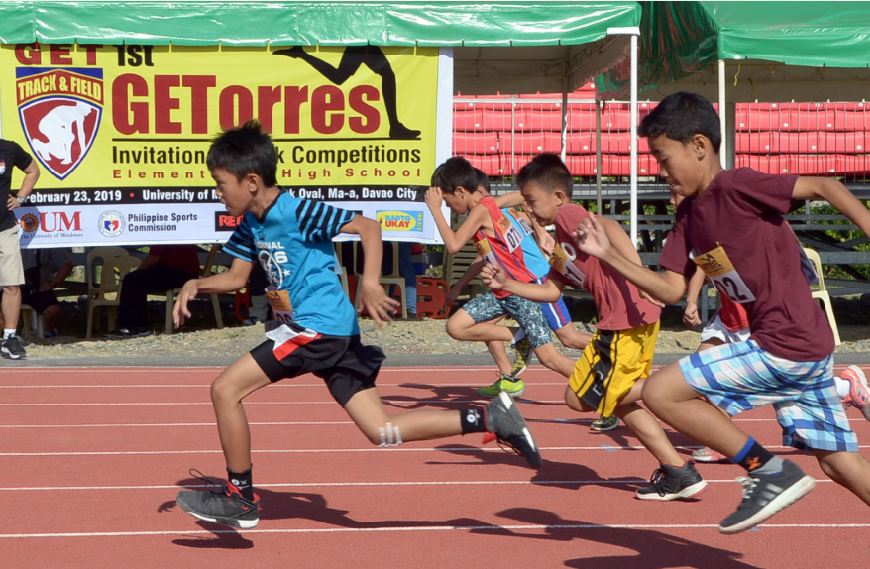 1st GET Track Invitational results:
SECONDARY GIRLS
100 M
RANK TIME BID NO. NAME SCHOOL
1ST 13:04 205 Hannah Marie Vallez Calinan NHS
2nd 13:20 204 Jenny Sahagon Calinan NHS
3rd 14:12 267 Shamae Jison Doña Carmen NHS
800 M
RANK TIME BID NO. NAME SCHOOL
1ST 2:41:23 269 Katenofey Macdowell Doña Carmen NHS
2nd 2:55:49 329 Lianne Zabdiel Dela Cerna Ma-a NHS
3rd 2:55:83 222 Crizza Jie Morta Crossing Bayabas NHS
400 M
RANK TIME BID NO. NAME SCHOOL
1ST 1:11:07 329 Lianne Zabdiel Dela Cerna Ma-a NHS
2nd 1:12:26 309 Lea Mae Elicot Calinan NHS
3rd 1:15:32 222 Crizza Jie Morta Crossing Bayabas NHS
200 M
RANK TIME BID NO. NAME SCHOOL
1st 30:12 205 Hanna Marie Valles Calinan NHS
2nd 31:49 267 Shamae Jison Doña Carmen NHS
3rd 32:09 204 Jenny Sahagon Calinan NHS
4×100
RANK TIME BID NO. SCHOOL
1ST 1:00:00 205 Calinan NHS
2nd 1:02:22 267 Doña Carmen NHS
3rd 1:02:89 223 Crossing Bayabas NHS
SECONDARY BOYS
400 M
RANK TIME BID NO. NAME SCHOOL
1st 50:47 212 John Paul Diamonte Crossing Bayabas NHS
2nd 51:76 305 Velley Rivero Daniel R Aguinaldo NHS
3rd 51:98 236 Andy Junior Tugos Crossing Bayabas NHS
200 M
RANK TIME BID NO. NAME SCHOOL
1ST 24:58 245 Jully San Molinos Davao City NHS
2ND 25:52 305 Aries Sefuentes A.L. Navarro NHS
3RD 26:09 236 Velley Rivero Daniel R Aguinaldo NHS
4X100
RANK TIME BID NO. SCHOOL
1ST 26:92 193 Crossing Bayabas NHS
2nd 27:62 260 A.L. Navarro NHS
3rd 33:11 173 Daniel R Aguinaldo NHS
100 M
RANK TIME BID NO. NAME SCHOOL
1st 11:80 245 Jully San Molinos Davao City NHS
2nd 11:81 225 James Mark Sarona Daniel R Aguinaldo NHS
3rd 11:93 259 Ricardo Jabican Doña Carmen NHS
800 M
RANK TIME BID NO. NAME SCHOOL
1st 2:17:59 212 John Paul Diamonte Crossing Bayabas NHS
2nd 2:28:92 209 Joshua Dayon Crossing Bayabas NHS
3rd 2:29:00 195 Romel Esto Calinan NHS
ELEMENTARY GIRLS
400 M
RANK TIME BID NO. NAME SCHOOL
1ST 1:21:82 073 Baby Jane Banghal Ma-a Central ES
2nd 1:24:60 121 Jasmine Reign Delos Santos Teofilo V Fernandez ES
3rd 1:25:30 074 Carla Neisz Luardo Ma-a Central ES
200 M
RANK TIME BID NO. NAME SCHOOL
1ST 35:16 055 Marjorie Karen Mendoza Imelda ES
2nd 35:42 089 Alaiza Baga Magallanes ES
3rd 36:24 025 Divine Grace Menor Villa Abrille ES
4×100
RANK TIME BID NO. SCHOOL
1st 1:08:65 121 Teofilo V Fernandez ES
2nd 1:10:40 074 Ma-a Central ES
3rd 1:13:57 056 Imelda ES
50 M
RANK TIME BID NO. NAME SCHOOL
1ST 8:74 057 Dimple Grace Rosal Imelda ES
2nd 9:22 128 Angel Tolibas Teofilo V Fernandez ES
3rd 9:56 026 Divine Grace Menor Villa Abrille ES
100 M
RANK TIME BID NO. NAME SCHOOL
1st 127 Princess Hillary Tamalon Teofilo V Fernandez ES
2nd 089 Alyssa Baga Magallanes ES
3rd 076 Jeralyn Bajenting Ma-a Central ES
ELEMENTARY BOYS
50 M
RANK TIME BID NO. NAME SCHOOL
1ST 7:94 129 Ronel Bautista Kapitan Tomas ES
2nd 8:09 117 Justinn Jay Olan-olan Teofilo V Fernandez ES
3rd 8:46 116 John Lester Molde Teofilo V Fernandez ES
100 M
RANK TIME BID NO. NAME SCHOOL
1st 14:44 113 Christian Lyod Facum Teofilo V Fernandez ES
2nd 14:77 114 Albert Luztre Teofilo V Fernandez ES
3rd 15:03 067 Fritz Mallatan Ma-a Central ES
400 M
RANK TIME BID NO. NAME SCHOOL
1ST 1:12:05 133 James Darren Wong Kapitan Tomas ES
2nd 1:12:53 065 Kristan Paul Pacete Ma-a Central ES
3rd 1:16:86 119 Chris Dominic Tulo Teofilo V Fernandez ES
200 M
RANK TIME BID NO. NAME SCHOOL
1st 30:05 068 Nasim Pasandalan Magallanes ES
2nd 31:87 130 James Darren Wong Kapitan Tomas ES
3rd 31:88 019 Aljhun Flores Villa Abrille ES
4×100
RANK TIME BID NO. SCHOOL
1st 0:59:41 065 Ma-a Central ES
2nd 1:02:37 114 Teofilo V Fernandez ES
3rd 1:05:01 021 Villa Abrille ES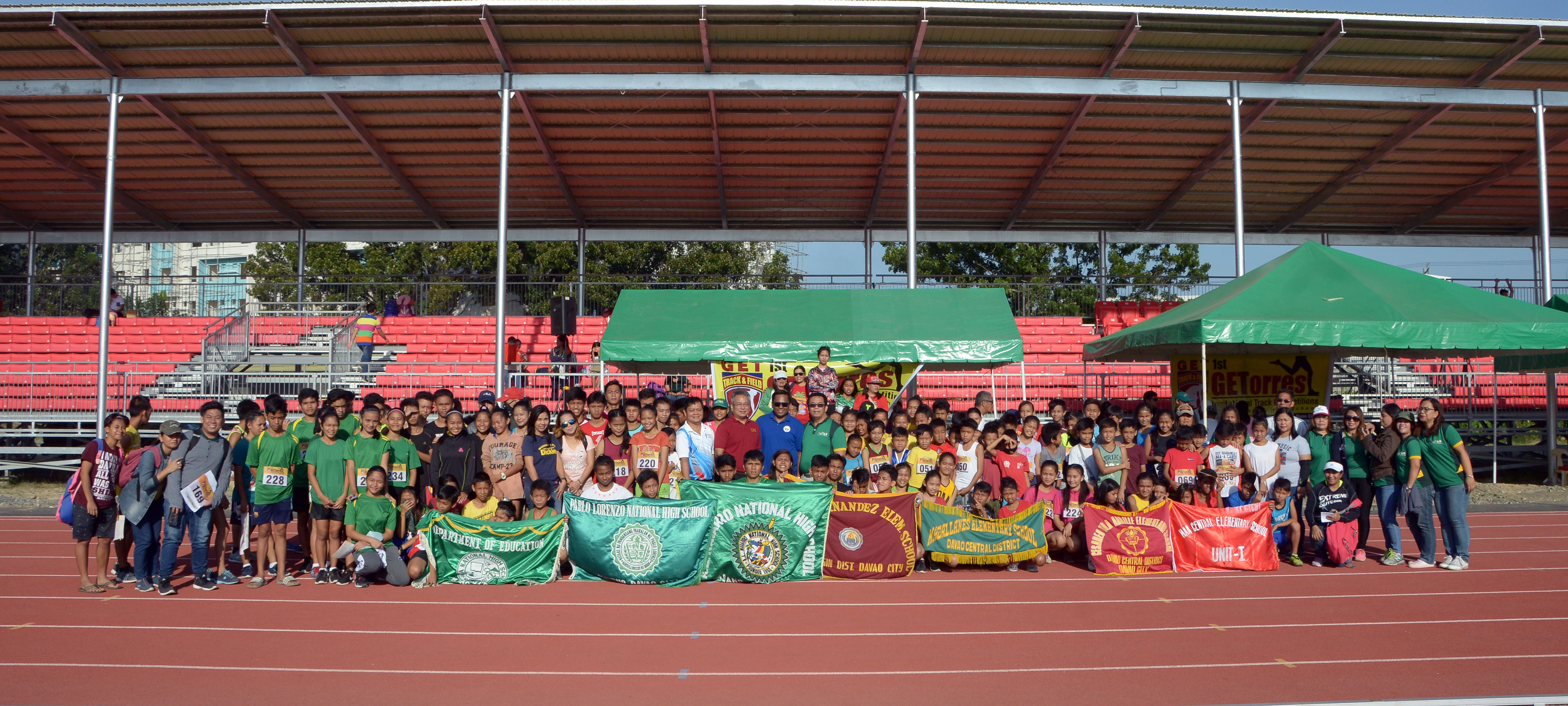 By Jurlyn Gocotano, Lolit Sagandoy and Frances Marianne Grace Miranda (UM Interns)