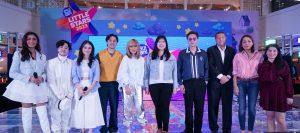 On July 6, SM Supermalls opened the pre-registration for SM Little Stars– the annual nationwide talent search for kids aged four to seven. Now in its 14th year, SM Little Stars has become a platform for some of the country's biggest stars who are excelling in singing, acting, and modeling including 2013 Boy Grand Winner Nhikzy Calma, 2014 Girl Grand Winner Chun Sa Jung, 2013 3rd Runner-Up Esang De Torres, and 2017 Grand Girl Winner Gaea Salipot.
"SM is and will always be a safe and nurturing place for the kids. Through SM Little Stars, we are staying true to our commitment to making the kids' malling experience fun, memorable, and rewarding for them and their families. We want to make sure that this will be worth remembering for them," said SM Supermalls Senior Vice President for Marketing Joaquin San Agustin.
SM Little Stars Project Head Hanna Carinna Sy also said, "After an absence of three years, we are happy to be together again to launch what is undoubtedly the biggest kiddie talent search in the country, which will be held in 70 malls from Baguio and Tuguegarao to Davao and Cagayan de Oro in Mindanao."
The kids who will make the Grand Finals will be trained by celebrity mentors in a series of workshops to develop their talents and confidence on stage. The workshops will also encourage them to bond and make new friends with their co-participants.
Stakes are higher in this year's SM Little Stars with over P9 Million in cash and prizes starting with a brand new Suzuki S-presso Special Edition MT MC worth over P600,000; one-year talent contract at Sparkle GMA Artist Center; 100% discount on college tuition and miscellaneous fees at National University; a five-day and four-night trip for two (2) to Hong Kong; a total of P100,000 worth of cash and SM gift certificates (P50,000 cash and P50,000 worth of SM gift certificates); P30,000 worth of Toy Kingdom gift cards; an annual pass certificate for unlimited bowling game and skating admission valid for one (1) year; 30 regular ride tickets at SM by the Bay Amusement Park / Sky Ranch, and gift vouchers for a two-night stay with breakfast for two (2) at Radisson Blu Cebu await one lucky boy and lucky girl winners!
To register, the parent/guardian must bring their child's original and photocopy of their birth certificates as well as two (2) copies of 4R size of their photo taken with light make-up only with one (1) close-up shot and one (1) whole body shot to select SM Supermalls nationwide. This will be attached to their application form which should be filled up and signed by the parents and/or legal guardians. To apply online, go to: https://smsupermalls.com/smlittlestars/.
SM Little Stars 2023 will run from July 15 to August 27 so hurry and register your talented little ones! To know more about SM Little Kids and the full list of prizes, visit smsupermalls.com or follow @SMSupermalls on social media.