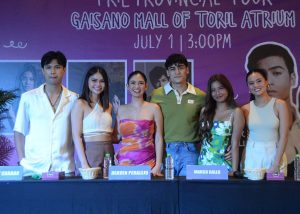 "The Rain in España", the first book in the trending Wattpad "University Series", with over 570 Million reads, by Gwy Saludes (aka 4reuminct), is now streaming on Viva One.
Directed by the blockbuster director Theodore Boborol (Finally Found Someone, and Vince & Kath & James), this ten-part romantic comedy series is sure to bring loads of kilig just like the other novels that Viva turned into blockbuster movies (Diary ng Panget, Talk Back and You're Dead, Para sa Hopeless Romantic).
Heaven Peralejo and Marco Gallo, who once lived together in ABS-CBN's Pinoy Big Brother house, are now the newest love team to follow as they portray the roles of Kalix and Luna. Together they are called #Lukal.
Louisse Natasha Valeria, or Luna for short, is a student of Architecture. Apart from her perkiness, persistence is also one of her strongest traits. Not only does it help her maintain high grades, it's also how she is able to make Kalix notice her.
Marco Gallo plays Kalix Jace Martinez, a legal management student, although his mother prefers that he becomes a doctor. Handsome, rich, smart, and a man of few words, Kalix has a mysterious vibe. He thought he's got no time for love, but he can't help falling in love with Luna.
But their young love is not a fairy tale with a happy ending. Kalix's faithfulness is put in question and Luna just can't forget about it.
Years later, Luna still remembers everything about Kalix – her feelings for him, their promise to stay together as they reach for their dreams, and how he threw it all away.
But here they are now, both professionals and forced to work with each other. Luna is the head architect of her family's real estate business, while Kalix runs his own law firm and happens to be the head legal counsel for Luna's company. They have no choice but to face the pain and regret from the past. Still not over each other, how long must it take to rekindle their love? Are they now mature enough to make their relationship last?
"The Rain in España" will also introduce the other colorful characters that complete The University Series.
Yanna, a Tourism student who later becomes a flight attendant, and the wildest among Luna's friends, is played by Krissha Viaje. She has a "no strings attached" relationship with Hiro, a student pilot. Her story will unfold in book 2, entitled "Safe Skies, Acher".
Sevi, Luna's guy best friend who has a secret crush on her, is played by Gab Lagman. Sevi is an Engineering student and the team captain of the basketball team. He also lands a job in Luna's firm as an engineer. Book 3: "Chasing in the Wild" will focus on this campus heartthrob.
Samatha, a communication student, is played by Aubrey Caraan. She comes from a rich family and is the social butterfly of the barkada. She always prioritizes her friends over herself. Through her help, Luna and Kalix get to see each other often in school. Sam will take the spotlight in book 4, "Avenues of the Diamond", where she will be in an arranged marriage.
Via, an Archi student just like Luna, is played by Bea Binene. She is considered the conscience of the barkada, being one of the more sensible girls in the group. She always hangs out with her childhood best friend, but fame will suddenly lead them to different paths. Via will shine more in book 5, "Golden Scenery of Tomorrow".
Kierra, Luna's cousin and best friend, is played by Nicole Omilio. She also studies architecture. She falls in love with Miguel, played by Francis Magundayao, a walking red flag. Kierra's journey through joys and pains will be revealed in book 6, "Our Yesterday's Escape".
Other characters that affect Luna and Kalix's relationship one way or another are Amethyst, Adonis, and Leo.
Amethyst, a family friend of Kalix, is played by Gabby Padilla. Kalix's mom wants Amethyst to be his girlfriend, causing Luna to be insecure. Now a lawyer, Amethyst will take on a dangerous case because of a favor she owes to Kalix.
Adonis, the funny guy who always teases Kalix and Luna, is played by Andre Yllana. He's one of the reasons why Luna and Kalix need to work together
Leo, played by Frost Sandoval, is a joker just like Adonis. Kalix got jealous of him when he thought Luna was dating Leo.
Since its trailer release, "The Rain in España" has gathered a total of 7.5 million total views across all social media platforms. Fans of The University Series are all excited to see how their favorite characters and scenes come to life and the fans of the artists are all raving to see their idols on the screen.
Also, no youth oriented series will ever be complete without a generation-defining soundtrack. With Kean Cipriano at the helm of the musical score, he provides a perfect mix of established and emerging OPM songs that promise to bring the fans a musical experience that is hard to forget. The Rain In España's official soundtrack features songs from O/C Records artists Kenaniah, Fitz Shioda, Chrstn and 7th, and Viva Records' Cup of Joe. In time with the premiere of the series is the release of its OST album on all digital music platforms.
Stream "The Rain in España" on Viva One and join Kalix and Luna and the rest of the gang in this exciting story of love, friendship, self-awareness and growth.
"The Rain In España" Provincial Tour is presented to you by Viva One and Studio Viva. Special thanks to Gaisano Mall of Toril, Panorama Summit Hotel Davao, Ginga, Fresh, and to our Media Partners, Halo-Halo Radio Davao 97.1 and Love Radio Davao 90.7.
Download Viva One app via Apple Store or Google Play Store and pay 99 pesos a month for ad-free viewing. Your favorite movies, series and concerts you can watch all you can in this newest streaming platform for everyone – Viva One.
The Rain in España
Based on the Bestselling Wattpad Novel by Gwy Saludes
Cast: Heaven Peralejo, Marco Gallo, Bea Binene, Gab Lagman, Aubrey Caraan, Nicole Omilio Krissha Viaje, Andre Yllana, Frost Sandoval, Francis Magundayao, Gabby Padilla
Directed by Theodore Boborol
Streaming Now
PR