Celebration of National Arts Month (NAM) by the Magallanes Elementary School Art Club (MESAC) was indeed remarkable. A series of three Art Exhibits in different locations from January 10 – February 13, 2019 took place at Museo Dabawenyo, DAVRAA Mintal- TWG Quarter, and at Felcris Centrale, displaying our students' artworks. With these, we believe we have properly served the NAM objectives.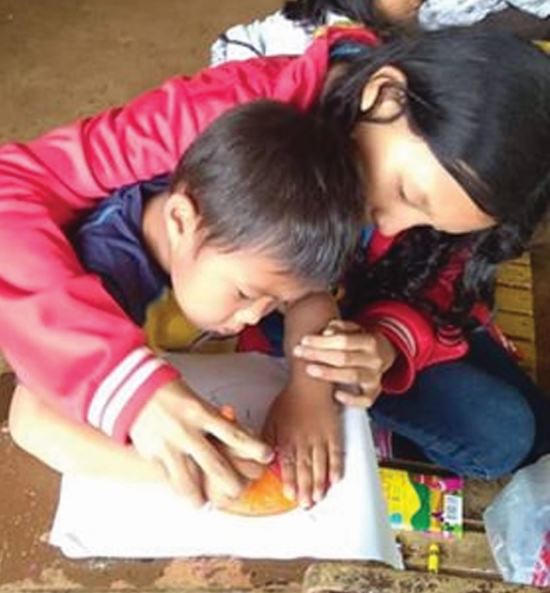 In addition, our own way to highlight this months' event is the Outreach Activity we had in Datu Salumay Elementary School – Marilog School of Agriculture, Marilog District, Davao City last February 16, 2019. This is when our very own MES home-grown student artists shared visual art skills and art materials to the school children of the above-mentioned school and with a tree planting activity which carry out our concern for the environment. Seedlings were from Nanay Soling's Nursery.
An Italian Renaissance painter and inventor, Leonardo da Vinci once said, "I have been impressed with the urgency of doing. Knowing is not enough; we must apply. Being willing is not enough; we must do." Inspired by this quotation, and pursuant to the Department of Education Memorandum No. 634 s, 2019 in support of the celebration of the National Arts Month (NAM) of 2019, suggested activity # 13- Special Art Program for the marginalized group in the community- indigenous peoples, women and children." This is our reason why the Art Workshop and Tree Planting were done, facilitated by the Magallanes Elementary School Art Enthusiasts; the Young Artists, spearheaded by Art Mentors and Coordinator, Supportive Teachers, Supreme Pupils Government(SPG), and Art Club Parents who generously shared their time and talents.
A sprouting genuine friendship among the MES Art Club Artists and Datu Salumay Elem. School Students wished to have another One Day of value-filled work such as this. Though diverse in expressions but using a common language of promoting peace and prosperity, the pride of place, heritage, history, social justice are awakened as it is the purpose. Indeed, the fellowship planted memories in the heart of each participant and its recipients.
Thanks to our new Magallanes Elementary School Principal Dr. Josephine B. Fabian, PhD for sponsoring and supporting this noble cause, also our gratitude to our following sponsors: The PBA Partylist, City Government of Davao, SK Federation Chairman Hon. Jaffar U. Marohomsalic, The Tabula Rasa Art Group: Sir Dinky Munda Jr., Sir Daryl Descallar, and Sir Brando Cedeño and the GAMA Art Group.
In attendance: Datu Salumay Elementary School (DSES) Principal Dr. Ruthlyn H. Sumandang,PhD and DSES Students as shown in the picture; Magallanes Elementary School Team: School Art Club Coordinator Ethel Calapa-Porras, SPG Adviser Ma. Theresa B. Figueroa, Artist Parents/Mentors: Rolando C. Pino-on and Brigel Razonable; Artist Pupils: Princess Kaye Matias, Lovell Christy C. Porras, Princess Lykka S. Pino-on, Wealth Imari Tabaloc, G.L  Quiño, Kobe Aba-a, Roshan Jill C. Paramo, Alexa Kate Y. Jainar, Marginalia P. Paras, Jamilia C. Cornel,  Queen Amanda S. Pino-on, Aiceyah Marie Tabaloc, Patriza Ann Ortiz, and Vince Kirby C. Porras; Art Club Parents: Jayzel Aba-a, Gina Pucot, Joy C. Paramo, Ramel Paramo, Annalou Ilao Tabaloc, Lovella Arpon Quiño, Agnes Jainar, Kris Cornel, Susan Matias and Mrs. Linda; SPG Officers:Lovegary A. Quiño and Christian Lloyd Linda.
"TO GOD BE THE GLORY FOREVER"   By: Ethel Calapa-Porras
Photos above  counter clockwise: A Magallanes Elementary School Art Club MESAC) student assists a young elementary student from Datu Salumay Elementary School (DSES) in coloring his art work. Tree Planting activity  with seedlings from Nanay Soling's Nursery. Group photos of teachers and artist students from MESAC and DSES.