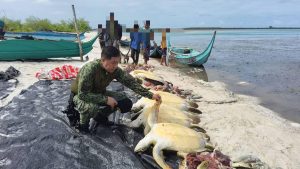 COTABATO CITY (MindaNews) – Bangsamoro government officials have expressed alarm over incidents of sea turtle poaching in the Sulu Sea as they call for a stop to the illegal practice following the slaughter by local of 15 green sea turtles and their subsequent sale in the black market.
Rosslaini Alonto-Sinarimbo, Director General of the Ministry of Trade, Investments and Tourism (MTIT-BARMM), said she was deeply saddened about the occurrence of illegal practices of locals, who have been enticed to kill and sell the sea turtles abundant in the sea waters of Sulu Archipelago to Chinese buyers.
On January 22, eight residents of Pangutaran, Sulu, were arrested by operatives of Maritime police during a raid in Sitio Puh Higad, Barangay Bubuan in the municipality of Hadji Panglima Tahil after local residents reported the poaching activity in the area.
The suspects were identified as Sawah Mnu Habil, Albakre Jammad Basari, Jal Hambay Sali, Asdarun Jamil Akasa, Sanibe Dirong Saali, Mulsin Hamid Mahamod, Mahadil Siri Mahamod, and Marvin Haril.
Lawmen seized five motorized boats loaded with 15 slaughtered pawikans or green sea turtles.
"These locals engaged in sea turtle poaching believe they could earn big time from [this illegal trade]. They did not know that protecting the sea turtles is in fact an avenue to earn more for tourism purposes when visitors want to see these gentle sea creatures," Sinarimbo said.
She said her office is embarking on a close collaboration with the Ministry of Environment, Natural Resources, and Energy (MENRE-BARMM), Ministry of Interior and Local Government (MILG-BARMM), along with environmental advocates and local government agencies in the island provinces to act urgently on "educating fisherfolk" in saving the endangered species.
"As we embark to hasten efforts in pushing the gems of the island provinces in our tourism and investment efforts for the region, we are also pushing urgently on educating our locals on the value of sea turtles as one of the reasons why outsiders will visit their areas," she said.
Sinarimbo acknowledged the lack of awareness among locals about environmental protection. She said that some still hold on to the old practice of eating sea turtles just like the fish they catch.
Akmad Brahim, MENRE-BARMM chief, said that the arrest was part of their efforts to thwart poaching activity in the restricted water areas of the region.
"We are closely coordinating with local officials, including our law enforcers, and we are glad our local residents are cooperating," Brahim said.
He said their efforts are now focused on securing sanctuary areas for the turtles and other endangered marine species. "These are found in restricted areas and should be away from human activities," Brahim added.
He said he plans to visit the area soon to meet with other environmental stakeholders to tighten efforts to end poaching practices.
In the Bangsamoro Parliament, climate change and environmental protection advocate Baileng Utto-Mantawil is mulling pushing a bill to strengthen education, information, and dissemination efforts in the protection and preservation of marine wildlife with the strong cooperation of local government units, the MILG, MENRE, and the fisheries bureau of the Ministry of Agriculture, Fisheries and Agrarian Reform (MAFAR).
"We need to collaborate our efforts. Our island provinces are our forefront of tourism and investment opportunities. We have to seriously take care of our wildlife in the ocean and the welfare of the people," she said. (Ferdinandh Cabrera / MindaNews)