More than 500 artists and almost a thousand artworks will be showcased in the 5th Mindanao Art Fair (MindanaoArt 2023), the biggest gathering of artists in the island, slated on September 24 to October 1, 2023 at SM Lanang, Davao City. 
Spearheaded by Lawig-Diwa Inc. in partnership with the National Commission for Culture and the Arts-National Committee on Art Galleries (NCCA-NCAG) together with SM Lanang, the exhibit officially opens to the public on September 24 (Sunday) at 6:00 pm.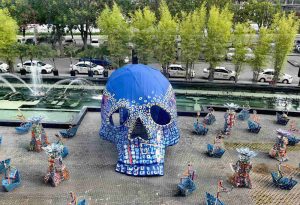 Hundreds of artworks, murals and installations will be displayed at The Atrium, North Wing Grounds, North Wing 2nd Level and the Third Level of SM Lanang. Admission to the exhibit is free.
The 1st Mindanao Art Fair started in 2019 as an advocacy of Mindanao artist Rey Mudjahid "Kublai" Ponce Millan in recognition of the need for Mindanao artists to step up and become key players in the Philippine art scene while ensuring that they remain rooted in their identity as Mindanaoans. The ultimate vision is for Mindanao visual art to evolve as a distinct genre contributing to an equally distinct Philippine visual art.
From the ten groups that exhibited in the first fair at the Gaisano Mall of Davao and a one-day art conference featuring well-known Filipino visual artists with association and roots in Mindanao, the gathering grew to 16 art groups and one featured artist in 2020 at the Mapua Malayan Colleges Mindanao. 
The 3rd installment of Mindanao Art was staged with the pandemic still ongoing. Nevertheless, Mindanao Art 2021 gathered more than 300 artists from 35 galleries from all over Mindanao at the Poblacion Market Central. Additionally, Mindanao Art 2021 also featured a fashion show which was a collaboration between fashion designers and visual artists in Davao City.  
Mindanao Art 2022 had more than four hundred artists from 32 galleries with almost a thousand paintings, artworks and installations displayed at The Club at Northtown in Cabantian, Davao City.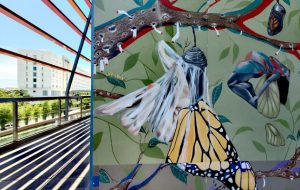 "MindanaoArt in its fifth year is bigger, more festive, more colorful, and becoming more Mindanao" said Kublai. With the theme Mindanao Art in Glitch: Resonating and Reverberating, the exhibit explores the glitch or fault that prevents something from being successful or working as well as it should, he added. 
Kublai further explained, "when art is everywhere and all it takes is to claim to be one to become one, what stands between artists and success? A glitch. It's confusing, confounding, enraging, and depressing as questions short-circuiting the brain are yielding no answers. While the skilled and talented hands are belittled by the deluge of works put together and labeled as art. But just recognizing the glitch beckons us to a deeper search and knowing…and this is where we take flight. As one."
Meanwhile, there will also be a satellite exhibit by artists from Sandog Artists  Tagum, Guhit Kamay Young Artists of Panabo and Deped Lunang at the Poblacion Market Central entitled "Abundang Gasa" from September 24 to October 1, 2023.
A total of 32 galleries (30 from the 5 administrative regions of Mindanao and 2 from Manila) are confirmed to participate in the Mindanao Art exhibit this year:
Region IX – Zamboanga Peninsula (1 group): Pinturas en Liensoz Artist Society Zamboanga City (PLASOZ).
Region X – Northern Mindanao (5 groups): Arkadia Collective (Cagayan de Oro City), Capitol University Museum of Three Cultures Art Gallery (Cagayan de Oro City), Ebony (Iligan City), Studio One Art Studio and Gallery (Iligan City) and Talaandig Soil Artists (Valencia).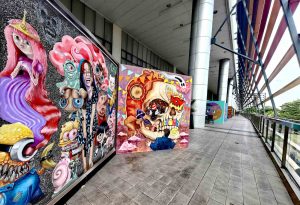 Region XI – Davao Region Area (18 groups): Abong Bughaw (Davao City), Beta Studio (Davao City), Bulawanong Dibuhista (Nabunturan, Davao de Oro), Datu Bago Gallery Café (Davao City), Davao del Sur League of Artists and Aesthetic Builders (Digos City, Davao del Sur), DavNor Artists Circle (Sto. Tomas, Davao del Norte), Dibuho Art Dabaw (Digos City, Davao de Sur), DS Foundation for the Differently-Abled Inc. (Davao City), Gallerie Raphael (Davao City), Gallery Down South (Davao City), GAMA Art Group (Davao City), Jing Cayacay Rabat Art Gallery (Mati City, Davao Oriental), Kalapati Art Group (Davao City), Kasing Art Lab (Davao City), La Herencia Davao Art Space (Davao City), Lila Bloc (Davao City), Patikan Mindanao (Davao City) and Piguras Contemporary (Davao City).
Region XII – Soccsksargen (3 groups): Glan Mag'glang Visual Artists (Glan, Sarangani),
Mugna Heneral Visual Arts Group (General Santos City) and Museyo Kutawato (Kidapawan City).
Region XIII – Caraga (2 groups): Alampat Gallery/Guhit Pinas-Agusan (Butuan City) and
Likha-Karaga (Butuan City).
Manila (2 groups): Art Lounge and Museo de Pacis.
Mixed Groups from all over Mindanao: Kulit-Kultura
For more details, you can visit the FB Page: Mindanao Art and website: www.mindanaoart.org.