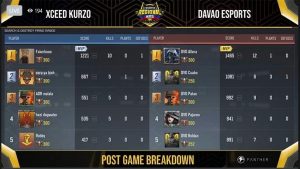 Clutching its way to the Regional Wars main stage, the Davao City team, under the banner of the Davao Esports Enthusiast Association [Davao Esports], secured its spot to fight against teams vying to represent Mindanao for the Real Me Call of Duty Mobile (CODM) Regional Wars on September 13, 2023.
The Davao Esports team is composed of CODM players from Davao City who are in high school and college; they are Lowrence Pobe Allera, Gohdo Kent Cabo, Angelo Patac, Severo Pajaron, and Francis Junnel Roldan, with sub players Eldhon Marth Palomo, Gianne Angelo Moreno, team managers Cedrick Joel Tulo and Joel Estanilla Jr., and coach Christopher Secusana.
"We are looking forward to showcasing our skills and teamwork; moreover, we'll always strive to be the best and also learn and grow as a team. To our supporters, thank you for your unwavering encouragement and belief in our team. Your support means the world to us, and we aim to make you proud," Allera said in an interview on September 13, 2023.
The remaining three teams that will compete for the ticket to represent Mindanao in the tournament are Vipers, Ax Enchanted TGM, and One Alpha during the semifinals on September 16, 2023 at SM Lanang Premier.
The top two teams in Mindanao will compete for the playoffs with other region qualified teams on September 27, 2023. Krizzy Daugdaug, esports news contributor