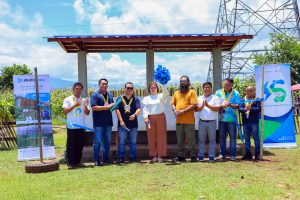 Aboitiz Power Corporation subsidiary Hedcor and Aboitiz Foundation Inc. (Aboitiz Foundation) donated a new handwashing facility to Gaboc Elementary School in Manolo Fortich, Bukidnon in time for the start of the new school year.
This initiative — which addresses the need for proper hygiene infrastructure in educational institutions — is aligned with the Sustainable Development Goal on Health and Hygiene, emphasizing the vital role of sanitation in creating a healthier and more sustainable future.
The handwashing facility is the proud work of 20 out-of-school youth masonry scholars of Hedcor and the Aboitiz Foundation, who underwent 30 days of training prior to the project.
"Daku kaayu ang among pasalamat sa Hedcor ug sa Aboitiz Foundation para sa ilang regalo sa mga estudyante sa among eskwelahan (We are immensely grateful to Hedcor and the Aboitiz Foundation for this generous gift to our school)," said Gaboc Elementary School Principal Sherryjoy Susana. "This hand washing facility is not just a physical structure, it represents an investment in the health and well-being of our students. We thank you from the bottom of our hearts."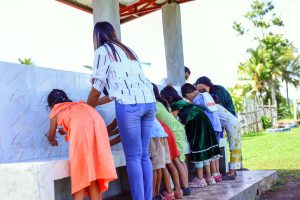 Meanwhile, Lingion Barangay Captain Elbern Onahon said that maintaining proper hygiene is the first line of defense against illnesses, adding how the handwashing facility plays an important role in that regard.
"Hedcor has been a consistent partner in addressing the needs of our community. This project is just one example of their efforts to help improve the lives of the people they serve. Proud kaayu mi nga kauban namo ang Hedcor dinhi sa Barangay Lingion ug nanghinaut kami sa padayong pagdinabangay ug programa nga makabenepisyo ang atong mga ka-barangay (We are proud to have them as part of our community, and we look forward to more collaborations that benefit our residents)," the barangay leader said.
In addition to the hand washing facility, the students of Gaboc Elementary School will also receive hygiene kits from Hedcor and the Aboitiz Foundation.  These kits include essential items such as soap, alcohol, toothbrushes, and toothpaste, further promoting proper hygiene practices among the youth.
"We believe in promoting the importance of maintaining the health and sanitation of our communities, especially to our young learners. This handwashing facility is but one example of our efforts in furthering this cause," said Hedcor President and COO Rolando G. Pacquiao. "We aspire to continually support similar initiatives that help create a better, healthier future for our communities."