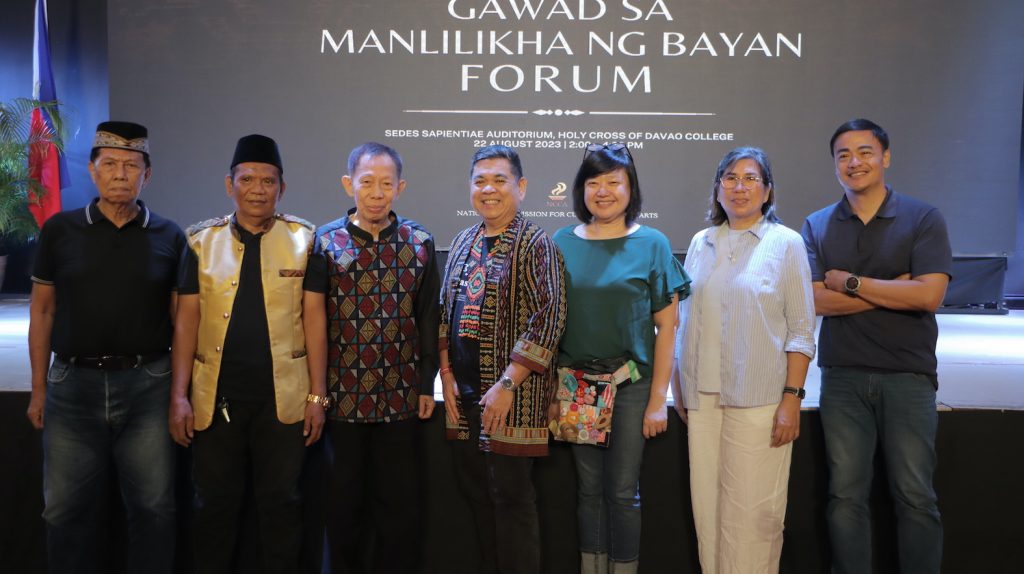 THE NATIONAL Commission for Culture and the Arts (NCCA) holds the first-ever Gawad sa Manlilikha ng Bayan (Gamaba) forum in Davao to promote cultural awareness and sensitivity among Davaoeños.
Oscar Casaysay, NCCA executive director, expressed his concern about the low level of awareness and recognized the need to hold such a forum.
"Gusto lang namo i-remind nga very rich ang culture and arts and the heritage sa atong nasud, wala lang ta nagahisgut ang 11 cultural communities, kundi we are talking about Luzon, Visayas and Mindanao (We just want to remind you that the culture and arts and the heritage in our country are very rich, we are not only talking about the 11 cultural communities, but we are talking about Luzon, Visayas, and Mindanao)," Casaysay said.
The NCCA partnered with the Davao Historical Society and Holy Cross of Davao College (HCDC) for the  Gamaba awardees as "culture bearers, leading their life to dedicate themselves to culture and the arts".
Casaysay challenged Davao's tribal communities to produce their own Gamaba awardee and be included in the roster of national living treasures recognized worldwide. 
It can be noted that the late Salinta Monon, dubbed 'the last Bagobo Weaver' was the one and only Gamaba Awardee in the region. Awarded in 1998, she was known for her intricate and meticulous designs in 'Ikat' weaving, mastering, particularly 'binuwaya'(crocodile) design.
NCCA continues to commend her contribution to the establishment of the School of Living Tradition in Bansalan, Davao del Sur, where she teaches the art of weaving to the young.
Br. Noelvic Deloria, HCDC president, thanked the NCCA for choosing the institution as the venue of the first-ever forum and for "giving honor to our country's great artists". 
'Art is not a commodity'
During the second part of the forum, Felipe de Leon Jr, Gamaba executive council member, highlighted in his cultural sensitivity discussion that art loses its value and meaning once created for a monetary purpose. 
"Ang sining hindi negosyo sa katutubo… Ang problema pag naging negosyo ang sining ay nagiging standardized, sensationalized, showy, purely secular and no sacred aspect, inferior in quality and art for art's sake," Leon said.
Leon stressed that when art becomes a commodity, it loses its authenticity of design as it becomes mass-produced.
He added maximizing profit for arts compromises its quality, especially when "saving resources, using lower grade material, shortening production time and using cheaper substitutes."
Leon encourages the public that art should be considered an everyday function as it is essential in daily life, not only for monetary sake.
"Let us not pressure our traditional artists to produce according to the demands of industry so that they can continue their work," Leon said.