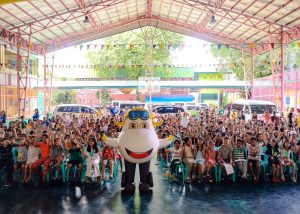 Cebu Pacific (PSE: CEB), the Philippines' leading airline, reaffirms its commitment to social responsibility and community empowerment through a series of back-to-school initiatives.
In collaboration with AHA! Learning Center's Better World Tondo, CEB brought back "Fun for Little Juans" on August 18, 2023 at the Manila Ocean Park as part of its Corporate Social Responsibility (CSR) engagement.
A total of 181 children and 139 guardians from a community sponsored by Better World Tondo, a learning facility dedicated to improving the lives of children, had the opportunity to enjoy a day filled with educational exhibits and entertaining shows. In addition to exploring the park, the kids were also treated to snacks sponsored by Universal Robina Corporation (URC).
"Experiences like 'Fun for Little Juans' promote well-rounded learning. These moments significantly contribute to a child's development, and we're thankful to Cebu Pacific for supporting a better future for our students," said Jaton Zulueta, President and Founder of AHA! Learning Center.
CEB also joined the Brigada Eskwela at Epifanio Delos Santos Elementary High School on August 24, 2023. This is part of the Gokongwei Group's Juan Commitment initiative, which encourages employees to embrace volunteerism and engage in building a brighter future through education.
"Cebu Pacific's participation in Gokongwei Group Juan Commitment's Brigada Eskwela goes to show its commitment on education and emphasizes its focus on creating positive impact on society. Guided by our values, we aim to inspire and empower young minds so they can help themselves, their families, and their community in the future," shared Felix Lopez, Chief Human Resources Officer of Cebu Pacific.
CEB employees rolled up their sleeves to pack 300 school kits and paint murals. Sponsorships from Ministries without Borders, URC, National Bookstore, Bayan ni Juan Movement, and Councilor Mark Calixto also played a pivotal role in making the Brigada Eskwela a success.
"We would like to extend our heartfelt gratitude to all our sponsors. Their contributions not only benefit our school but also our students who are preparing for the upcoming academic year," remarked Dr. Eleanor C. Capilitan, Cluster I Public Schools District Supervisor and Officer-in-Charge Principal of Epifanio Delos Santos Elementary School.
CEB recognizes that its commitment to social responsibility is integral to its role as the leading airline in the country. Guided by its CSR pillars — stewardship for its people, support for education, and creating Juan Community — Cebu Pacific remains steadfast in its commitment to build a brighter future for every Juan.
For more information, visit: www.cebupacificair.com.