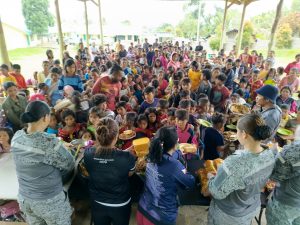 In a powerful demonstration of how peace and development go hand in hand, Tactical Operations Group 11 (TOG 11),TOWEASTMIN orchestrated a transformative outreach activity in partnership with local stakeholders from Davao Bay Eagles Club, Davao Bay Lady Eagles Club, Davao Bay Uno Eagles Club, Mapua Malayan Colleges of Mindanao, J3 Cargo Handling Services, Rotaract Club of Davao, Kiwanis Club of Matahum Davao, BWAPISM, Engr Alice Valdez and 27th IB, Philippine Army. The event, held on 26 August 2023, not only showcased the organization's dedication to security and harmony but also underlined the pivotal role that collaboration plays in fostering community progress.
Sitio Namnam, in Barangay Marilog, Marilog District of Davao City, became a hub of positivity as the Ovu Manobo tribe, Visaya, and Matigsalog communities experienced a remarkable day of support and engagement. Spearheaded by the unwavering commitment of TOG 11's Group Commander, Colonel Celito T Balico PAF(GSC), the activity encapsulated the essence of bridging peace with development for underserved communities.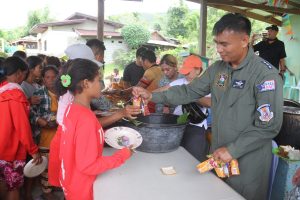 "This outreach activity is a testament to our belief that security and prosperity are interlinked," emphasized Col Balico PAF(GSC), who has championed community-centric initiatives since taking the helm at TOG 11. "When we prioritize the well-being of the people we serve, we create an environment where genuine progress can take root."
The event featured a multifaceted approach, addressing not only material needs but also emotional and communal well-being. The provision of school supplies, sports equipment, toys, and candies reflected a holistic approach to development, acknowledging that thriving communities require a diverse range of support. A heartening feeding activity further emphasized the organization's commitment to nourishing both bodies and spirits.
TOG 11's collaboration with non-governmental organizations, and community leaders underscores a shared vision of sustainable growth. The event's success resonated in the smiles of children participating in sports, the laughter echoing from toy-filled corners, and the sense of unity forged during the feeding activity.
As the sun set on the transformative day, Sitio Nam Nam served as a living testament to the profound impact that collaboration between security forces and community stakeholders can have. The event exemplified how a genuine partnership can illuminate a path towards progress, serving as a beacon of hope for similar endeavors in the future. Through the unwavering support of TOG 11's Group Commander and the shared dedication of all involved, Sitio Nam Nam takes a confident step forward on its journey towards peace and prosperity.