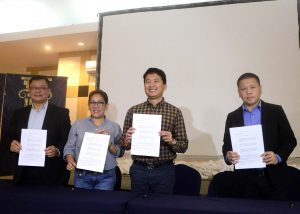 NESTLÉ Philippines and the Department of Education (DepEd) XI renewed their partnership to continue the Wellness Campus program for the schoolyear 2023-2024 to further sustain and promote nutrition education in public schools. 
The partnership also includes the rollout of the company's advocacy on the "7 Healthy Habits for Healthier, Happier Lives," on Aug. 15, 2023. 
Jose Uy III, Nestlé Philippines' senior vice president and Head of Corporate Affairs said that as the Kasambuhay for Good of Filipino families, they believe in the role that education plays in raising healthy and happy children. 
"With this MOA, the DepEd Davao Region has provided us the opportunity to continue with our advocacy of instilling healthy habits among our young students," Uy said. 
The Nestlé Wellness Campus helps promote good nutrition and an active lifestyle by inspiring more than 10.5 million students and 400,000 teachers from over 21,000 public schools to make healthier choices. 
With its third year in Davao Region, the company has helped improve the nutrition knowledge and behaviors of elementary and junior high school students through its wellness program.
Dr. Allan Farnazo, DepEd-XI regional director, said the initiative will help create a mindset to not just focus on the student's education but also on their overall health and wellness.
"Through the Nestlé Wellness Campus, our students have a variety of resources that will allow them to practice healthy habits with their teachers and classmates in school, as well as with their parents and siblings at home," Farnazo said. 
The ceremonial event was graced by Pat Goc-ong, Grateful Team, Inc president; Jesselyn Dela Cuesta, DepEd-XI regional education program supervisor for MAPEH; Kevin Carpio, Nestlé Philippines corporate affairs executive and Nestlé Wellness Campus program manager; Atty. Terencio Taloma, Grateful Team, Inc. managing director, and school division heads, among others. 
Nestlé Wellness Campus is a decade-long school nutrition program established in 2013 in seven regions across the Philippines and was adopted by DepEd-XI for School Year 2021-2022, which continuously aims to educate children and their families on a healthy lifestyle through their educational modules, wellness dancercise, inter-school competitions, and Facebook communities.
Over the last two years, the program has reached 613,922 elementary students and 400,275 high school students from Davao del Sur, Davao del Norte, Davao Oriental, Davao de Oro, and Davao Occidental.