A LOCAL importer and distributor filed graft and administrative cases before the Ombudsman against five ranking Department of Trade and Industry officials for alleged selective enforcement in the government's campaign against substandard fence tubes in Mindanao.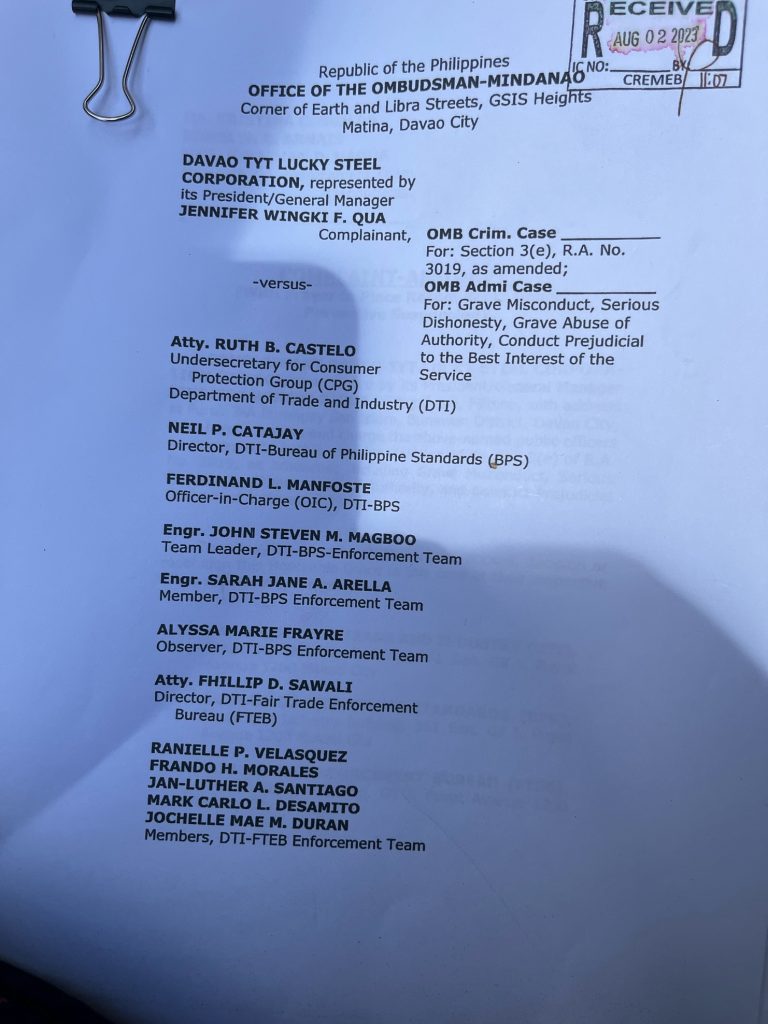 Named as respondents were Usec. Ruth B. Castelo, DTI's Consumer Protection Group head; Neil P. Catajay, director of the DTI-Bureau of Product Standards; Ferdinand L. Manfoste, officer-in-charge of DTI-BPS; Engr. John Steven M. Magboo, team leader of DTI-BPS Enforcement Team; and lawyer Fhillip D. Sawali, director of DTI-Fair Trade Enforcement Bureau.
The complaint of Davao TYT Lucky Steel Corp., represented by its president and manager Jennifer Wingki F. Qua, was received by the Office of the Ombudsman in Mindanao on Aug. 2, 2023. 
Also named in the charge sheet filed before the Office of the Ombudsman-Mindanao in Matina, Davao City were Engr. Sarah Jane A. Arella, member of DTI-BPS Enforcement Team; Alyssa Marie Frayre, observer of the DTI-BPS Enforcement Team; and DTI-FTEB Enforcement Team members Ranielle P. Velasquez, Frando H. Morales, Jan-Luther A. Santiago, Mark Carlo L. Desamito, and Jochelle Mae M. Duran.
The company cited Section 3(e) of Republic Act (RA) 3019 or the Anti-Graft and Corrupt Practices Act, including administrative cases for grave misconduct, serious dishonesty, grave abuse of authority, and conduct prejudicial to the best interest of the service.
The case stemmed from Sawali's order approved by Castelo dated June 19, 2023, authorizing the enforcement of trade and industry laws in the Davao Region and Soccskargen.  Subsequently, on June 22, 2023, Manfoste authorized an inspection of the BI/GI steel pipes imported by Davao TYT under PS License No. Q-4579.
On June 23, 2023, the BPS and FTEB enforcement teams, reportedly led by Castelo and Catajay, raided the company's warehouse in Barangay San Isidro, Bunawan District, Davao City. The team effectively confiscated and sealed 176,497 pieces of Lucky Fence Tube, a material designed and marketed exclusively for fencing, steel frame, and structural uses. 
The company sent a demand letter addressed to Trade Sec. Alfredo Pascual on June 23, insisting that its fence tubes are outside the mandatory BPS certification requirements. Qua claimed that the Lucky Fence Tubes had the necessary markings under the Consumer Act and they employed no deceptive sales practices since their products were never intended for steel water pipes. 
"There is also no deception regarding the presence of threads on the ends of Lucky Fence Tubes. Presently there is no applicable standard for fence tubes. PNS 2145:2000 is not yet in effect, and its implementation is scheduled for July 2024. Therefore, until this standard comes into force, there can be no violation of selling tubes with threads. Due to these reasons, the monitoring and enforcement actions undertaken by Usec. Castelo and her raiding team are downright illegal. They also brazenly failed to provide any documentation of their actions, like a notice of violation, incident report, preliminary preventive order, etc. to hide the illegality of their action," Qua said in her letter to Pascual.
In a letter response to the company on July 4, Castelo asserted their legal basis for raiding the company, citing Republic Act No. 7394 or The Consumer Act of the Philippines and Republic Act 4109 or The Standards Law. And since the importer's Lucky Fence Tubes are threaded, they violated Clause 5.2.1 of PNS 2145:2020, which stipulates that the tube ends must be plain and unthreaded. 
But the company pointed out DTI Memorandum Circular numbers 22-14 and 23-07, explicitly place a moratorium on monitoring and enforcement of steel tubes until July 14, 2024. So, the agency reportedly raided the company illegally since, while PNS 2145:2020 was issued, it was not yet effective. 
Davao TYT also submitted official laboratory test results showing that the fence tubes being marketed by its competitors, such as those branded Mayer and Strux, also have threads on the ends.  Despite this, however, the company felt singled out since only Davao TYT products were confiscated following separate raids on six distributors/wholesalers/hardware stores in Davao City carrying Lucky Fence Tubes. 
Section 3(e) of RA 3019 penalizes any public officer for corrupt practices for "causing any undue injury to any party, including the Government, or giving any private party any unwarranted benefits, advantage or preference in the discharge of his official administrative or judicial functions through manifest partiality, evident bad faith or gross inexcusable negligence."
Finally, the company asked the Ombudsman to immediately place the respondents under preventive suspension under Section 2 of RA 6770 (The Ombudsman Act of 1989) as "their continued stay in office will prejudice the just, fair and independent investigation and disposition of this case considering that they can continue to harass and exert undue pressure on the complainant and/or its distributors."