Still considered the best situated hotel in Davao City, the Waterfront Insular Hotel has launched its Kadayawan Fiesta Feast in its praiseworthy effort to commemorate the most awaited annual festival of the Land of Promise, the Kadayawan. This annual festival "celebrates life and thanksgiving for nature's bounty, the wealth of culture, the bounties of harvest and serenity of living." Kadayawan is derived from the Mandaya word "Madayaw" which means "valuable, good and beautiful." Thus, the phrase "Mabuhay ug Madayaw" is uniquely a Davaoeno's formal Filipino expression of greeting.
"With the goal of providing our guests with the opportunity to experience flavors that are authentically Davao and uniquely Waterfront Insular Hotel's, we have launched our Kadayawan Fiesta at Café Uno. From Fridays to Sundays in this whole month of August, diners can feast on Davao's popular dishes and delicacies," the bright MarComm Officer Jeanne C. Arieta informed the lucky guests comprised of lifestyle writers and young bloggers whose number is increasing these days.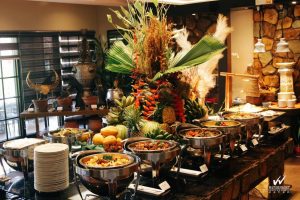 Before the lucky guests were herded inside the cool comforts of Café Uno, Waterfront Insular Hotel's likeable General Manager Ali P. Banting, Sales & Marketing Manager Pao M. Rosello and Jeanne C. Arieta requested for everybody to join them at the hotel lobby to watch a pseudo ethnic dance performed by the hotel's chosen staff. Yes, it was the hotel's formal greeting for its guests which more than made up for GM Ali P. Banting's welcome address.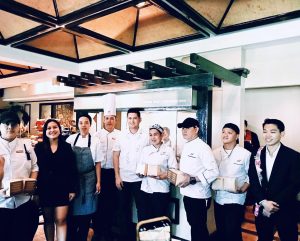 Waterfront Insular Hotel's Dabawenyo-themed buffet is a truly generous culinary feast for everybody to enjoy. There's a special array of selections which begins with salads like the Waterfront Pomelo Salad and Native Salad to appetizers like Sinuglaw. There is a section for tribal dishes like Tiyula Itum, Chicken Piyanggang, Shrimp Piaparan, and Sayur Langka which are placed inside traditional clay pots or palayok. The main dishes, which are more to my taste, include Kalderetang Kambing, Native Chicken Adobo sa Gata, Fish Piyalam, Pork Humba Davao, Barbecued Croc meat (quite tasty), Roast Beef, among so many others still. Sweet-toothed that I am, the dessert station was a heavenly manna but a real nightmare for diabetics: Durian Cheesecake, Ube and Langka Mousse, Durian Pie, Coconut Panna Cotta and native sweets like Palitaw, Sapin-sapin, Bibingka with Salted Egg, Guinataang Mais at Bilo-bilo. The hotel's pastry chef Roche Audeji offers her version of the Madayaw Decadence Chocolate Cake which she described as a Durian Yema Moist Cake topped with Davao's award winning Malagos chocolate drizzle. "With all these culinary offerings by our respected chefs, Waterfront Insular Hotel's Café Uno will surely elevate your dining experience with a touch of culture and history," commented the smiling GM Ali P. Banting who reminds me of a Pinoy actor whose name I always forget.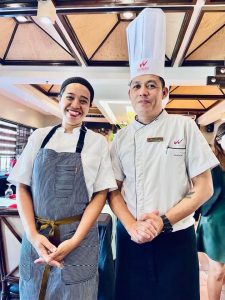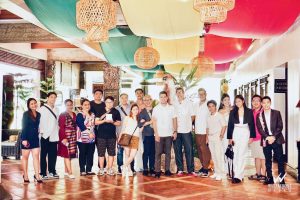 For a barkada treat, do try La Parilla's bundle of joy—the Bilao Dabawenyo. You can choose either the Highlands Set which consists of Chicken Piyanggang, Beef Tapa sa Tuba, Pork Humba, Native Salad, Bisnok Pastil Rice, Tiyula Itum; or settle for the Islands Set which is comprised of Fish Piyalam, Binusog na Pusit, Shrimp Piaparan, Native Salad, Tuna Pastil Rice and Tiyula Itum.
Do celebrate this Kadayawan Festival by enjoying the culinary bounties offered by Café Uno and La Parilla only at the Waterfront3 Insular Hotel Davao. Mabuhay ug Madayaw!