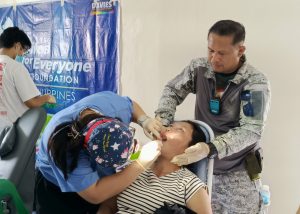 The Tactical Operations Group 11 (TOG 11) of the Philippine Air Force, in a remarkable display of their commitment to humanitarian efforts, spearheaded a transformative medical mission in partnership with the Davao Bay Eagles Club and Davao Bay Lady Eagles Club. This noble endeavor brought essential healthcare services and a ray of hope to over 1,200 civilian individuals residing in the remote community of Brgy Tubo-tubo, Monkayo, Davao de Oro.
On 29 July 2023, TOG 11 together with partner stakeholder's medical team, composed of skilled military medical professionals and dedicated volunteers, gathered in Brgy Tubo-tubo to address the healthcare needs of the underserved community. The activity, which showcased the Air Force's humanitarian side, emphasized their dedication to supporting communities beyond their military duties.
Throughout the day-long event, the medical team provided an array of services, catering to the unique health concerns of the beneficiaries. Dental check-ups and treatments were conducted to promote oral health, while eye consultations offered critical vision care.
Doctors and specialists were on hand to offer comprehensive medical consultations, diagnosing and treating a wide range of health issues. The distribution of essential medicines played a crucial role in ensuring that the community members received the necessary medications to address their ailments.
The medical mission also encompassed surgical procedures, with the team performing circumcision and dental extractions. These procedures significantly improved the recipients' quality of life and alleviated discomfort, marking a profound positive impact on the community.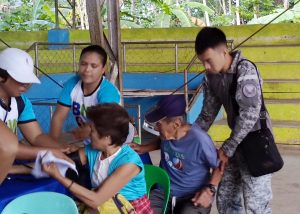 Beyond healthcare services, the event also focused on enhancing personal hygiene and comfort. Free haircuts were provided to promote proper grooming, and the beneficiaries were given slippers, a thoughtful gesture to support foot health.
The presence of TOG 11 in the community was met with heartfelt appreciation and gratitude. The military personnel's genuine care and dedication to serving the people extended a sense of security and assurance to the beneficiaries.
The collaboration with the Davao Bay Eagles Club and Davao Bay Lady Eagles Club further solidified the activity's success, emphasizing the power of partnerships in reaching out to those in need.
As the medical mission drew to a close, the sense of unity and hope lingered among the community members. TOG 11's humanitarian mission at Brgy Tubo-tubo not only delivered healthcare services but also left an enduring mark of compassion and service.
The efforts of TOG 11, in collaboration with their partners, exemplify the true spirit of nation-building, where military and civilian sectors unite to uplift the lives of underserved communities.