HEALTH And Wellness Solutions (haws) partnered with the Department of Health-Davao Center for Health Development's Employees Association of Regional (EAR) Office XI to provide access to its members and their families.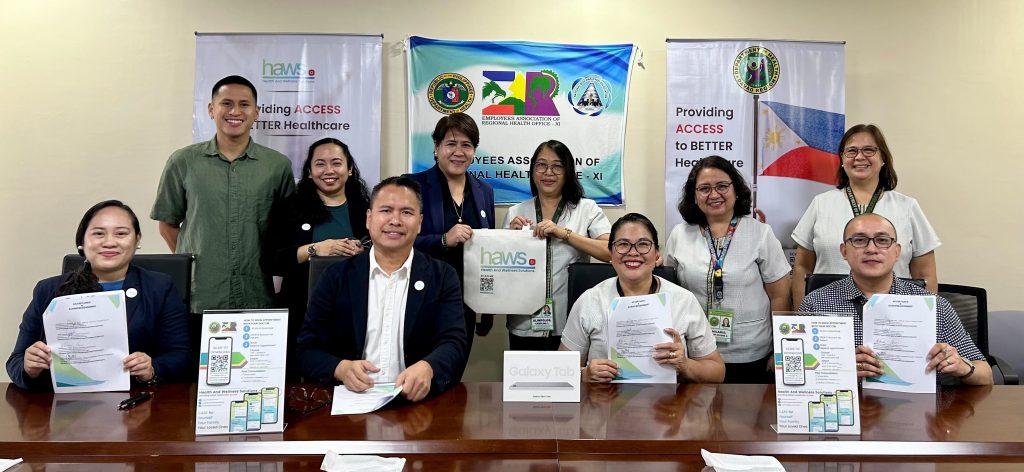 The ceremonial signing was made last June 24, 2023, led by DOH XI regional director Dr. Annabelle P. Yumang, EAR president Marc Shane Adeva, and haws representatives Warren Cane, business development director, and Wendy Cabrera, healthcare provider director.
Haws – Health And Wellness Solutions – is an assistive technology, ready for service in the form of a mobile application available in the app stores. It empowers patients to book healthcare provider appointments for clinic visits, teleconsultations, and booking of diagnostic services. 
Caring beyond borders
"Caring beyond borders and geographical boundaries is made possible in haws. Through our mental and wellness programs, we in haws aim to help alleviate worry and anxiety and focus on nurturing comfort to more and more Filipinos in the Philippines and abroad," said Cabrera.
The solution goes beyond telemedicine for it aims to provide employee and dependent health benefits for outpatient consultations and provide continuity of care for community members through its POWERhaws Open Talks Exclusive.
"The hawsCares Program falls on our health and wellness program for our employees," Adeva said. 
"With this new strategy of health consultation, it is very convenient on our part, even at the comforts of our home, 24/7 ang serbisyo niini sa katawhan (service of Filipinos), so they can seek health services anytime," according to Dr. Annabelle Yumang.
Haws is a flagship brand of L1NK Inc., Tubong Davao, Tunay na Mindanawon, a privately held corporation duly registered and compliant with the national regulatory boards of the Philippines.
Looking into the future of healthcare access
In alignment with the Universal Health Care (UHC) Law, haws aims to complement the rollout of the UHC Law and commits to utilize haws application as one of the sustainable solutions to the country's need for more healthcare providers by overcoming geographical barriers and bringing care directly to people in remote areas thereby empowering patients to receive cost-efficient patient treatments in the comfort of their homes.
Healthcare providers, too, may use haws in monitoring their patients' health and as a tool for referral management with other specialists.
As more developments and improvements are introduced, haws application will continue to evolve and drive transformation in health systems in the country with its mission of providing better healthcare access to more and more Filipinos- whenever, wherever.