BigPay to have a wider presence in Asean — the Philippines, Malaysia, Singapore, Thailand, and Indonesia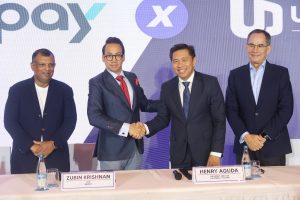 With Capital A President and CEO Tony Fernandes and Aboitiz Group President and CEO Sabin Aboitiz as witnesses, a handshake between Big Pay CEO Zubin Krishnan and UnionDigital Bank President and CEO Henry Aguda seals the strong partnership between the two digital finance platforms.CEBU CITY – Capital A is entering into a partnership with UnionDigital Bank, the digital bank subsidiary of Union Bank of the Philippines, involving three key subsidiaries, namely AirAsia, airasia Superapp, and BigPay. These collaborations were unveiled at the APEC Business Advisory Council (ABAC) meeting press conference in Cebu on Sunday, attended by industry leaders and policymakers.
AirAsia is the airline business of Capital A, while airasia Superapp is the one-stop travel platform offering services from flights, hotels, ride-hailing, loyalty programs, and more. BigPay is the fintech arm providing accessible and secure digital financial services with the vision of improving financial well-being and accessibility in Southeast Asia.
UnionDigital Bank's role will be to provide embedded finance in partnership with BigPay within the airasia Superapp travel platform, the main booking channel for AirAsia flights in the Philippines.
This synergy promises to deliver a seamless and enriched travel booking experience for airasia Superapp's users and redefine the way people travel and manage their finances.
The partnership will enhance the travel experience of frequent fliers with flexible payment options with a Fly Now, Pay Later offer available in airasia Superapp, and exclusive co-branding deals. This will create a progressive shift in the way customers plan and pay for their flights and other travel-related services, making fintech more convenient and accessible for Filipinos.
"For Capital A, the vision has always been to provide low cost, best value services, connecting people and realizing dreams, for people of Asean and beyond. With UnionDigital as our proud partner, we are now on our way to creating a future where travel meets innovative financial solutions that facilitate everyone's dream journeys with unparalleled ease. We look forward to working with UnionDigital to redefine travel coupled with fintech as an accessible and enriching experience," said Tony Fernandes, CEO Capital A.
He added, "Data has shown that 7 out of 10 of our customers in the Philippines save up for their travel plans, carefully budgeting to ensure they can explore the world comfortably. It is this inspiring dedication that fuels our determination to break down barriers and create a more connected and inclusive global community."
UnionDigital Bank's partnership with BigPay, a leading mobile wallet providing financial services in Malaysia and Singapore, solidifies its expansion into the Philippine market. Through this partnership, BigPay will be able to serve Philippine customers with secure and frictionless financial services that will improve their financial health and management in the long run.
"As tourism flourishes in the region, we are excited to elevate the end-to-end travel and payment experience of Filipinos through our collaboration with UnionDigital Bank and airasia. Through this partnership, BigPay is one step closer to making our financial services highly accessible in the Philippines, with the mission of empowering people to level up their lives, one transaction at a time," said Zubin Rada Krishnan, CEO of BigPay. "With these key partnerships, we believe we can continue to make lives better in the Philippines through innovative and smart financial services," he adds.
These collaborations unveiled at the ABAC press conference are a turning point in the progression of the local banking and travel sectors. It recognizes the potential impact of these partnerships, reinforcing UnionDigital Bank's commitment to driving innovation and fostering economic growth alongside these key industry players.
"This is a pivotal moment for the two important sectors in the Philippines. We are forging a path towards greater convenience, accessibility, and innovation to empower Filipinos to live better lives," said Henry Aguda, President and CEO, UnionDigital Bank. "As we make these partnership announcements at ABAC, we are not just setting the stage but building a solid foundation for a brighter future with BigPay and AirAsia by our side."
The collaboration demonstrates UnionDigital Bank, AirAsia, and BigPay's dedication to driving positive change, leveraging on powerful synergies that will empower and uplift the lives of Filipinos.
"As we continue to push boundaries and pioneer new initiatives with like-minded partners, a financially inclusive Philippines will surely be on its way," said Aguda.