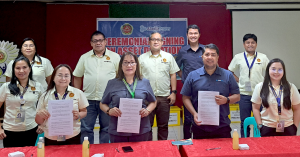 "The province of Cotabato can be a flood-prone area during the typhoon season. The conceptualization of this project is very timely as we can start with our disaster preparedness efforts as early as now using the equipment to be donated by AboitizPower," said COTELCO-Main OIC and General Manager Cresmasita Golosino. "This project will go a long way in making sure our team is agile enough to respond to any potential risks and are well-equipped to clear out any obstructions that may endanger the safety of our member-consumers."
COTELCO-Main has been a long-term partner of AboitizPower, having been its partner for the past 12 years. Both parties have collaborated on several corporate social responsibility projects — e.g., donating computers, rewiring classrooms, and supporting radio-based instruction — in pursuit of developing communities and improving disaster resilience among its member-consumers.
AboitizPower's Wholesale Head Angeli Parcia also stressed the importance of supporting the government's mandate to "ensure continuous and uninterrupted transmission and distribution of electricity" which is enshrined in Republic Act 11361 or the Anti Obstruction of Power Lines Act.
"AboitizPower has always been in support of government policies that look after the welfare of electricity consumers. Obstruction to electrical wires that could potentially pose risk hazards to the community definitely need to be addressed," she shared. "We are happy to partner with COTELCO-Main as this project is a great opportunity to contribute to risk reduction and promote disaster preparedness in the region."